Katie Price's son Harvey was a special guest on today's ITV's Loose Women, joining his famous mum for a panel discussion on cyberbullying and trolls.
The 13-year-old, who has disabilities including Prader-Willi syndrome and visual impairment, has been targeted by nasty messages and offensive images, which his mum brought to the attention of
Loose Women
viewers in March.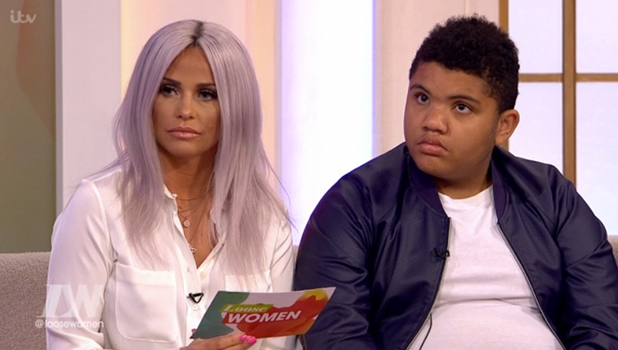 She had
invited some of those trolls to appear on TV and explain their actions
, but they all declined. So today, she brought Harvey with her to the studios so everybody could see how vulnerable and kind he is.
Katie, 37, explained she hadn't wanted to pre-record the segment as she wanted viewers to see Harvey unedited. (At one stage he swore, prompting an apology from the panel.)
He sat next to his mum as she explained: "The most disgusting things are said about Harvey. Trolling. They never say it to his face and wouldn't say it to my face. Disgusting things I couldn't say on air. I thought it was important to bring Harvey on live to show how he is. Not manufacture and edit it. Behind the scenes people may think I've been quiet but I haven't, we've been doing lots and some people may have a surprise coming up."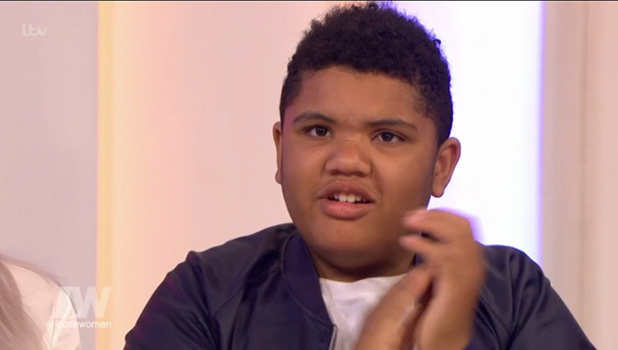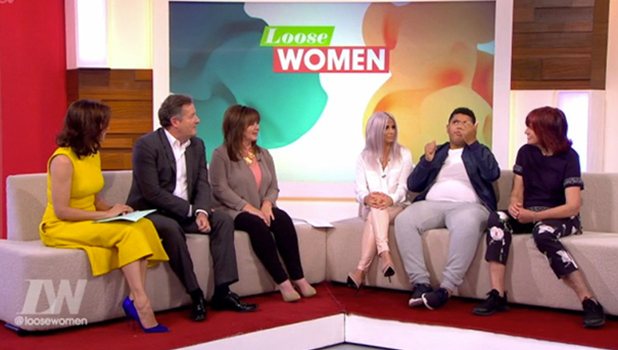 Katie read a statistic claiming 82 per cent of 13 to 18 year olds had been exposed to online hate, which made her want to go into schools and talk about trolling.
To show how innocent and vulnerable Harvey is, she asked him questions such as what he'd do if someone said something horrible to him, to which he answered: "Say hello."
Fellow guest Piers Morgan joined the discussion, and said he'd been talking to Harvey backstage and found him "hilarious and incredibly bright", which Harvey demonstrated by giving Piers detailed answers about his favourite train, the Gatwick Express.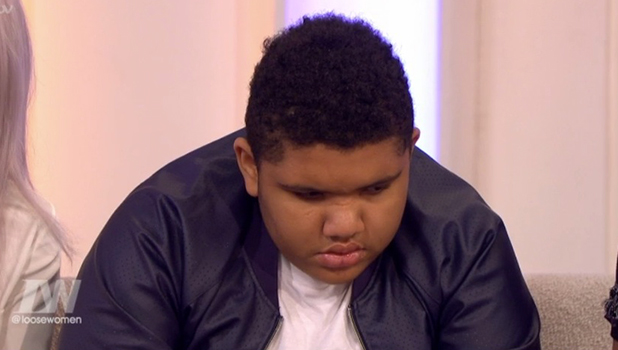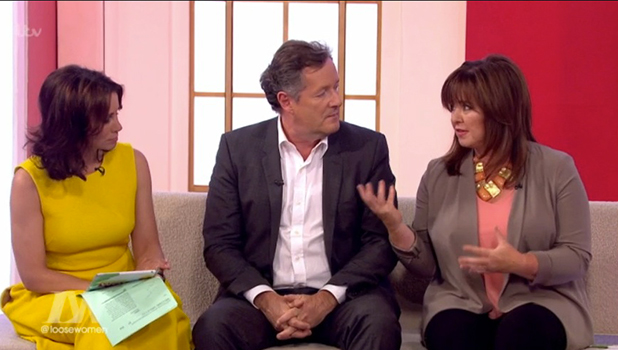 "You spend time with Harvey and he's a lovely chap," said Piers, who had been on earlier to discuss his latest TV show. "My admiration for Katie is enormous for the way she takes care of him. There will already be idiots sitting at home in their little dungeons with parents, firing out abusive tweets about Harvey. Maybe they heard him swear earlier and think, 'Isn't it funny to mock him?' I don't find it funny to mock Harvey. He's a courageous man with a great sense of humour and I think his mum does a brilliant job with this boy.
"Show a bit of humanity. I see a lot of people troll me. I like to correct their spelling. I can deal with it. I'm big enough and ugly enough to look after myself. Same with Katie. But when it comes to Harvey, he can't get on Twitter and respond to these clowns. Have a go at me or Katie, we can take care of ourselves. Don't go after this boy or people like him who are defenceless and can't defend themselves."
He added: "I think the vast majority of people are decent and they will be the people who look at this and think, 'These idiots, let's forget about them and not worry about these cretins sitting at home.' To me, it's about the decent majority drowning out the idiots."
When Harvey wasn't being asked questions, he sat quietly between Katie and Janet Street-Porter. At one stage he held tight to Janet's hand, and at another he leaned over and kissed his mum on the cheek.
"I know Harvey looks big and can look intimidating," said Katie, "but he has a heart of gold and wouldn't know how to hurt someone. He's all about love."