Katie Price's son Harvey will join her on today's Loose Women, marking his second live television appearance.
The 13-year-old, who
charmed viewers on This Morning last year
, is Katie's first-born child. He suffers from disabilities including Prader-Willi syndrome and visual impairment, and he's on the autism spectrum.
Katie had teased a very special guest on today's show, which was later to be Harvey. He'll appear as part of a panel discussion about cyberbullying, which is a subject close to Katie's heart.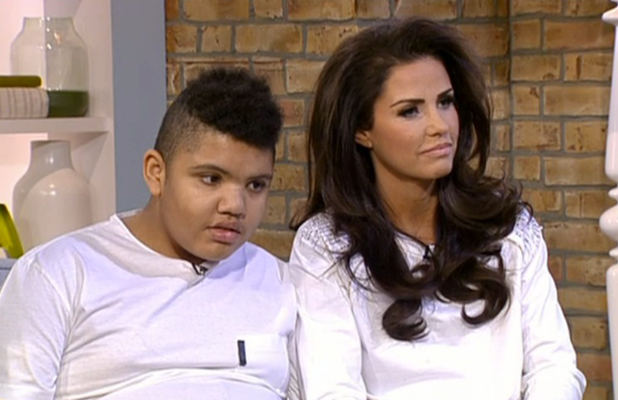 Back in March, mother-of-five Katie started to name and shame some individuals who had written nasty remarks and posted offensive images about Harvey on social media. "He's my son," she said. "I've got five children and they always seem to pick on Harvey.They are racist, they mock the fact that he has disabilities. Trolls are evil. It's absolutely disgusting what they do to him. I have to protect him.
"I just thought, 'You know what, I've had enough of this.' I've named and shamed them and some have apologised. What else I hate is that I've got their family members threatening me saying, 'If you don't take it down, I'm going to the police. I've got all your people now on their case.' That's what they were doing to me. It was my son. He can't defend himself... he won't understand. I have to protect him because who else is going to?
"What I would love them to do is for them to come on the show next week and be a man and say why you were trolling my son. Explain why you would do it. I'm not going to have a go at them, but I would like them to meet Harvey. He is so innocent."
She even asked six trolls to appear on
Loose Women
but they all denied.
"Five of the six trolls that we contacted acknowledged our attempt to communicate but all of them refused to come on the show," said Janet Street-Porter, who did not name any of the accused trolls. "One even denied the allegations. But we have made some headway with them. Three of the people we contacted acknowledged the allegations and three of them actually apologised.
"What's really shocking is two of the people didn't think what they had posted on social media was offensive. One refused to remove the content, one has taken it down, one absolutely refused point blank, and one has admitted receiving death threats in the aftermath of being labeled a troll.
"All of this is very depressing, the fact that some of these people didn't think those kind of images are offensive. They said it's their sense of humour."
Katie, 37, then said: "I now want to do a massive campaign. I know I won't change everything – I'm not Wonder Woman. And I don't want it to become us bullying the trolls. But it's not just me. Any social media, kids get bullied. If any of them, their mum, dad, sister, brother, had an accident and became disabled, would they sit there and say things about them? This is my son and he can't defend himself."
Loose Women
airs today at 12.30pm on ITV.
Follow us on Twitter @RevealMag for all your celeb, fashion and beauty news!