Self confessed fitness fanatic and über babe Chloe Madeley tells us how working out has turned her life around, but admits it gets in the way of romance with long term boyfriend James Haskell
She works out six days a week, is a qualified trainer and has two fitness apps and a website to her name – yet
Chloe Madeley
admits being so focused on fitness plays havoc with her social life. "My diet ruins date nights all the time!" she laughs. "It ruins any and every kind of social occasion you can possibly imagine. It's incredibly hard."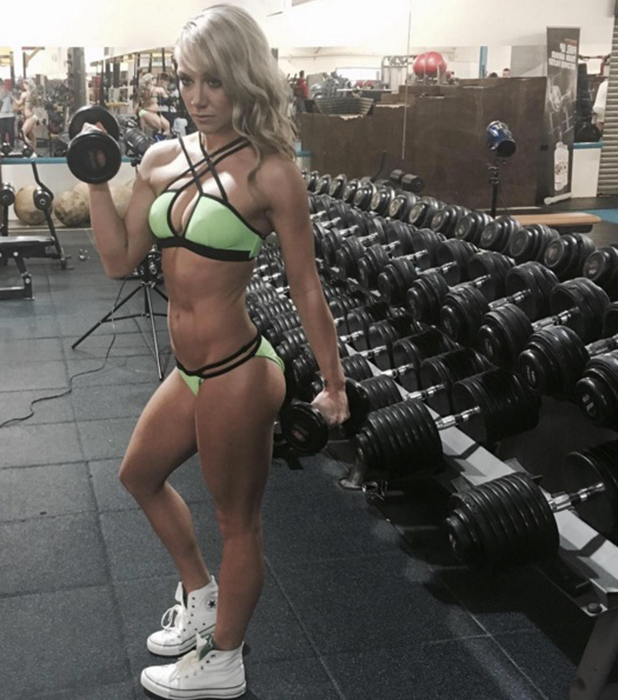 Chloe, 28, runs Fitness Fondue, a one-stop website for training and nutrition. She also has a fat burning app and has just developed a weight lifting app – something she's incredibly passionate about.
But she says her commitment to her toned physique does interfere with her relationship with boyfriend of 18 months, rugby player James Heskell, 31.
"If you think for one second you're gonna get abs and be able to go out drinking with your friends, go out for Sunday lunches with your family, go on a nice date night with your boyfriend every couple of nights, then you're wrong!" she says.
"You can't do it. It takes a lot of sacrifice and that's why I never maintain it. That's why I don't look like that all the time. Because I want to live my life, I want to see my friends, I want to see my family, I want to drink a bottle of wine, I want to eat cake!"
But Chloe - who is the daughter of TV presenting legends Richard Madeley and Judy Finnigan and has appeared on
The Jump
and
Dancing on Ice
- credits working out with changing her life. "I used to get really bad anxiety attacks," she says. "Cardio is a really good way to stay on top of your mental health. I feel very lucky that I found something that helps me and that I really enjoy."
But it's weight lifting that really gets Chloe's pulse racing – and it's through lifting heavy weights that she's achieved the killer body she often shows off in her infamous semi-clad Instagram selfies. "Weight lifting is f*cking so much more fun than cardio and it's much more enjoyable for me," she says. "I like really big, complex lifts. I like doing squats, I like doing dead lifts, I like doing pull ups. They make me feel very strong, mentally and physically, and that's fun."
Chloe says she's always been body confident and was never bigger than a size 10, but she still cringes when she looks back at old photographs. "I look at them and think, 'Oh my God, I look like a marshmallow,'" she laughs. "I never had an issue with my body, I was never a really big girl. I was never sad or down about my weight, but now I look back and think wow! I can't believe how much I've changed."
From the loved up selfies Chloe posts of them on social media, it's clear she and James are very happy together - but she says they're not ready for marriage just yet. "We are having a hell of a lot of fun together," she says. "We have a lot going on and we're each other's port in the storm. But it's just not a big enough port to get married in, if you catch my drift."
Weights for Women is available to buy on the app store today. Chloe Madeley 15 Minute Fat Loss App is also available on Apple and Android