Charlotte Crosby got a good grilling about her nose job from Janet Street Porter on today's Loose Women.
The
Geordie Shore star has been open about going under the knife to remove a bump on her nose
, which she says affected her confidence, particularly when she was filmed from the side – so ITV panellist Janet took the opportunity to quiz her today.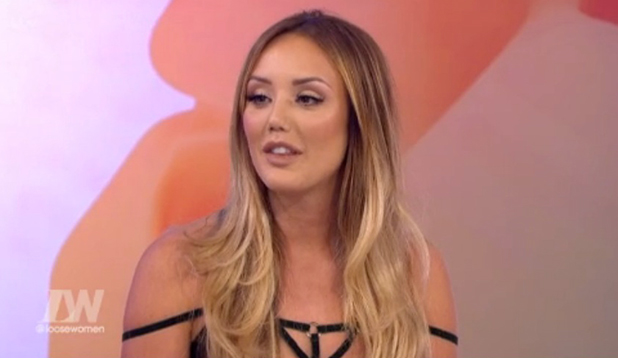 Janet asked her: "Good luck to you, it's your choices, but what message does that send to teenage girls who watch your show, follow you on Twitter, Facebook and Instagram, who might think, 'My nose has a lump in it but I haven't got £4,000 to change it'?"
Charlotte, 25, replied: "I can understand your point completely." She said that while maybe it's "not the best message to put across" it was her decision and something she wanted to do. She also said she could have remained tight-lipped about her nose job but people would have seen the difference.
Janet continued to ask: "Just to be really controversial, when you imagined you had a big lump in your nose, why not have counselling or seek some kind of therapy to live with your face rather than moving it around five inches?"
"I feel like I had that counselling every day off my mum," replied Charlotte, "and it didn't really work."
She added: "I'm very happy."
The exchange prompted a reaction among
Loose Women
viewers on Twitter, with some suggesting Janet was too harsh towards Charlotte, and others saying they agreed with Janet's line of questioning.
@loosewomen @Charlottegshore well done Charlotte for the way you handled Janet's comments.

— Emma Scott (@emmascott16) May 10, 2016
How rude is Janet being to Charlotte on @loosewomen awful to watch

— meg (@smeganbright) May 10, 2016
@loosewomen blimey Janet leave the poor lass alone!! Quite harsh on Charlotte there.

— Lianne Robertson (@Bubba_Lilly) May 10, 2016
Seems like Janet street porter has a problem with Charlotte ?? @Charlottegshore @loosewomen #loosewoman

— DAVID FURR-MARSH (@krieners) May 10, 2016
@loosewomen janet was so unnecessarily rude to charlotte there. uncomfortable to watch

— rachael (@rachaelmmxv) May 10, 2016
@loosewomen Janet was embarrassing rude and uncomfortable to watch towards Charlotte, doesn't come across well at all

— (@liv_dunne) May 10, 2016
I really disagree with Charlotte's choice. I completely agree with what Janet is saying, she's not a good role model @loosewomen

— Declan Carruthers (@DeclannMC) May 10, 2016
#loosewomen Janet's a journalist she's quizzing her about why she's done it. Just because she's not telling her how beautiful she looks

— Jeanielaw (@jeanielaw) May 10, 2016