Mark Wright made sure to grab everyone's attention on Instagram last night. Did you see his saucy bath time selfies?!
The former
TOWIE
star decided to share a few snaps while he enjoyed a soak in the tub, but Mark had his followers instantly questioning the motive behind his latest posts...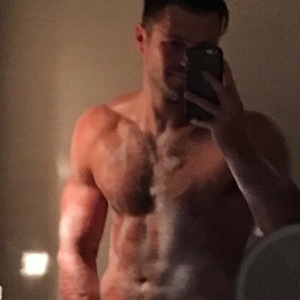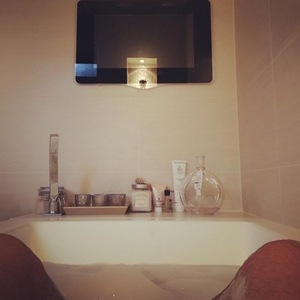 Mark first chose to post a photo of himself in the bath. In the picture, Mark decided to keep himself out of view and shared a photo of his bubble bath. He captioned it: "No better feeling !! Well I can think of one......." And added an emoji of a face with its tongue sticking out.
Fans thought that was a little odd and found Mark's second post just as strange. He had decided to take a naked selfie of him stood in his bathroom covered in bubbles, strategically cutting off the bottom of the photo to cover his modesty.
Mark then added: "Gotta love bubbles !! Right get me out now I'm sweating!! Always sweat in a bath so how can it be clean? Straight to the cold shower I go!!"
While his latest snaps could purely be photos of Mark just wanting to show of his bod after his efforts in the gym, he had his fans divided. The TV presenter's following took three different views on his posts: some accused Mark of being 'disrespectful' towards his wife Michelle Keegan (who is currently away filming in South Africa), others began to speculate about their relationship and some jumped to his defence and couldn't see a problem with the pictures.
Those that suggested Mark was being disrespectful had said:
"Should you post pics like that!!""Oh dear. Wouldn't be happy with my hubby posting this but good luck to you.""Not sure it's necessary to post pics of you like this.""Strange selfie to take in shower when you're a married man.""Mark put your body away your married and being disrespectful to your wife!!! I would be fuming."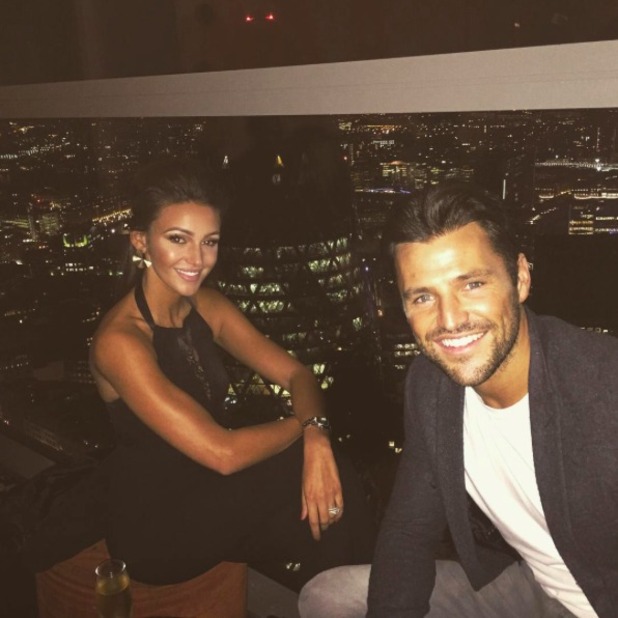 Others began to question if Mark was ok. They wrote:
"What's he playing at?""This post is a bit weird. I've got a bad feeling.""Erm.... everything alright Mark?"
However, other fans of Mark defended his decision to post the pictures and dismissed all speculation about him and Michelle. They hit back:
"Go Mark. Great body. Your lovely wife is very lucky. Nice that you can share it with us too!""Hilarious all of u. 1. he's got a mint body if you've got it flaunt it! 2. Yes he is married and clearly not in a jealous relationship were he is able to post his body on insta. 3. He has a fan club and likes to keep them wanting that little bit more there never gonna have lol (sic).""Get a grip it's his chest nothing more and why should he have to post pics of them two together, iv been with my partner 7 years very happy and I don't post him everyday, your all insecure if that would make u fume (sic).""Leave the lad alone.. He's got a fab body and a gorgeous wife.""They have 2 different careers but still together. Jealousy gets u no where.. Gud job @wrighty_ @michkeegan you both an amazing couple and have a gud career ahead (sic).""Why is this disrespectful to his wife? Perhaps his wife's not insecure. I mean why would she be? #haveyouseenher #hottestcoupleever.""People are crazy! How is it disrespectful to his wife to post a picture of himself?! And how does this mean they're splitting up?! Maybe his wife is not insecure! Have you seen her!!"
People had commented on Michelle's absence from Mark's social media feeds lately, but fans of the couple will know
she is currently filming overseas in South Africa for BBC drama Our Girl.
Michelle had openly spoken of her new role as Corporal Georgie Lane and the fact she and Mark would have to spend some time apart while she films. He, however, has had his own work commitments that have seen him travel elsewhere too.
While Michelle did say she would find it "tough" being without Mark for so long, he recently flew to Cape Town to visit her.
He gushed about the trip on his return home earlier this month
, telling fans: "Back home in bed after the most incredible, eye opening 10 days of my life. Cape Town !! What a gaff!!"
Mark and Michelle were joined by his mum and dad, Carol and Mark Wright, and her brother, Andrew Keegan, in South Africa.
The pair married in May 2015, nearly two years after Mark proposed to Michelle in Dubai back in September 2013. Mark has so far not responded to the reaction his pictures have received. His rep, meanwhile, dismissed recent rumours surrounding Mark and Michelle.
For exclusive competitions and amazing prizes visit Reveal's Facebook page NOW!