Marnie Simpson doesn't seem to be a fan of Charlotte Crosby and Gaz Beadle together.
While plenty of
Geordie Shore
fans totally ship Chaz as a couple, during a Twitter Q&A last night, Marnie suggested she thinks Charlotte can do better.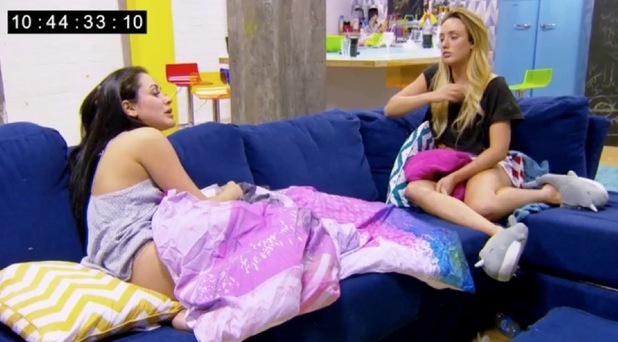 When asked if she thought there was "still hope" for Charlotte and Gary, Marnie replied: "She's too good for him on every level in my eyes."
As for whether she thinks Gaz will ever change, she said: "Never he's incapable of it."
She added to
Daily Mail
: "Their love story goes round in circles but I will say I think Charlotte can do a million times better than Gary and I just think on every level she's just far too good for him. I've always said that but I was always a fan and I did want them to work out but I just don't think it's meant to be."
During filming of the 12th series of
Geordie Shore
, airing Tuesdays at 10pm on MTV, Gary was in a relationship with Lillie Lexie Gregg, while Charlotte was single. Which has caused problems as Gaz feels confused about being there as a friend for Charlotte, but not wanting to get too close.
On last night's episode he decided to quit the house to sort his head out and talk to Lillie, leaving a devastated Charlotte behind. "I can't believe Gary has even gone without saying goodbye. We have been so close this time around and I surely thought he would have spoke to me about it."
He did return, only to drop the bombshell he wasn't sure he could still live in the house anymore.
Meanwhile, Charlotte told us recently that she and
Gaz - who split from Lillie after filming
- have rarely had a night together since the start of the year because of their hectic schedules, and now he's filmed
Ex On The Beach
, she's not sure how the future will pan out for them.
"I'm really, really hoping that he doesn't do anything," she told us. "We've had conversations about it and he's said that he's not going to do anything. This is Gary we're talking about. I like the thought… but I really hope he doesn't.
"If he didn't then that would really determine what's gonna happen when he gets out. I would 100 per cent commit to him, completely. But it all depends on what's going to happen in there. That's the only thing that's been holding us back for so long."