Katie Price has said she lost her virginity at 16, which she believes was late in life to have sex for the first time.
On today's
Loose Women
the panel were discussing how young is too young when it comes to children in relationships, so Katie shared her own experience.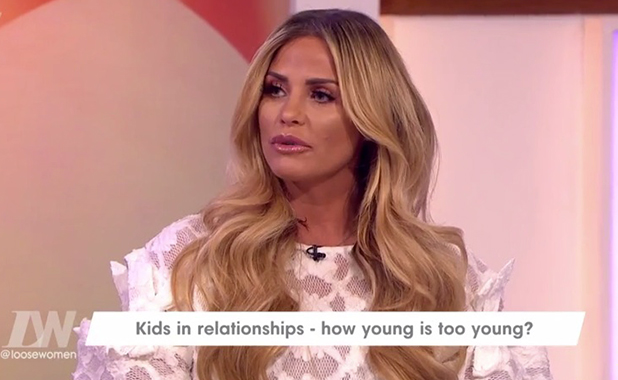 "I was, believe it or not, very late at developing like that," she said.
"My mum always said don't lose your virginity until you're 16. I remember it was the day after an East 17 concert when I lost my virginity on my 16th birthday. On the day!
"I was late. Even at school, I was known as frigid and ice cold because I was petrified to kiss anyone in case I did it wrong. At lunchtimes when you knew you'd be meeting a boy, I would be so scared I would work myself up. I was late at everything."
When it comes to her own children, specifically son Junior, ten, she said she'll be strict at when they are allowed to date – and very strict when it comes to a partner staying the night.
"Junior is obsessed with girls, all of his friends are," she said. "These days they know so much about everything. They talk about boyfriends, girlfriends, love letters and all this. For them to actually have girls over, I will have to be strict like my mum. They have to be 16 for them to have a girl around and to stay the night they would have to be older."
Watch the full discussion below: