Geordie Shore: Marnie Simpson finds herself going against girl code as she locks lips with Marty McKenna.
It may have just been a peck, but Marnie flirting with newcomer Marty and then giving him a quick kiss makes her best pal
Chloe Ferry
see red.
Fans will know
Chloe and Marty have history
and she's made no secret of her excitement that Marty is back in the house.
The pair had sex on his first night on Geordie Shore
and Chloe made sure to mark her territory and make Marty off limits...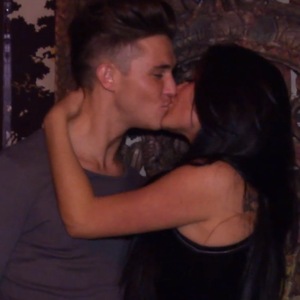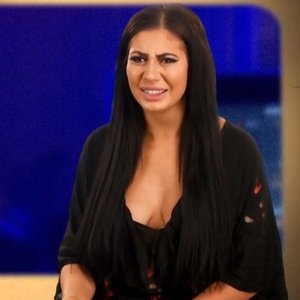 In Tuesday's episode of the show, Chloe majorly kicks off when she sees Marnie "all over" Marty.
MTV have shared a sneak peek video and from what we can gather, Marnie is angry at her co-star beau Aaron, after he gets a fake tattoo of her name.
She has been annoyed at him for having Chantelle Connelly's name tattooed onto his wrist
and clearly his efforts to try and resolve the situation don't go down too well.
Instead, Marnie wants to get her own back. So, what does she do? She flirts with Marty to wind up Aaron. Although, that doesn't sit well with Chloe: "It looks like Marnie is trying to flirt with Marty. What are you playing at?"
Things then take a turn for the worst when Marnie decides to give Marty a peck on the lips. Holly Hagan tells Chloe she's seen the duo kiss and Chloe is not happy.
She says: "I can't believe Marnie has just kissed Marty, she is meant to be my best friend and I thought I could trust her. She's kissed Marty and she knows fine well not to go there... you f**king b*tch."
Aaron, meanwhile, isn't phased. He's worked out what Marnie is up to: "I knew Marnie would do something stupid to get me back for the fake tattoo and a while ago, I probably would have kicked off tonight. But tonight, I'm just not going to rise to it."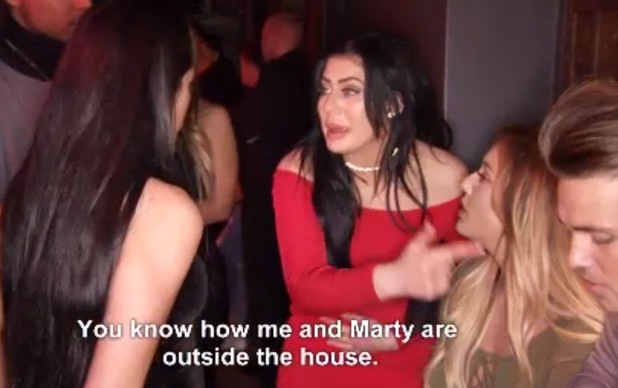 On the way home from the club, Chloe calls out Marnie. She tells hers: "You know me more than anyone right. You know how me and Marty are outside this house. And when I've looked up you've kissed."
But Marnie then claims Chloe has been keeping things from her and says she hasn't been honest about her feelings for Marty - just like she hadn't all that time ago with Scotty T.
Unluckily for Marnie, though, the girls have Chloe's back. Holly says: "Marnie has totally broken girl code. Even if I had the slightest inkling that one of my friends fancied a boy, I wouldn't go there."
Chloe tells Charlotte she has been"mugged off" again, and Charlotte says she "understands" as Marnie has done the exact same thing with her and slept with Gaz in the past.
And you can pretty much guess what happens when they arrive back at the house... yup, everything kicks off big time. Security!
Geordie Shore continues Tuesday 26 April at 10pm on MTV.For exclusive competitions and amazing prizes visit Reveal's Facebook page NOW!