Victoria Wood has died aged 62 after a short battle with cancer.
The comedian's publicist shared the news on Wednesday afternoon (20 April), saying: "
Victoria Wood
has sadly passed away, after a short but brave battle with cancer.
"The multi Bafta award-winning writer, director, actor and comedian died peacefully at her north London home with family this morning. She was 62. The family ask for privacy at this very sad time."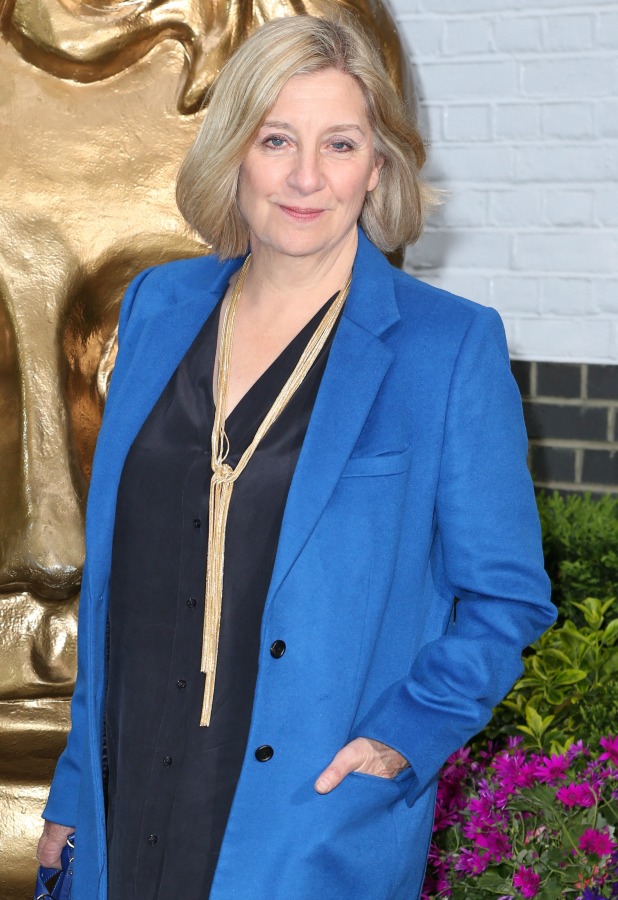 A tweet posted to her official Twitter account said: "We are devastated to confirm that our very special Victoria has sadly lost her short battle with cancer. Thank you for your support & love."
Thank you for your love and support at this very hard time. We leave you with these words from Victoria. X pic.twitter.com/w1h9DX19wG

— Victoria Wood CBE (@VictoriaWoodUK) April 20, 2016
Victoria began her career in the 1970s, winning television talent show
New Faces
. She went on to produce numerous sketches, plays, sitcoms and television programmes, as well as touring with her stand-up comedy show.
She found huge success in the 80s with sketch show
Victoria Wood As Seen on TV
, featuring her long-time friend and collaborator Julie Walters, who said today she was heartbroken by the loss.
"Too heart sore to comment. The loss of her is incalculable," said Julie.
Others who paid tribute today included Jennifer Saunders, Ricky Gervais and James Corden, as well as Prime Minister David Cameron who said: "Victoria Wood was a national treasure loved by millions. My thoughts are with her family."
BBC director general Tony Hall said: "Victoria Wood was a woman with a stunning array of talents - a comedian, singer, songwriter, actress and director. People identified with her warmth and great charm. She brought people from all walks of life together and made them laugh and cry. She will be greatly missed and our thoughts are with her friends and family."
Victoria was one of the country's most beloved and admired comedians. She wrote and starred in comedy series
Dinnerladies
, and the critically-acclaimed drama
Housewife, 49
, for which she won two BAFTAs.
She also won the
Great Comic Relief Bake Off
last year.
In her career she won several awards including five BAFTAs in total and was known for her charity work. She was appointed an OBE in 1997 and then a CBE in 2008.
A multitude of celebrities, colleagues and fans have been paying tribute on Twitter.
RIP the brilliant Victoria Wood. So innovative, funny and down to earth.
This has not been a good year.

— Ricky Gervais (@rickygervais) April 20, 2016
Cant believe Vic has gone.She was truly an inspiration and had so much left to to give and we won't see it. She was so funny.#VictoriaWood

— jennifer saunders (@ferrifrump) April 20, 2016
I don't know about you but I'm going to be binging on the glorious Victoria Wood tonight. *raises a cup of tea*

— Sarah Millican (@SarahMillican75) April 20, 2016
Here's Victoria Wood being brilliant on I'm Sorry I Haven't A Clue:https://t.co/jTDW3SNXOb

— Jack Dee (@TheRealJackDee) April 20, 2016
I first saw Victoria Wood live at a benefit for Knockabout comics in, what, 1983? She was a genius. Death, don't touch the funny, wise ones.

— Neil Gaiman (@neilhimself) April 20, 2016
Victoria Wood I loved you. Thank you for the inspiration and your total brilliance. X pic.twitter.com/tuXjgUnkZg

— Gwendoline Christie (@lovegwendoline) April 20, 2016
Whatever needed doing today can wait until tomorrow because, let's face it, we're all just going to watch Victoria Wood videos on YouTube.

— Matt Lucas (@RealMattLucas) April 20, 2016
So incredibly sad to hear that we have lost Victoria Wood. One of my all time favourites she brought so much laughter to to Walsh household

— Kimberley Walsh (@KimberleyJWalsh) April 20, 2016
A sad loss, I was fortunate to meet Victoria Wood a very funny, lovely lady .. My thoughts are with her family X pic.twitter.com/BelTIk0iL9

— Paul Hollywood (@PaulHollywood) April 20, 2016
I just found out that the amazing Victoria Wood is gone. I have to say I'm gutted and tearful. I hate cancer!

— Boy George (@BoyGeorge) April 20, 2016
The two MOST important comedians of my young life were Victoria Wood and Billy Connolly. They taught me comedy was ideas through jokes.

— Rufus Hound (@RufusHound) April 20, 2016
Very sad to hear of the passing of Victoria Wood. She was a brilliantly funny woman. If you don't know her work, look her up. So sad.

— Paul Feig (@paulfeig) April 20, 2016
So incredibly sad to learn we have lost such a brilliant and inspiring woman.Victoria Wood you will be missed for all the laughs you sharedX

— Tess Daly (@TessDaly) April 20, 2016
She inspired so many of us, and made it cool to be female, frank and funny. Thank you sublime Victoria Wood RIP https://t.co/WR8JX0JYvp

— MeeraSyal (@MeeraSyal) April 20, 2016
Very sad to hear of the passing of Victoria Wood. Another great taken from us in 2016. RIP.

— antanddec (@antanddec) April 20, 2016
Inconceivable that Victoria Wood has gone. She had a kindly yet savage eye for the ordinariness and the grotesquerie of life.

— Mark Gatiss (@Markgatiss) April 20, 2016
Shocked by news of Victoria Wood. I worked with her last year and was reminded of just what a superlative performer she was.Only 62 !

— John Cleese (@JohnCleese) April 20, 2016
Watch and weep. 62 is far too young. RIP Victoria Wood. https://t.co/X45piyvWC5

— J.K. Rowling (@jk_rowling) April 20, 2016
Another legend gone. 2016 is going to be one of those years it seems. So so sad RIP Victoria Wood

— Alan Carr (@AlanCarr) April 20, 2016
I'll always feel incredibly grateful that I got to see Victoria Wood on TV and in theaters.She was so brilliantly talented,what a sad day x

— James Corden (@JKCorden) April 20, 2016
I'm devastated. Victoria Wood was a truly brilliant & funny writer & a joyful, richly talented performer.
A heartbreaking day for comedy.

— Marcoooos! (@marcusbrig) April 20, 2016
Victoria Wood was a national treasure loved by millions. My thoughts are with her family.

— David Cameron (@David_Cameron) April 20, 2016
No. NO.This is too much.Now lovely, warm, funny, brilliantly talented Victoria Wood has gone.Words, songs, plays, she wrote the lot.So sad.

— Rory Bremner (@rorybremner) April 20, 2016