Megan McKenna has hit out at her critics, saying: "Any more low lives wanna jump on the band wagon and abuse me?"
The
Ex On The Beach
and
TOWIE star is currently sunning herself on a glamorous holiday in Miami
but it seems not everyone has been sending her happy holiday vibes or enjoying her poolside updates.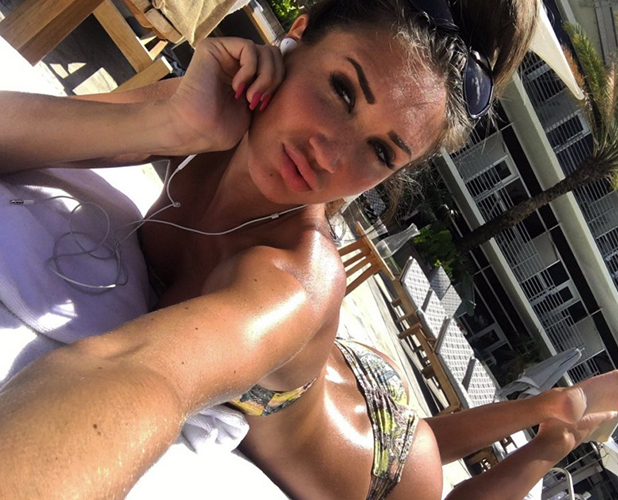 Megan, 23, tweeted yesterday: "Any more low lives wanna jump on the band wagon and abuse me? FYI your hate makes me realise I must be doing something right."
Her comment came after she shared a sultry selfie while sunbathing, showing her with headphones on, gazing into her iPhone camera.
Plenty of Megan's fans were quick to respond to her post and urge her to forget haters and just focus on her fabulous life, which includes a
sizzling romance with TOWIE co-star Pete Wicks:
@Megan_Mckenna_ haters are motivators! Do you ever see haters doing better than you? Nope

— Team Jez McConnell (@TeamJeremy_x) April 18, 2016
@Megan_Mckenna_ ignore them Meg there jealous & pathetic... love you

— Jess (@megmckennafanxx) April 18, 2016
@Megan_Mckenna_ well said some people just waner bring u down they aren't worth it ur doin a fantastic job keep.smilingx

— Brad luv leeds utd. (@07961_715471) April 18, 2016
@Megan_Mckenna_ YAS girl! Tell em'

— Lamont Junior (@LamontJunior) April 18, 2016
@Megan_Mckenna_ Don't pay no mind to the haters out there!.. There obviously have nothing better to do #Mute #Block xx

— Charlene Lewis (@char_charmed) April 18, 2016
Megan flew to Florida once the 17th series of
TOWIE
finished last week and has been enjoying a very glamorous vacation consisting of lots of sunbathing, shopping, nights out and even a Tori Kelly concert. Meanwhile,
beau Pete is in Mexico with co-star James 'Lockie' Lock on a lads' holiday
, but the couple have been keeping in touch while they're both away.
After
Megan joked she'd found a 'new bae' in Miami
- a lion mascot! - Pete was quick to respond via Twitter: "He wants to keep his grubby paws off you before I come slap him!"
The pair have said they'll also be
booking a sunshine holiday together later in the year
. Lucky!
Megan joined the cast of
The Only Way Is Essex
mid-way through the 17th series, following her best friends Chloe Meadows and Courtney Green who also made their debut this year.