Fans of Holly Hagan and Kyle Christie are about to see the former flames reunite for a car race against Europe, but who's going to be their competition?!
Last month, we were SO excited to hear about
Geordie Shore
favourites Holly and Kyle teaming up (despite their break up) to star in a brand new MTV show,
Car Crash Couples.
It will basically see the pair hit the road and take on challenges while competing against four other couples to ultimately not be named the 'Car Crash Couple' of the series. Sounds intriguing, right?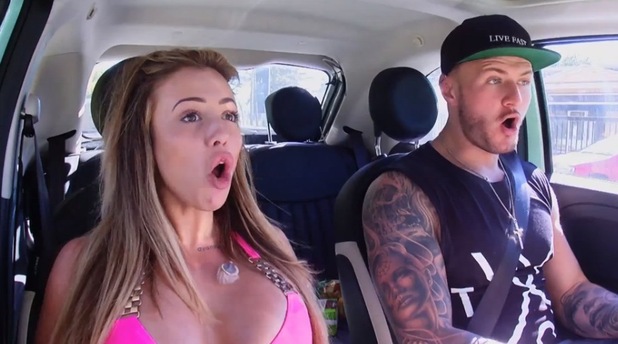 Fans were given a first look at Holly and Kyle in action in a sneak peek clip
and
Car Crash Couples
certainly looks like it's going to bring a whole new load of drama to our screens.
From what we know so far, Holly and Kyle team up on the show just TWO WEEKS after splitting up. Exes in the confined space of a car? That's surely not going to be good?
They will be making their way through the UK, Amsterdam, Germany, Switzerland, Italy, Monaco and France and taking on several challenges as they do. And each couple is trying to avoid being titled the 'ultimate car crash couple' at the end of it all.
Joining Holly and Kyle are four American couples who aren't strictly dating and each have their own issues with each other - which we've no doubt everybody will soon know about when the show finally airs next week.
Meet the teams...
1. Alex and Clayton.
Alex and Clayton are in a relationship. They are from Kentucky and have been dating for two years now and if Alex has it her way, she and Clayton will be ending the trip with a proposal. She says: "My dream scenario from this whole thing is a ring on this finger." Clayton, meanwhile, has other ideas: "Marriage is just not right now..."
Uh-oh...
2. Ashley and Rob.
Ashley and Rob are both 19 years old and are high school sweethearts. They are from Virginia and they have been together for a year and three months. While Rob gushes that he is "deeply in love" with Ashley, is the feeling mutual? She surprisingly reveals: "I didn't think he was attractive. At all."
Errm...
3. Hunter and Stephanie.
Hunter and Stephanie are from Palm Beach in Florida and they have been dating the longest out of the couples that are in a relationship. The pair have been together for two and a half years, but it seems things haven't been plain sailing. Hunter admits that Steph has definitely got "trust issues", while she reveals she wants her beau to "come clean about everything he has done..."
Awkward, much?
4. Frida and Joey.
Unlike our other couples, Frida and Joey are not dating. In fact, they had never met each other before being paired up on the show! Could love blossom for them both? Frida is 20 years old and from North Carolina, while Joey is based in New York. Frida thinks Joey is a "terrible driver", but that doesn't put her off as she thinks he's "hot". Joey, meanwhile, seems just as blown away be her. When she rocks up to meet him, he says: "Holy comoly."
We take it that's a good thing.
Car Crash Couples premieres Wednesday 20 April at 9pm on MTV.
For exclusive competitions and amazing prizes visit Reveal's Facebook page NOW!