Kerry Katona has admitted she was "mortified" by *those* pictures and video of her lying on an airport carpark floor with her trousers around her ankles.
The video was shot in Gran Canaria last month while Kerry was on holiday with friends, who urged her to pull her trousers back up, eventually yanking the grey joggings bottoms back up her legs themselves.
Speaking on ITV's
This Morning
today, she admitted: "To be honest, I feel like I don't have to explain or say sorry to anybody. I was just being a typical Brit on holiday."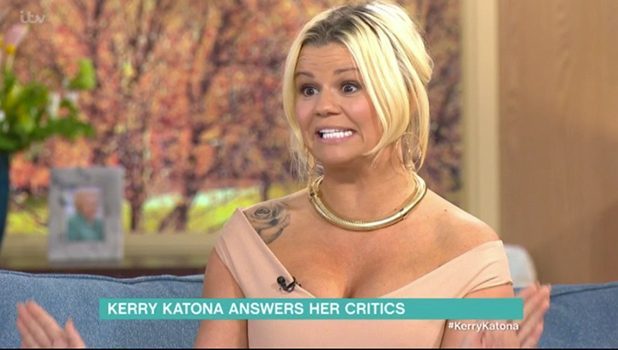 Kerry explained: "I went away for a few days, my first time without my children. We've had a bit of a rough year. We were on the plane, we got up at four in the morning, had no food, hit the champagne as one does on your holidays and as soon as the fresh air hit me, I was just desperate to get a suntan."
"To look at that, I'm embarrassed and mortified by it."
"At the end of the day I'm a really loud, bubbly character. I'm all or nothing. I like to have fun and giggle. The images of me at the airport, I'm mortified and embarrassed for myself and my children."
But she said she was open with her eldest kids Molly, 14, and Lilly-Sue, 13, and even showed Molly the video when she learned of its existence.
"With my eldest two, I have been so open and honest with my drug past. I've been really open and honest and people forget my children have been born into this industry. I don't care what the public think, what the media think. I have two of my children here today. They know me and how hard I work at home.
"I showed Molly the video and she said, 'Oh mum, what are you like?' I said I was sorry and she said, 'Mum, you work so hard, you deserve to let your hair down.' My children know me and all I care is what they think, and they know who I am."
"I went a bit too far, I get that. What you are seeing there is pretty well behaved compared to a lot of mothers I know who go out on a regular basis every weekend and get drunk. My children weren't with me and I don't feel I've done anything wrong, I really don't. I'm not back on drugs, I am still clean. I let my hair down and I've had a tough year."
Kerry, 35, suggested that while the public wanted her to succeed, some factions of the media really didn't. "I think I've had a long career because I have really loyal fans and I'm really open and honest with them and I do, from the bottom of my heart, believe people are egging me on to do so well… The public want me to do well but the press don't."
Molly and Lilly-Sue are Kerry's kids with first husband Brian McFadden. She's also mum to Heidi, eight, and Max, seven, from her relationship with second husband Mark Croft, and Dylan-Jorge, two, with estranged third husband George Kay.
For exclusive competitions and amazing prizes visit Reveal's Facebook page NOW!