TOWIE's Jake Hall has lashed out at "fake" co-stars and suggested he needs a new best friend following his split from Chloe Lewis on last night's series finale.
After an on-off relationship lasting eight years, it was
all over for Jake and Chloe
on Wednesday (13 April) when the rumour
Jake had slept with Megan McKenna
proved the nail in the coffin for their romance.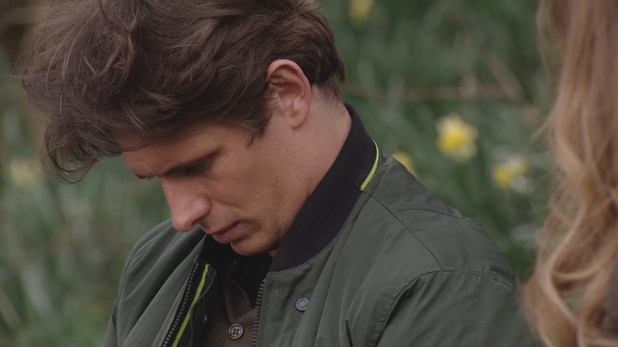 Jake has strongly denied the rumour, but Chloe believes it's true. In a
tense showdown
last night, she used the fact he was awkwardly laughing as further proof he was lying about spending a night with Megan.
But reacting on Twitter after the episode aired, Jake said: "It hard filming in front of loads of people on something that is so real. Sorry I got a nervous smile. I didn't mean it, just feels weird."
He went on to lash out at "fake" people and suggest he has no "real mates" on the show. "Way people jump on you when you down just shows the strength of some people. I wish you all the best in life because it must be sad," he said.
"There are some seriously fake people on this show and I'm gonna say again people in glass houses shouldn't throw stones."
He went on to say: "Where all my real mates at? Trust no one - would never let my partner talk s**t about them but suppose that's me. A rumour from 2 years ago and I got people acting like they do - don't worry I won't change. I'll never get involved in people's s**t, that's me."
Hmm. Was that bit about a partner a veiled reference to co-star
Tommy Mallet and the fact his girlfriend Georgia Kousoulou rowed with Jake
in a recent episode? Certainly, plenty of Jake's followers seemed to think so, tagging Tommy into the tweet to make sure he had seen it.
@Jakehall01 think he might be on about you here fella @tommy_mallet

— Scott Reid (@scottreid19) April 13, 2016
@Jakehall01 do you mean @tommy_mallet ?

— misskharrell (@HarrellKerryann) April 13, 2016
@Jakehall01 is that a jab @tommy_mallet ?

— amanda (@mandamoo23974) April 14, 2016
Either way, Tommy hasn't responded.
Jake also shared a screengrab of 50 Cent's song 'Best Friend' on iTunes, saying: "need this in my life #sound."
10 reasons why we want to be in TOWIE: