Sherrie Hewson paid emotional tribute to her friend David Gest on today's Loose Women, saying she spoke to him just a couple of weeks ago.
Music producer and reality veteran
David died on Tuesday, 12 April at the age of 62
. His body was found at a hotel in Canary Wharf, East London. A cause of death has yet to be determined.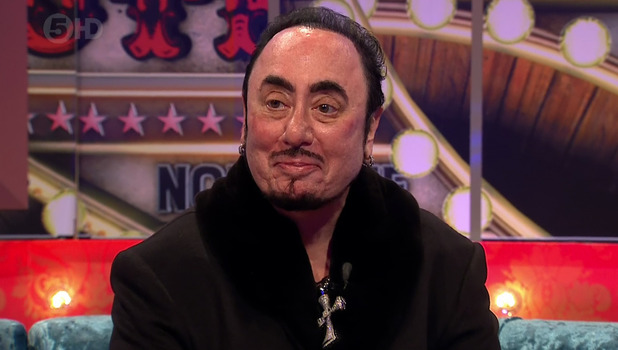 Speaking today, Sherrie said: "I've known him a long time. I can't actually take it in, if I'm honest. I'm devastated."
"The last time I spoke to him was maybe 12 days ago," she continued. "We were arranging to do all sorts of things. David was so full of life, honest to God, his energy was unbelievable. He was always going somewhere and saying, 'you come with me, I've arranged it.'
"The last thing he said to me was, 'right okay, I know you have to go but ring me, will you, either tomorrow or the next day.' And I didn't. It teaches us a lesson. If someone says ring or text and you say okay, do it. I'll always think of that now."
Andrea McLean described David as a "friend of the show" and said his last TV interview had been on
Loose Women
in January, shortly after his appearance in
Celebrity Big Brother
.
David's death was confirmed by his friend and former bodyguard Imad Handi,
who said yesterday: "It is with great sadness that I can confirm that David Gest has died today. David was truly larger than life. He was not just a huge talent and a dear friend but a showbiz icon.
"I know he will be missed by millions of fans around the world, and particularly in Britain, who came to love his charm and blistering one-liners. If I may steal the words of one eminent critic, David was a natural star and a genuine celebrity. I will miss him desperately."
A Metropolitan Police statement read: "Police were called at 10:17 on Tuesday 12 April to the Four Seasons hotel, in Westferry Circus to reports of an unexplained death of a man in his 60s.
"London Ambulance Service were called to the scene. Life was pronounced extinct at the hotel. A post-mortem will be held in due course. Next of kin are in the process of being informed."