Tributes have flooded in for American producer and reality star David Gest, who has died aged 62.
Famous TV personality
David passed away on Tuesday morning (12 April)
at a London hotel. His cause of death is currently unknown.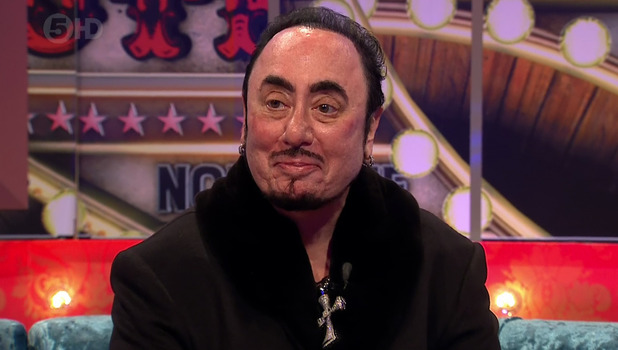 Many celebrities, including those who lived in the
Celebrity Big Brother
house with David earlier this year, have sent their condolences.
It was just last week that Stephanie Davis and Jeremy McConnell were pictured with David, who they lovingly referred to as "grandad."
My heart is broken. Grandad has gone. Last to get photo with him. We made plans and im gutted I won't see you again pic.twitter.com/EuVT4Oadh2

— Stephanie Davis (@Stephdavis77) April 12, 2016
Oh so sad to hear about David Gest, a truly talented and genuinely funny man! Rest in peace! X

— Beverley Callard (@Beverleycallard) April 12, 2016
So sad to hear the news about David Gest, I was lucky enough to get to know you, a wonderful fun and generous human being, RIP my friend X

— jamie lomas (@jamielomas1) April 12, 2016
R.I.P David Gest pleasure to have met him, such an incredible person, so sad he has passed

— Stephanie Waring (@Steph_Waring) April 12, 2016
So shocked and sad to hear that our friend David Gest has died. Hasn't quite sunk in xxx

— Denise Welch (@RealDeniseWelch) April 12, 2016
I can't believe the news I've just received we've lost an amazing man my thoughts go out to David Gest's family I'm so lucky I had the...

— Megan McKenna (@Megan_Mckenna_) April 12, 2016
...to meet and get to know him for the short time that I did I'll always remember your funny stories I'll miss you David xxx

— Megan McKenna (@Megan_Mckenna_) April 12, 2016
Absolutely beside myself David Guest I you so much so so sad to hear this will never forget you X the phone calls I will miss so much RIP

— Gemma Collins (@missgemcollins) April 12, 2016
Never have I lost a best friend before and this pain hurts harder than anything I've ever experienced. RIP David Gest, I love you brother.X

— Dean Gaffney (@deangaffney1) April 12, 2016
Such an incredible man David guest so sad we never got to say good bye

— jorgie porter (@misJORGIEPORTER) April 12, 2016
In total shock about David Gest passing away .. I'll miss you my friend #gutted x

— KAV (@kavana_official) April 12, 2016
Shocked and very sad to hear about David Gest. A good friend and so many great memories.

— James Bourne (@JamesBourne) April 12, 2016
David Gest was a talented producer ,witty man and someone I was proud to call my friend. Shocked to hear of his death.

— Les Dennis (@LesDennis) April 12, 2016
I'm devastated to hear about my dear friend David Gest. I love and miss you mate. Heaven will be a brighter place x pic.twitter.com/A3WP70hC4v

— Darren Day (@DarrenDOfficial) April 12, 2016
I can't put it words how truly sad I'm to hear that the wonderful @DavidGest2016 past away. One of the best people I got to know in my life

— Kristina Rihanoff (@KRihanoff) April 12, 2016
Can't believe your gone RIP David Gest. What a beautiful human xxxx

— Scotty T (@ScottGShore) April 12, 2016
I'm devastated to hear the sad news my dear friend David Gest has died . He was a loyal dear friend to me and he will be so sadly missed

— Lizzie Cundy (@lizziecundy) April 12, 2016
OMG just found out my great friend @DavidGest2016 has sadly past away. My thoughts are with your family at this time. RIP David x @kymseygr1

— Christopher Maloney (@ChrisMaloney77) April 12, 2016