It's official: there's another Kardashian wedding in the works!
Blac Chyna
has confirmed she IS engaged to Rob Kardashian, saying: "I'm so blessed and honoured to have good man in my life, I love you @robkardashian!"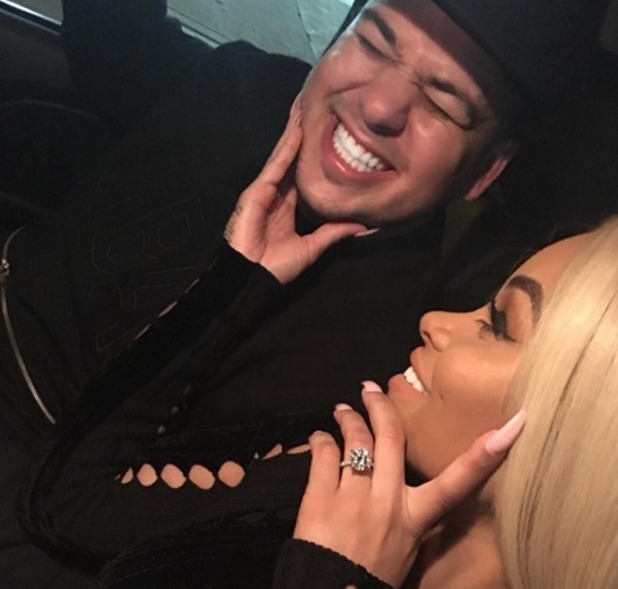 Rob popped the question with a gorgeous - and massive! - 7-carat diamond ring courtesy of jeweller Ben Baller. And Blac, 27, clearly LOVES it as she shared an Instagram video of a gloved hand twirling the blingy ring so the light bounced off the diamonds.
Custom jeweller Ben - who has a celebrity clientele including Blac's soon-to-be brother-in-law Kanye West - reposted Blac's image to his own Instagram, adding a message wishing the newly-engaged couple all the best.
"Congrats to @RobKardashian & @BlacChyna on getting engaged," he said. "Rob, I have never seen you this happy before and I've known you since you were a teenager. I'm glad you came to your day 1 homie to get this massive [ring] for your lady. You know I don't play when it comes to diamonds. God bless."
Rob hasn't directly confirmed the news but he did share an image of Blac to Instagram showing his other half flashing the ring while holding a wad of dollar notes. Perhaps confirmation of reports that the couple celebrated the engagement at a strip club.
Rob, 29, and Blac began dating back in January 2016, which raised eyebrows as Blac's previous partner is rapper Tyga, 26, who is now dating Rob's youngest sister Kylie Jenner, 18.
None of the Kardashian Jenner clan have sent their well wishes yet, but they were all seen jetting off en masse from a private air field in Los Angeles earlier this week, so perhaps they're abroad.
Since dating Blac, fans have noticed a change in Rob, who previously shunned the limelight and lived a reclusive lifestyle. He famously left big sister Kim Kardashian West's wedding to Kanye in Europe in May 2013 as he was uncomfortable with the spotlight, and then retreated from the cameras for more than year.
But now he's back on the social scene and looking happier than ever in social media posts.
Among those who sent their well wishes to the newly-engaged couple today was close friend Amber Rose, who wrote on Instagram: "Congratulations to my Family @blacchyna and @robkardashian!!! Pease don't let nothing or no one tear u guys apart! I never seen my sis so happy and I couldn't be more happy for her! Sometimes we find love in the strangest places Lol God Bless you 2! Now let's get this wedding together so y'all can start making some babies