Geordie Shore stars Gaz Beadle and Charlotte Crosby have appeared to hint they could get things back on track...
The co-star couple who had been dating again publicly fell out on social media over the last few days, following reports that Gary had 'propositioned' another girl during a night out at Nottingham.
He took to Snapchat to dismiss the claims, leading Charlotte to hit out at Gary on Twitter for publicly airing their relationship woes. Gaz then criticised Charlotte on the social media site, leading us to believe their romance could now be over. However, a second tweet from Gaz has got fans hopeful again...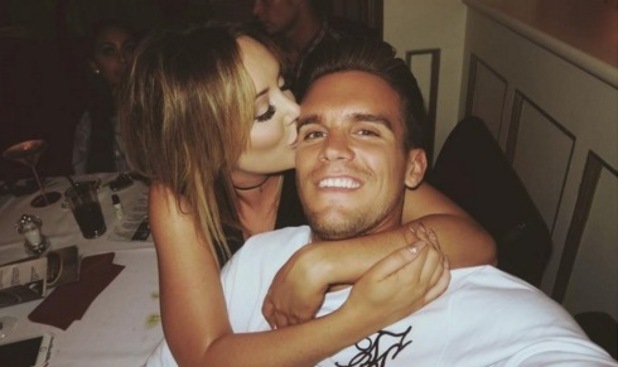 Last night, at the same time viewers watched
Charlotte break down in tears over Gary on Celebrity Juice
, the reality star cryptically tweeted: "Unbreakable..."
Unbreakable..

— GAZ (@GazGShore) March 31, 2016
Fans were quick to link Gary's tweet to the first post
Charlotte had shared on social media when they went public with their rekindled romance three months ago
. Charlotte had shared a photo of herself and Gary on Instagram and included the caption: "Unbreakable."
She had also posted emojis of a couple and a heart.
Geordie Shore
fans then noticed that Charlotte had liked Gary's tweet yesterday and instantly began speculating whether the duo can see past their recent troubles.
One fan commented: "@GazGShore what does this mean. Your messing with my emotions gary!" While another seemed positive this is not the end for Charlotte and Gary, they tweeted: "@GazGShore the fact @Charlottegshore has liked this comment tells me they have talked :)."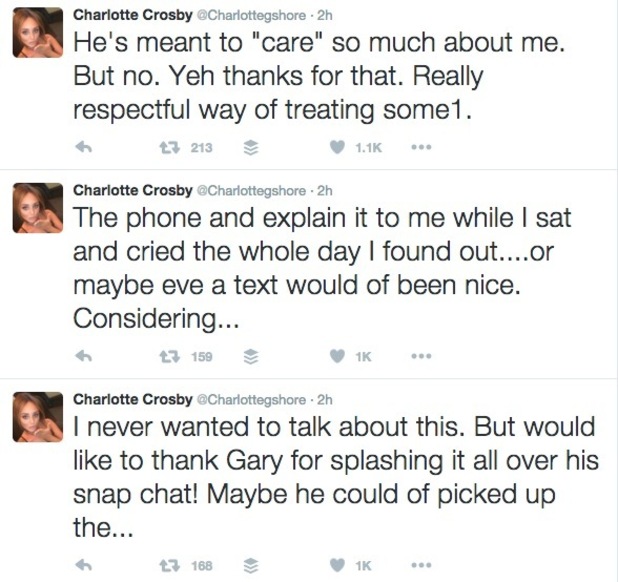 Gary's tweet comes after
Charlotte slammed him on Twitter and claimed he 'doesn't really care about her.'
Following the rumours that he had asked another girl back to his hotel room, Charlotte told followers she was left in tears and wished Gary had phoned her or messaged her privately to address them, rather than explaining the situation on Snapchat.
Gary had said he had invited the girl in question back to his hotel suite for an after party, along with a slew of other people too.
Charlotte then accused Gary of blocking her on social media and ignoring her for three days, and revealed he was planning to appear on
Ex On The Beach's
new series - that's why she was questioning their relationship.
Gaz, meanwhile, responded to Charlotte
and hit back: "Sick of always been made out the bad 1 I was ready you weren't... End of!!"
Fans had noticed a change in Gary since he and Charlotte started dating again, and he had seemed keen to make things official between the pair.
Charlotte, meanwhile, expressed her reservations about him and explained she still doesn't trust Gary because of their turbulent history.
She did, however, recently reveal she and Gary both 'do feel ready' to finally make a go of things.
Will they be able to sort things out?
Here's how fans reacted to Gary's "unbreakable" tweet:
@GazGShore I hope this means all is well now xx

— Jaydee (@Jaydeebubz5704) March 31, 2016
@GazGShore you need to talk with her @Charlottegshore

— *Taty Portilla (@TatyBreathe) March 31, 2016
@GazGShore they wil sort things out in the own time! I think gaz is just scared that he will hurt her again! And he doesn't want to!

— kurtis woodward (@kurtiswoodward) March 31, 2016
@GazGShore just show up at her house crying saying how much you love her and that it was all a giant misunderstanding

— sona (@justSona) March 31, 2016
@GazGShore stop this is to emotional

— SJ (@shauna_ora) March 31, 2016
@GazGShore is that a hint your going to sort it with charlotte xx

— i love saston(@Lucyaviss97ast) March 31, 2016
@GazGShore Yours & @Charlottegshore Friendship. Will always have something for eachother until you grow Old #MustBeLove

— Coombsey (@ShaneCoombes1) March 31, 2016
@GazGShore do something before it's too late!

— Jodie Edwards (@JEdwards1312) March 31, 2016
@GazGShore hope you and Charlotte have sorted things out!!

— 5SecondsOfTash (@murphymurphy03) March 31, 2016
@GazGShore Does this mean what I think it means x

— jasmine yavuz (@jasmine_yavuz) March 31, 2016
For exclusive competitions and amazing prizes visit Reveal's Facebook page NOW!