Geordie Shore: Chantelle Connelly clashes with Aaron Chalmers over their co-star Scotty T.
Fans have been given a first look at next week's episode of
Geordie Shore
and Chantelle and Aaron do not see eye-to-eye following a night out. Chantelle accuses him of saying Scott 'never liked her' and just 'wanted a sh*g', leading the two to have it out and their co-stars getting involved...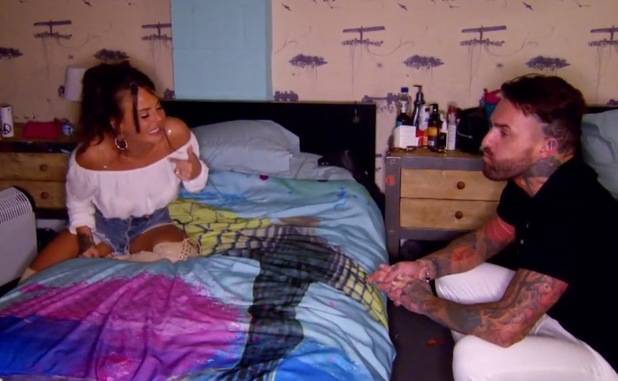 MTV has shared a sneak peek at Chantelle kicking off at Aaron. While it's unclear what's been said, it's safe to say it has angered Chantelle and it's led to her falling out with Scott.
She appears to be going over the situation with the rest of the house and says: "Aaron says he just wanted a sh*g and he never liked us from the start. But, [Scott's] telling me different."
Aaron then quips that Chantelle and Scott's fallout must be his "fault", before Scott then tells Chantelle: "Don't start having a go at Aaron because he's done f**k all wrong."
Aaron, meanwhile, insists he is "sick to death" of getting the blame and tries to sort things out, "once and for all", with Chantelle and Scott - but that only seems to rattle Chantelle more.
She says: "Let me lay it all down what you said about Scott, let me lay it all down. You can't say sh*t. You are a f**king liar... making me look like a f**king mug. You said he doesn't give a f**k about me."
Seeing red, Chantelle then throws a water bottle and ends up smashing a mirror. At that point, Charlotte gets involved and tells Chantelle: "I don't want anymore kick offs. What do you want? We can't keep going backwards and forwards anymore."
Anyone else confused?! What on earth has happened?!
Things had seemed pretty sweet between Chantelle and Scotty after he confessed his feelings for her in the last episode of the show.
Scott had drunkenly said he wanted Chantelle to be his girlfriend
and later admitted: "I know it's a bit fast and we haven't known each other long, but I do have a thing for you... I have not pulled one girl and I've actually been well behaved. For me, that is a massive thing."
Geordie Shore continues Tuesday 5 April at 10pm on MTV.For exclusive competitions and amazing prizes visit Reveal's Facebook page NOW!