Geordie Shore's Charlotte Crosby has hit out at her co-star beau Gaz Beadle, fuelling speculation their on/off romance is now no more.
Signs of trouble first surfaced yesterday when eagle-eyed fans noticed
Charlotte had deleted all her Instagram photos with Gary
. It was then reported that Gary had 'propositioned' another girl while on a night out in Nottingham and Charlotte cryptically tweeted that her head was "f**ked."
Now, she has posted a tirade about Gaz on Twitter and hinted the reality star has signed up to the new series of
Ex On The Beach
. She told fans she 'doesn't think Gaz cared about her at all', suggesting things are now no more between the pair.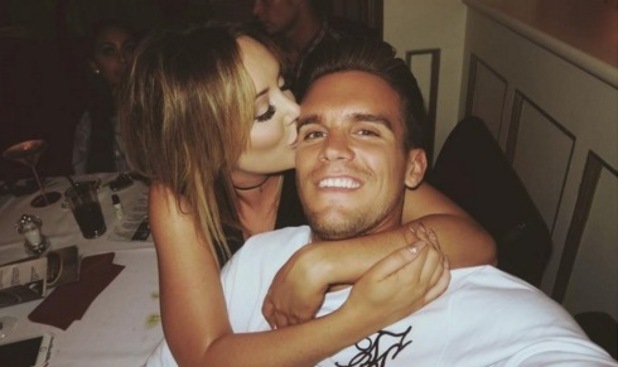 Taking to Twitter, Charlotte shared a series of tweets with her 2.74 million followers, after Gary decided to respond to the recent reports about him publicly on Snapchat.
They read: "I never wanted to talk about this. But would like to thank Gary for splashing it all over his snap chat! Maybe he could of picked up the phone and [explained] it to me while I sat and cried the whole day I found out....or maybe [even] a text would [have] been nice.
"Considering he's meant to 'care' so much about me. But no. [Yeah] thanks for that. Really respectful way of treating some[one]. Maybe my head wouldn't be so f**ked up about the whole situation if he hadn't decided that he wants to go onto @mtvex next week which is a DATING show..."
"How can I even begin to understand what or where me and Gary are under them terms!!!" She explained. "And then after all of this on top of that hasn't really helped matters. This isn't the behaviour of some[one] who wants to make it work with some[one].
"I actually believed he cared and had changed, but blocking me on Twitter and ignoring me for 3 days and having to cry to his best friend @AaronCGShore doesn't show me he cares at all. I hope maybe now people [can] understand a little bit more.."
Reveal
contacted MTV about Gaz's appearance on
Ex On The Beach's
new series and they had no comment to make.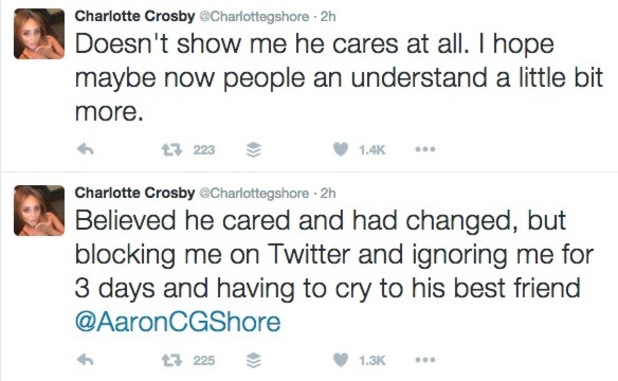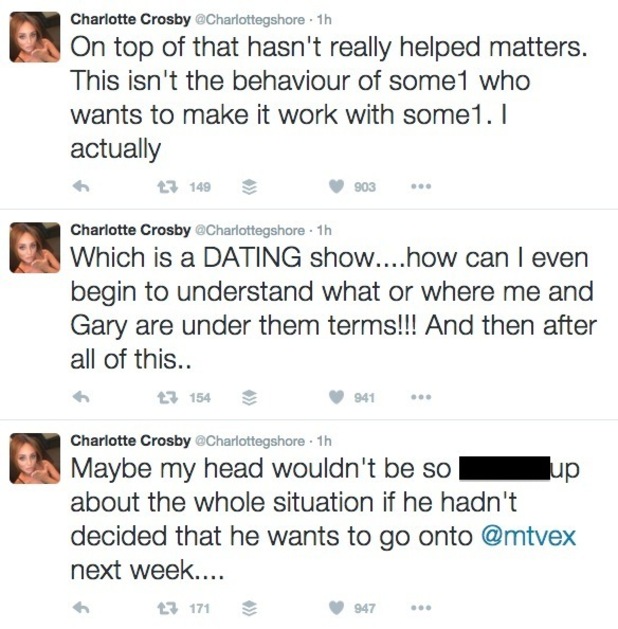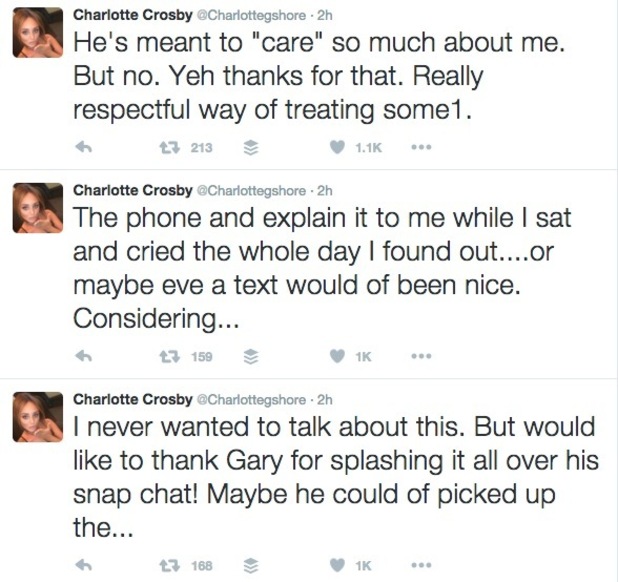 Charlotte's tweets come after Gary addressed the rumours he had asked a girl, who was assigned as his hostess for the evening, to come back to his hotel following a night out.
At the time, a rep for
Gary assured Reveal there was "no truth" in the reports
and now Gaz has explained he threw a party in his hotel suite and the girl in question was one of many who had been invited.
Gary told his Snapchat followers: "I said, 'Look there's my number if you want to come back, text us.' Never mind everyone else that was at the party... there was about 7-10 people at this party and she didn't even end up coming... can everyone please get off my f**king back.
"Technically I've done f**k all wrong, and it's been blown massively out of proportion by everybody else."
He added: "It makes me so angry when people f**king get themselves involved in my sh*t."
Gary then revealed that he'd had Charlotte messaging him about the rumours, as well as people commenting on Twitter and Instagram about it.
He hasn't responded to Charlotte's tweets.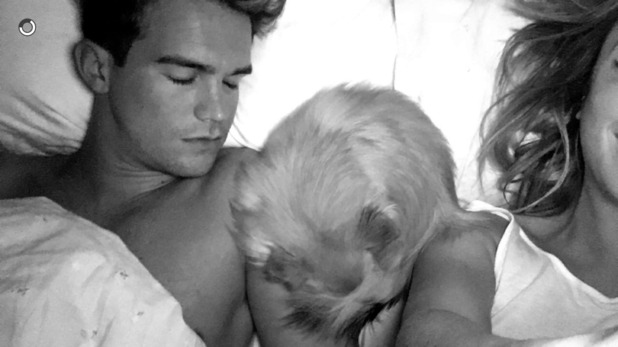 Charlotte and Gary have been romantically linked since they first appeared on
Geordie Shore
back in 2011. Since then, viewers have been hooked by their on/off romance and were excited to see the duo rekindle things back in January.
After filming for
Geordie Shore's
five year special, Charlotte and Gary revealed they were dating again.
The couple explained they had both "let their guards down"
after finally having an honest conversation about their feelings for each other in the house.
Since then, Gary had noticeable changed when it came to Charlotte,
even their co-star Holly Hagan admitted he was "a lot more into her"
than he had been previously. Fans saw smitten selfies from the two reality stars, date nights and Gary had even sent a very cute Valentine's Day delivery to Charlotte out in Australia last month.
However, Charlotte insisted nothing was official between herself and Gary.
She admitted she still has her reservations about Gary
because of their history and 'doesn't trust him.'
They had decided to pursue their romance privately, until agreeing where they stood with each other. Fans had been hopeful things would work out, after
Charlotte recently shunned reports her and Gaz's relationship was for 'publicity'
and revealed the couple 'do feel ready' to try and make a go of things.
For exclusive competitions and amazing prizes visit Reveal's Facebook page NOW!