Stephanie Davis has hinted that she may rekindle her romance with Jeremy McConnell following their split over the weekend.
The couple - who found love on the 17th series of
Celebrity Big Brother
-
confirmed they had split after Jeremy was faced with more cheating claims
.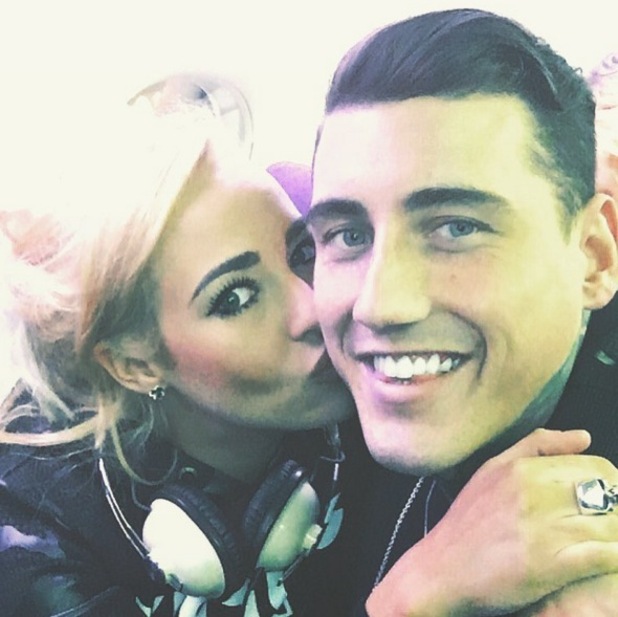 The breakdown of their relationship came after Steph shared a screenshot of a text message exchange via Twitter, accusing Irish model Jeremy of cheating on her and alleging he had slept with "5 girls".
Jeremy had strenuously denied the claims, and now, in a series of tweets this afternoon, former
Hollyoaks
actress Steph said the messages did not actually belong to him.
She tweeted: "I can confirm the messages supposedly sent from Jeremy aren't true. Everyone can hate and say what they like, but at the end of the day I met a boy who I fell in love with. It's been hard with all the press and tweets, have all you not experienced heart ache. It's been so hard for us. And if you could all see the pain I've been in and him you would understand.
"Yes your right and I won't be posting my life on social media," she continued. "But when you meet someone you love and can't live without you know its real. This week has been the worst week of my life & I just want to be happy. Against me or not I'll do what I have to do and follow my heart. Where sets what will be will be."
Steph, who told fans on Monday night that
she was going on a blind date
, added: "There's a lot u don't know only by what papers say. It's my life and my choice, I might be wrong I might be right... I can only follow my heart & I hope."
Jeremy is yet to respond to Steph's new tweets.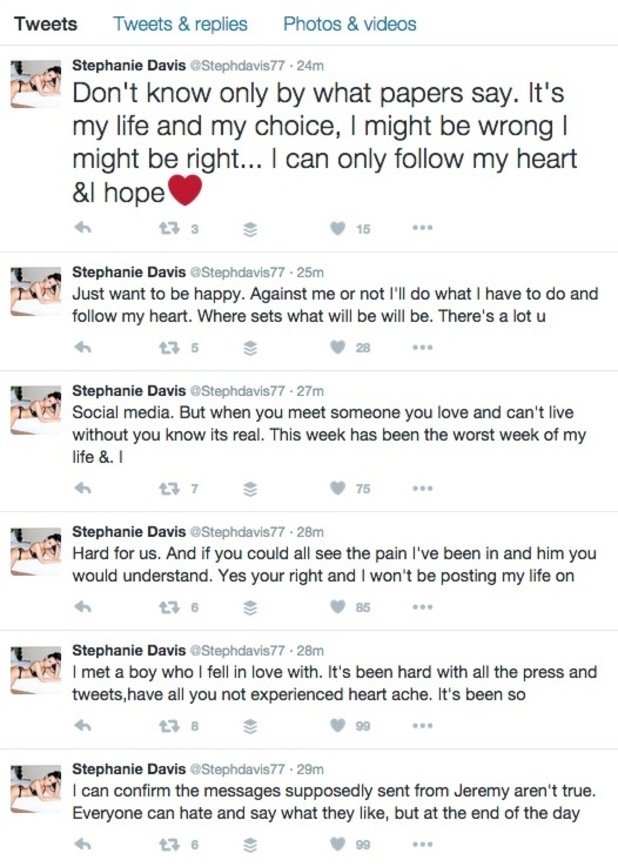 After Steph shared the screenshot of text messages over the Easter weekend, Jeremy denied the claims, telling the Daily Mirror at the time: "I'm saddened and feel sick the lies and slander she's caused.
"I flew over to Spain and we both sat down and ironed things out and she knows full well I opened up about everything that's happened."
He added. "We broke up last week down to other issues which I won't go into. But bringing all this up again which is months old, and bring my dead mam into it like she did was low, but it probably is her way to deflect on what really broke us up."
Steph and Jez
only recently reconciled nearly two weeks ago following their second public split
.
They decided to give things another go in Spain and wipe the slate clean after Jeremy admitted he slept with club dancer Caroline Pope in Newcastle following his
CBB
eviction, and confessed to sleeping with a woman named Dani the day after he split from Steph this month.
Steph and Jeremy first split in February for just 24 hours ahead of their scheduled
Loose Women
interview. Their romance was controversial on
CBB
as Steph was in a relationship with model Sam Reece on the outside.
Try Reveal's digital edition on iPhone & iPad. Subscribe now & never miss an issue!