Kate Wright has accused her TOWIE co-star Courtney Green of favouriting a mean Twitter message saying she has a "face like plastic."
On last night's episode, the blonde reality star told Georgia Kousoulou and Chloe Lewis that she learned about the tweet favourited by Courtney because she had been tagged in the message.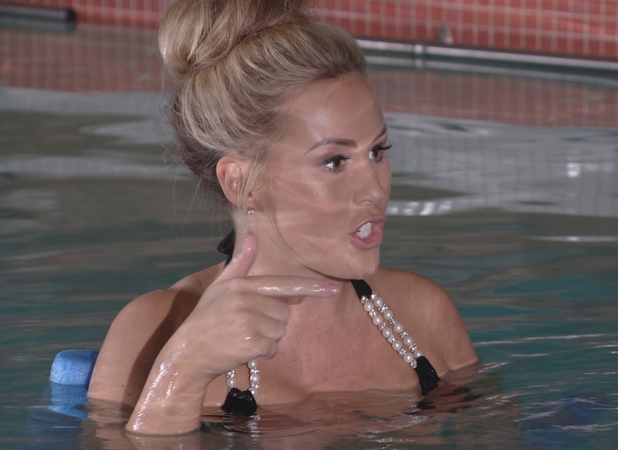 Viewers know there was drama between
Kate and Courtney's close friend Megan McKenna
a couple of weeks ago, after
Kate jokingly called out Megan's name at a pub quiz when asked the name of Pete Wicks' dog
. (
Megan and Pete are currently dating.
)
Kate said: "I have spoken to Megan and sorted it out, it's fine. I haven't got an issue with her anymore. The girls, Courtney and Chloe (Meadows), still have an issue. Obviously people are going in on me on Twitter and Courtney has favourited a tweet saying, 'Kate has a face like plastic, no wonder her boyfriend doesn't want to talk to her. She moans so much.'
"The thing is, we were sitting at the dinner table with them at the Greek Party, hunky dory, no more drama, we'll all be friends, then they go and do that. I just think it's a bit of a liberty, really."
Kate clarified it was Courtney who had favourited the tweet, rather than Chloe M.
Georgia wasn't impressed, saying: "We have all apologised and admitted where we have gone wrong, but all of a sudden they can do what they want or say what they want because we messed up? That's not fair and, I'm sorry, but you don't get involved in your relationship. That's really horrible and that's really spiteful to have done that."
Kate replied: "I'm not being funny. Yes, I have to log out of Twitter, but there are some horrible tweets I've got about them and I would never favourite them as I just think it's really rude."
Chloe L advised her not to worry about it, as people like Chloe and Georgia are her true friends, rather than Courtney and Chloe M, and that's all that matters.
So far Courtney hasn't responded, other than to like some tweets sent last night by viewers happy she's now part of the cast. Chloe M, meanwhile, liked a tweet that read: "No body deserves any horrible tweets #girlpower @xkatiewright @courtneyMgreen @Megan_Mckenna_ @Chloemeadows c'mon girls stick together!"
TOWIE
continues Wednesday at 10pm on ITVBe.
Ten reasons why we want to be on TOWIE!