Love Island star Hannah Elizabeth has cryptically vented about people seeking the limelight, after TOWIE fans watched her ex Jon Clark move on with Chloe Sims.
In recent episodes of the ITVBe reality show, Jon has made no secret of his feelings for Chloe and last night,
he even dropped the L-bomb (albeit accidentally) into conversation
with her while the pair were on their second date.
It seems, though, his new romance hasn't gone unnoticed with his former fiancée Hannah and when Courtney Green appeared to mock the ex couple's past relationship, she took to Twitter to vent her frustration.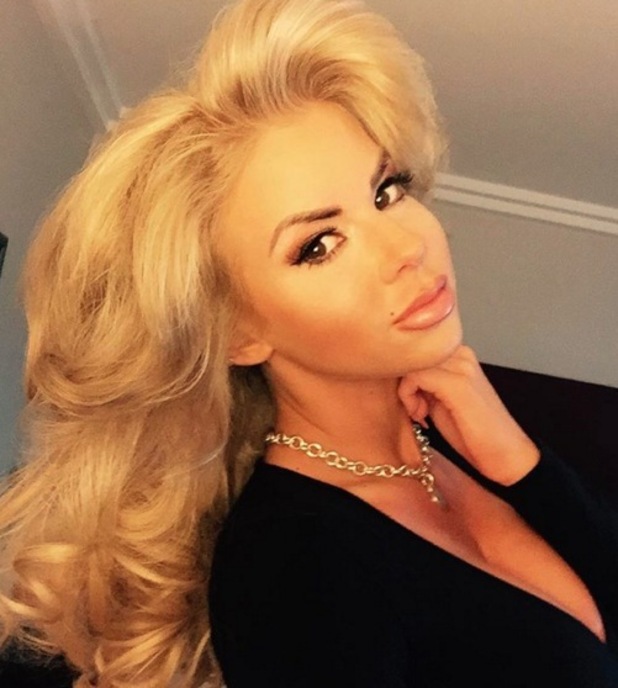 Fans had watched Chloe make light of Jon proposing to Hannah last summer while the duo were starring on
Love Island.
She and Jon's younger brother Chris Clark had been discussing his blossoming romance with Chloe. Courtney had said: "Jon and Chloe looked cute at the party. When he likes a girl, he moves on very quickly with them, doesn't he?"
Chris replied: "That's him, that's my brother and how he is. I'm the reasonable side and he's the unreasonable side. I don't rush."
Courtney then joked: "You don't rush. If you meet a girl you don't rush into things but he'll probably put a ring on it in about a week."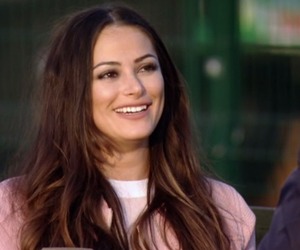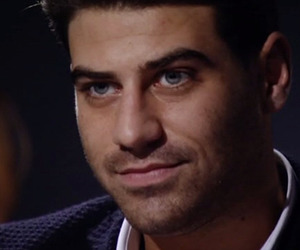 Hannah appeared to react to her comment by tweeting a series of crying with laughter emojis and telling her followers she was "howling." A friend of Hannah's then tagged Courtney into her reply and tweeted back: "@misshannahelizx @courtneyMgreen oooo that comment."
They also added an emoji resembling claws.
Courtney, however, hasn't responded.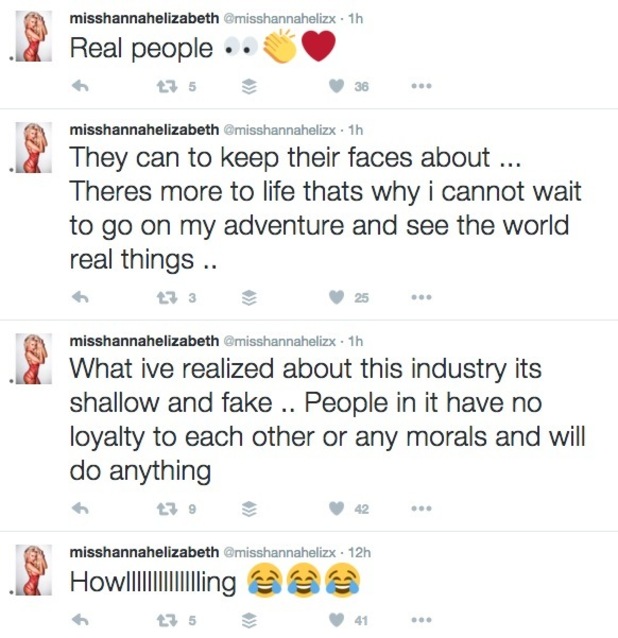 Viewers then watched Chloe join Jon for a second date, where he promised to show her how much he likes her. Chloe told the Essex boy it takes her a lot to date someone and she only does when she can see a future with them, prompting Jon to tell her: "I like you enough to try to prove to you I could be someone you could potentially care about as a friend or more."
This morning, Hannah then took to Twitter for a second time and called out those who try and seek the limelight. Although, she did not reveal who she was targeting with her tweets.
Hannah said: "What ive realised about this industry its shallow and fake .. People in it have no loyalty to each other or any morals and will do anything they can to keep their faces about..."
"Theres more to life," she added. "That's why i cannot wait to go on my adventure and see the world real things..."
Hannah is currently preparing for a trip to Thailand. She and Jon split in October last year, following a series of rows. At the time,
she had told Reveal she was "heartbroken" things hadn't worked out
and claimed she was second guessing if Jon's feelings for her had been genuine.
He, meanwhile, recently revealed on
TOWIE
he wasn't himself while dating Hannah
. Jon said: "It was a proper messy relationship. I got engaged, like. I have never done that before! But I couldn't carry on in that relationship. I was so unhappy. I got to a place where I weren't myself."
For exclusive competitions and amazing prizes visit Reveal's Facebook page NOW!