Geordie Shore: Chloe Ferry clashes with Chantelle Connelly after she sees her kissing Scotty T.
Everyone will know from last week's opening episode that
Chloe is still struggling to get a hold of her feelings for Scott
. She confessed to newcomer Chantelle on first meeting her that she is still in love with her co-star, but as he openly flirted with Chantelle in front of her, Chloe broke down.
Now, she has to face Chantelle and Scotty necking on and when she vents her upset to Holly Hagan, eavesdropping in Chantelle confronts Chloe for talking about her behind her back: "If you've got something to say, say it to me."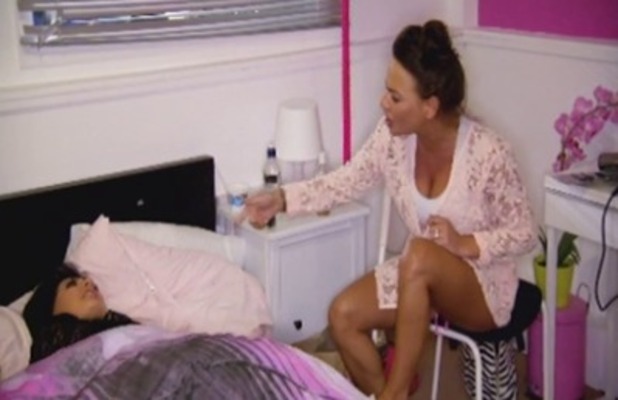 Chloe first saw red with
Chantelle when she agreed to go on a date with Scott
- despite Chloe trying to warn her away. Scott then whisks Chantelle off for a romantic picnic on the beach and when Chloe later sees the pair kissing in full view of everyone in the club, she finds it all a little too much.
Back at the house, Chantelle overhears Chloe telling Holly she hates it when everyone talks about Chantelle and Scott getting together.
Chantelle confronts Chloe for bitching about her and says: "Have I heard to you just say you was sick of hearing about me and Scott?"
Chloe, meanwhile, is not impressed: "I'm pouring me heart out to Holly and the next thing I know f**k face is in me space. You're the last person I want to see, Chantelle."
Chantelle tells Chloe that she shouldn't talk about her behind her back and then deny doing so when confronted by her, but Chloe hits back: "I told you from the moment you walked in, that I f**king like Scott."
"You do not love Scott," Chantelle fires back at her. "I tell you that now."
If that's how heated it gets when Chloe find outs Chantelle has just kissed Scott, what will she make of hearing the pair have had sex?
After a little disagreement,
Chantelle and Scott kiss and make up and head into the 'sh*g pad' together
- surely this is not going to end well?
Geordie Shore continues Tuesday 22 March at 10pm on MTV.For exclusive competitions and amazing prizes visit Reveal's Facebook page NOW!