Geordie Shore's Charlotte Crosby has revealed she and her co-star Gary Beadle are not getting married, after the results of their wedding bet have finally come in.
Cast your minds back to December and
Charlotte made a bet with Gary that could have potentially seen them tie the knot in Vegas.
The pair both support rival football teams, Charlotte is a Sunderland fan while Gary is Newcastle, and they had a lot riding on this weekend's derby match.
If Sunderland won, Charlotte and Gary were jetting off to get married, but if they lost, Charlotte had to get Gary's name tattooed on her...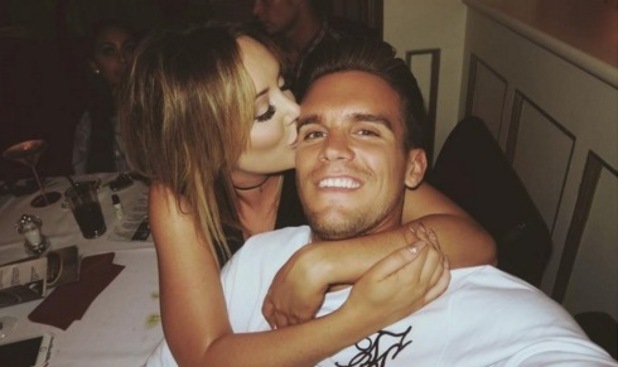 Charlotte had said: "Gary, if Sunderland win the next derby match, which is next year, you have to fly to Vegas the very next day and marry us. In a little chapel, maybe by Elvis. I will officially be Charlotte Beadle."
"However, if Newcastle are to win this game, I will get a tattoo of your name, wherever you would like it, on my body," she added.
Gary then accepted Charlotte's bet
and told her: "Charlotte you are a dirty little mackem who I hate on derby day... I don't like Sunderland people, I don't like you, so Newcastle will win and you will have 'Gaz' tattooed on your forehead for the rest of your life.
"And as much as you think you are going to marry me, you're not. You never will. And no football bet is ever going to help you do that. The bet is on."
Taking to Twitter yesterday, Charlotte finally revealed the results of the pair's wager and tweeted: "Can you believe a draw SH*T no tattoo no marriage LOL..... thank god for that."
No wedding bells for Chaz, then...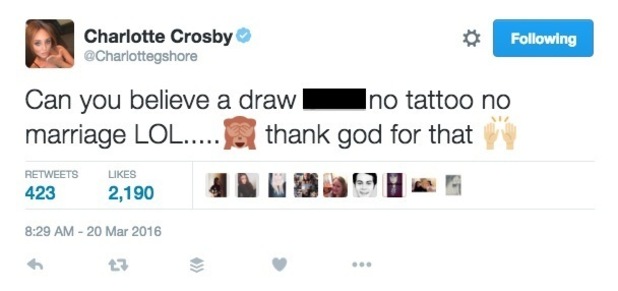 The results of the couple's bet comes after they have rekindled their on/off romance. After filming for
Geordie Shore's
five year special, the pair revealed they had 'let their guards down' with each other and are now dating again.
Fans then saw a change in Gaz as he seemed to be pretty serious about his relationship with Charlotte. We've seen soppy Twitter PDAs, smitten selfies with Charlotte and a seriously cute Valentine's Day delivery.
Even
Holly Hagan revealed Gary seems 'a lot more into Charlotte' this time round.
Charlotte, however, has revealed nothing is official yet between herself and Gary
as she still has her reservations about him.
"There's something holding me back," the 25-year-old admitted. "It's hard for me to even talk about it because I don't know myself... we're just going round and round in circles. I'm just really confused."
Charlotte added: "I don't know if Gary is what I want. I don't trust him. I don't think I'll ever be able to trust him."
She has since told fans her relationship with Gaz is 'unexplainable.'
Charlotte tweeted: "As confusing as it is......its just kinda unexplainable atm."
For exclusive competitions and amazing prizes visit Reveal's Facebook page NOW!