Vicky Pattison gave fans a taste of what she has to deal with on social media daily by reading out messages she has received from trolls live on Loose Women.
The panel had been discussing the recent treatment
Katie Price and her son Harvey, 13, had received from online troll
s, in a bid to raise awareness of it happening and put a stop to it.
Vicky, along with Katie, Andrea McLean and Linda Robson, all revealed they are subject to abusive comments on social media and the former
Geordie Shore
star read out two tweets to give us an example of what she is forced to read about herself.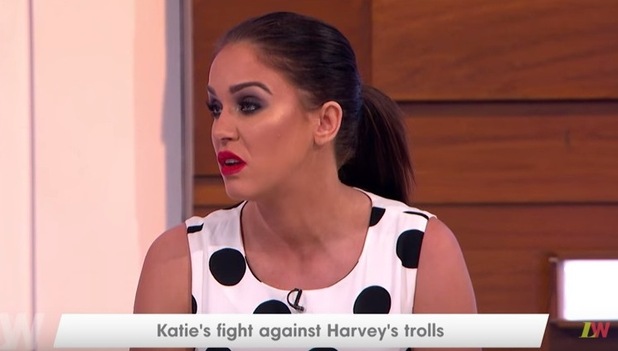 Speaking out against online trolls, Vicky said: "It's something that really, really bothers me. Some of the abuse I get from people on Instagram and Twitter... would you ever walk up to someone and say those things? You wouldn't. Why do they think it's socially acceptable and ok to do it from behind a computer screen?"
She then proceeded to read out such tweets and quipped: "Are you ready for this?"
"Tweet number one," Vicky continued. "I wish I could adequately describe in print the loathing I have for this woman and her brand of celebrity. Suffice to say, I find the average house brick more intelligent and appealing."
Vicky then read out a second tweet: "You 'Vicky Slapperson' are a pathetic example of a woman. You are vile. So stop putting pathetic attention-seeking pictures online that no one wants to see. And go a read book love, or go and get some education. Better ask someone what that is first, eh pet."
Hitting back, Vicky then added: "I've got a degree. I'd just like to point that out."
Show host Andrea followed suit and publicly revealed some of the tweets she had been tagged in, before addressing trolls and telling them: "It hurts."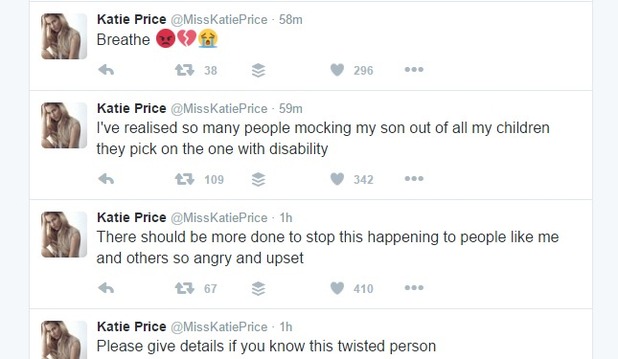 The
Loose Women
ladies decided to air their own issues with the negative criticism constantly given out on Twitter, Facebook and Instagram, after
Katie took it upon herself recently to name and shame trolls.
The mum-of-five was made aware of comments and memes that had been made about her son Harvey. He had been targeted because of his disability, leading Katie to publicly condemn those who had mocked him.
She branded those users "disgusting individuals" and called on her legion of followers to help her out those who had posted such things. Speaking out, Katie had said: "You don't do that to anyone, and when it becomes about my son I will always run to defend him. It would upset me if I read it about someone else's child, let alone my own.
"Some of these people have been doing this for a while and they're the ones I'm going after... Even the people who comment and laugh and share it are disgusting."
Katie did receive an apology from one troll, after naming and shaming them.
The individual agreed what they had shared was "disgusting" and insisted they were a "lovely person inside."
They promised Katie it would "never happen again."
She has called for a "proper verification process" for users on social media, so that trolls can be identified more easily. Explaining on
Loose Women
why she wants to take action, Katie said: "I think it's important because it affects people at different ages, something should be done about it.
"Because I've put him in the public eye, he deserves this to be said about him? It's so wrong. Because I am in the public eye, hopefully I can make people aware and do something about it."
For exclusive competitions and amazing prizes visit Reveal's Facebook page NOW!