Geordie Shore: Chantelle Connelly appeared to have fans divided after her entrance on the show's new series last night.
Viewers tuned in to see Chantelle make her
Geordie Shore
debut and from the get go, she was already causing a stir. Not only did
Chantelle have both Aaron Chalmers and Scotty T fighting over her
, she had
Chloe Ferry feeling a little threatened too.
But how did fans react to having her on the show?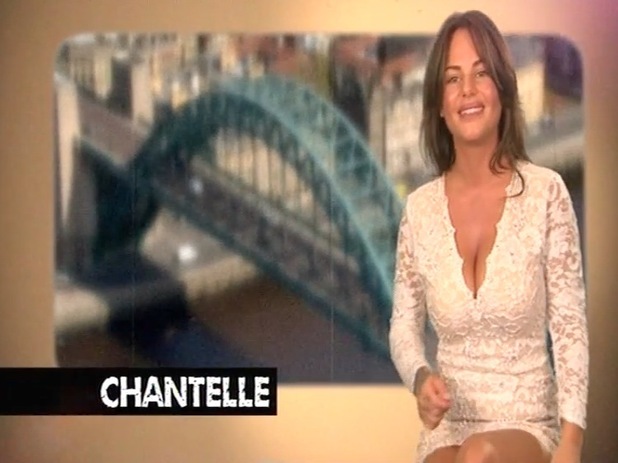 In short: They were pretty divided.
While Chantelle did receive a slew of support from fans, she did find there were others who haven't warmed to her just yet. In her defence, there's only been one episode, surely you've got to give the girl a chance?
Chantelle introduced herself as a "feisty party girl" and teased she was going to "play all the lads against each other." She later revealed she used to be a stripper and Scott and Aaron were officially hooked. We can't wait to see how that little love triangle plays out!
However, some weren't so keen on Chantelle's sassiness and criticised her for it. One fan tweeted: "Not sure what to make of Chantelle in Geordie Shore..." While another said: "I'm not liking this Chantelle at all... she needs to go."
Others, meanwhile, jumped to Chantelle's defence. One follower hit back: "Dunno why people hatin on ya already pal, seem a right laugh!" Another added: "@ChantelleGShore haters are jealous! I think [you're] lovely."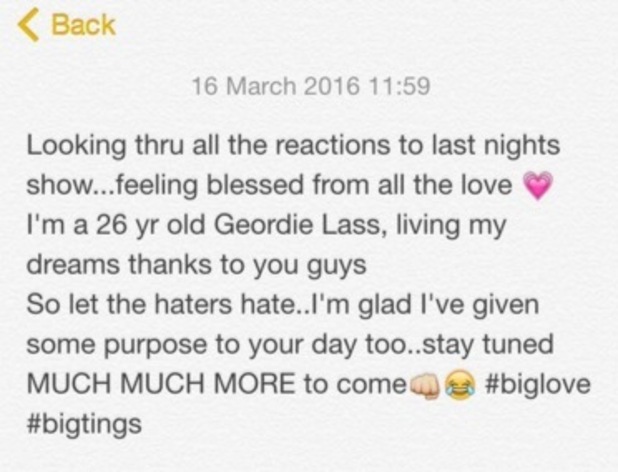 Chantelle made sure to have her say too. She thanked those who had supported her and insisted she was "living her dreams" by joining
Geordie Shore.
The reality star shared a message to Twitter that read: "Looking though all the reactions to last night's show... feeling blessed from all the love. I'm a 26 year old Geordie lass, living my dreams thanks to you guys.
"So let the haters hate... I'm glad I've given some purpose to your day too... Stay tuned MUCH MUCH MORE to come #biglove #bigtings."
Check out more fan reactions below:
@ChantelleGShore finally decent piece of stuff in the Geordie shore house!

— Buckstar (@jordanbuckley51) March 16, 2016
I love @ChantelleGShore glad she went in too the house!

— Charlie (@charliecarter26) March 16, 2016
Aw I love @ChantelleGShore already! #geordieshore

— Rebekkah Taggart (@rebekkahtaggart) March 16, 2016
What a @ChantelleGShore is

— Snakes' (@Jake_Lesta) March 16, 2016
Nahhh, i don't like that new chantelle lass. As soon as she walked into the house she should've walked straight back out. #GeordieShore

— Bettie Karen (@xxbkt) March 16, 2016
Not to sure what to make of Chantelle in Geordie Shore..

— Charlotte Donovan xo (@charlottetdonny) March 16, 2016
Chantelle #GeordieShore

— Josh Bickerdike (@JoshBick__) March 16, 2016
I can't understand Chantelle her accents too much #geordieshore

— ㅤㅤㅤ (@bgrahxm) March 16, 2016
Sorry to say after watching this episode I don't really like Chantelle #GeordieShore

— Georgia (@georgiarose43) March 15, 2016
I always hate new people that go into #GeordieShore really don't like this Chantelle , but I said this about Marnie and I love her

— Emily Parkinson ♡ (@Emilyjane1990) March 15, 2016
People are so quick to judge @ChantelleGShore yet she's only been in the house a day, give her a break #geordieshore

— demi (@demiraemarie) March 16, 2016
Woah that new lass in #geordieshore is well pretty @ChantelleGShore X

— 'hollie (@hollielouisefa1) March 16, 2016
For exclusive competitions and amazing prizes visit Reveal's Facebook page NOW!