TOWIE star Chloe Sims confessed to kissing Liam 'Gatsby' Blackwell AND Jon Clark in yesterday's 200th episode of the show.
TWO kisses in one night? Cheeky Chloe!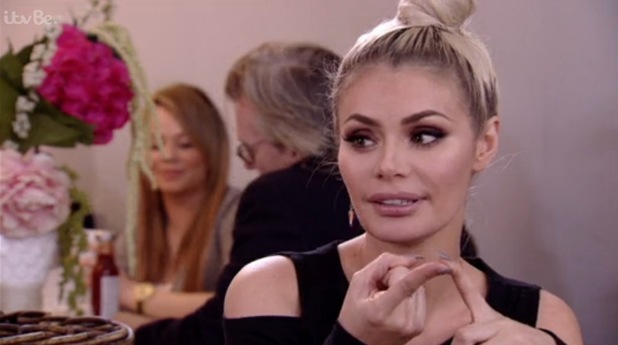 Fans will know that both
Gatsby and Jon have been vying for Chloe's affection since TOWIE's new series returned to our screens
. While Gatsby has been trying to woo Chloe since revealing he has the hots for her in Gran Canaria,
Jon has been opening up to the mum-of-one about his past relationship
and promised to take her on a date to The Proms.
Liam, meanwhile, has secured a date with Chloe and did his best to win her over with a little love note at the cast's Great Gatsby themed dinner party.
He scribbled a rap onto a piece of paper and passed it down the table to Chloe. It read: "Everyone knows that
Chloe Sims
pulls my heartstrings. Can't wait Chloe. Don't worry I've got permission from your cousin Joey. I know we're going as mates, but you haven't experience a Gatsby first date."
After reading it Chloe gushed: "I love him a little bit."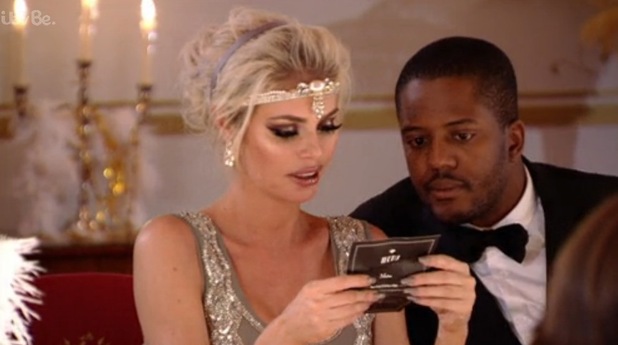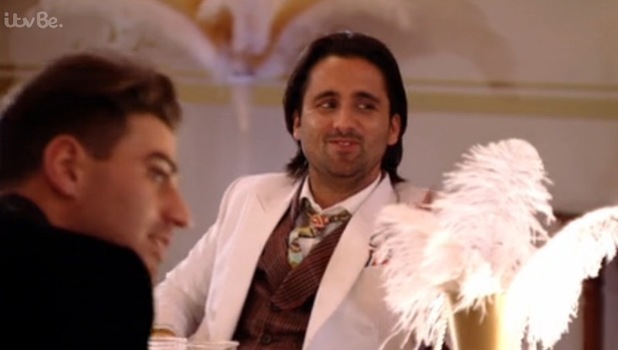 Not to be outdone, Jon made sure to keep Chloe's options open by creating his very own poem for his co-star.
He sought her out at the table and read it aloud to her and other listening ears. It said: "This is my poem to my girl Chloe, hopefully by the end of this, you'll want to give me a go'ie.
"When I see you my knees go funny, I can't wait for the day I am going to call you my honey. I'm going to end by finishing this rhyme because I am praying that by the end of this week, you will be mine."
Oh, boys!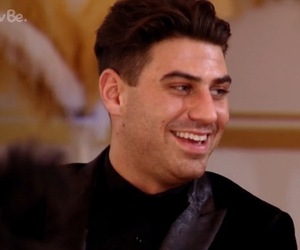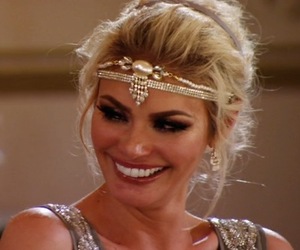 The morning after, Chloe made a surprising confession to Pete Wicks. It sounds like the boys really did have a way with words and both got to lock lips with Chloe.
Not only did Jon bag a peck on the lips, but even Gatsby got a kiss as the cast carried on partying at a club after their lavish dinner.
Chloe told Pete: "Ok, I'm going to give you an explanation. The first kiss that happened... Jon kept going in to do the goodbye kiss, I kept giving him my cheek and he kept pulling away, in the end he planted one on my lips. It was a peck. I didn't kiss him back."
"The next one, I don't even remember that it happened," she admitted. "I knew we were doing sambucas at the bar... it was with Gatsby... Pete you're not going to wind me up about his for ever and ever, are you?"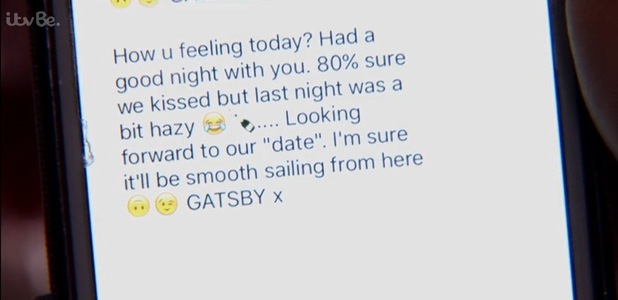 Chloe then received a text from Liam and he seemed pretty chuffed with the pair's smooch. He told her: "How you feeling today? Had a good night with you. 80% sure we kissed, but last night was a bit hazy. Looking forward to our 'date.' I'm sure it'll be smooth sailing from here. Gatsby x."
We can't wait to see what he's got up his sleeve!
TOWIE continues Wednesday 16 March at 10pm on ITVBe.For exclusive competitions and amazing prizes visit Reveal's Facebook page NOW!