Dan Osborne has now taken to Twitter to have his say, after his fiancée Jacqueline Jossa was left upset at her interview on ITV's Loose Women.
Earlier this week, Jacqueline appeared on the panel show, but later accused
Loose Women
of misleading her. S
he accused the show of asking her "unfair" questions about Dan's past behaviour
, when she was told the focus would be on her returning to work and being a mum.
Jacqueline revealed her upset to her Twitter followers and now her husband-to-be Dan has spoken out in support of her.
Finally having his say on the topics Jacqueline had to discuss (including
verbally abusive phone calls Dan had made to ex-girlfriend Megan Tomlin
- the mother of his son Teddy), Dan said he thought the EastEnders actress handled the situation "very well."
In a series of tweets, Dan said: "Seen a load of people tweeting about Jacqueline's 'loose women' interview and people talking rubbish again... Here's my say.
"Those questions should have been questions asked to me... Not Jacqueline AT ALL and I think she handled it very well actually... Why those questions?
"I said something I did not mean and in anger a year and 9 months ago!! get over ittt!!.. The bottom line is.. I never physically hurt anyone.. I said some things in anger in THE worst time of my life.. That's it!!"
Dan continued: "If everyone on earth had there arguments recorded.. I am sure 95% of you would listen back and hear things you OBVIOUSLY never meant..It's old and boring now.. We're all happy and doing great, all moved on.. So now time for those last few people to do that too."
"I felt bad for Jac if anything," Dan said in his final tweet. "She was actually looking forward to going on the show to talk about getting back to work and our daughter."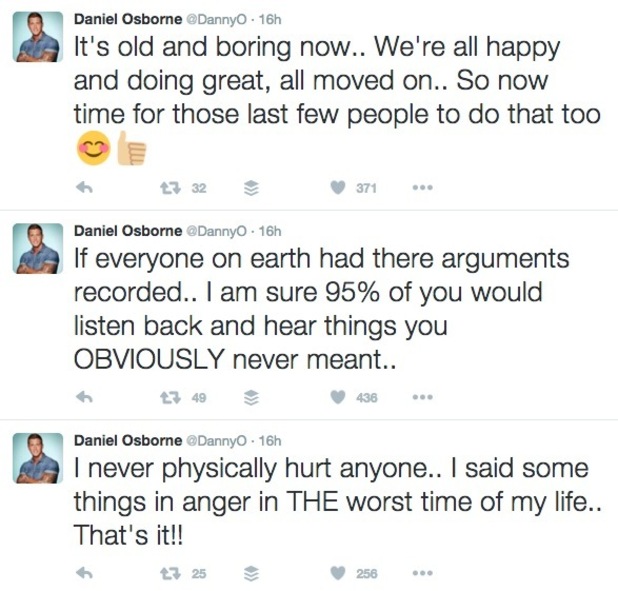 As well as the phone calls Dan had made to his ex Megan two years ago (
something which he has previously apologised for
), Jacqueline was quizzed about Dan calling their daughter Ella a "mistake". She was also asked about the bad press Dan has received and how it affected them,
and whether she'd now ask Megan to their wedding next year
, as well as her return to
EastEnders
and having more kids.
Jacqueline had tweeted following her live appearance: "Can't express how upset I am. Was told the interview on Loose Women today was to be about being a young mum and going back to work. Don't know who's fault it was, but I made it clear I didn't want to dwell on the past and answer certain questions.
"Going on live TV is hard enough for me, but be told they would just touch on certain things, and them do the complete opposite is unfair. Wouldn't have done it otherwise..."
A rep for
Loose Women
has since told
Reveal
: "Loose Women prides itself on ensuring our guests have an enjoyable experience on the show and never want anyone to leave upset. We do brief our guests on all of the topics of discussion in advance and will speak to Jacqueline directly about the points she has raised."
Dan and Jacqueline's romance:
For exclusive competitions and amazing prizes visit Reveal's Facebook page NOW!