Katie Price has been seeking help in tracking down internet users who have mocked her disabled son Harvey.
The mother-of-five, 37, took to Twitter and Instagram to call out "disgusting" individuals who had posted nasty comments about 13-year-old Harvey, who has medical problems including the rare genetic condition Prader-Willi, autism and visual impairment.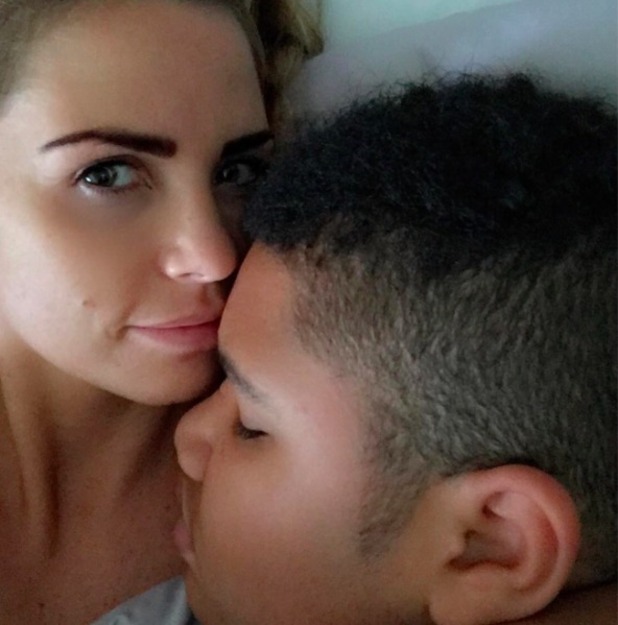 Hoping to put an end to it, the former model-turned-businesswoman began screengrabbing and uploading vile comments and fake social media profiles that had been made about her beloved son, asking users to help her identify who had posted them.
She was inundated with support by followers, hoping the mockery would stop.
"Must say so many people on all my social media right now being supportive and giving more info on other people mocking my son I will report," she updated.
"There should be more done to stop this happening to people like me and others so angry and upset, she added. "I've realised so many people mocking my son out of all my children they pick on the one with disability."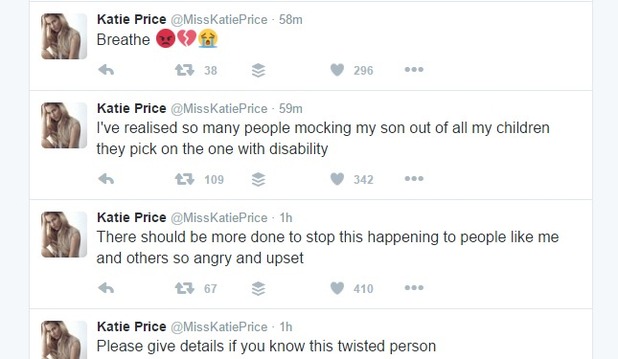 Harvey is Katie's eldest child and was born with a range of medical problems which Katie has always been very open about discussing in the hopes of raising awareness for his condition.
Just last week she spoke on
Loose Women about raising a disabled child
, saying it was hard work but so rewarding, and carers aren't given enough credit for the job they do.
"If I got pregnant again, and they said your child will have disabilities, I would definitely keep it and I would adopt a child with disabilities," she said.
"Until you're in that situation, you don't know. I absolutely love Harvey so much and I would never change anything about him. Yes, it's challenging but also rewarding. He's a great character and I love him and I don't think anyone should be ashamed at all having a child with disabilities."
Katie is also mum to sons Junior and Jett, and daughters Princess and Bunny.