Ex-TOWIE star Lauren Goodger has hit back at reports claiming she had moaned about flying in economy on her way back from the Dominican Republic.
Recently, Lauren enjoyed an exotic break away with her boyfriend Jake McLean, but it seems their trip has now ended on a sour note. Following comments she made in her latest column for new!, Lauren found herself subject to reports claiming she had a problem with flying in economy.
She has now slammed such claims, insisting her flight was "horrendous" not because she was in economy, but because she suffers with anxiety when flying and felt unwell.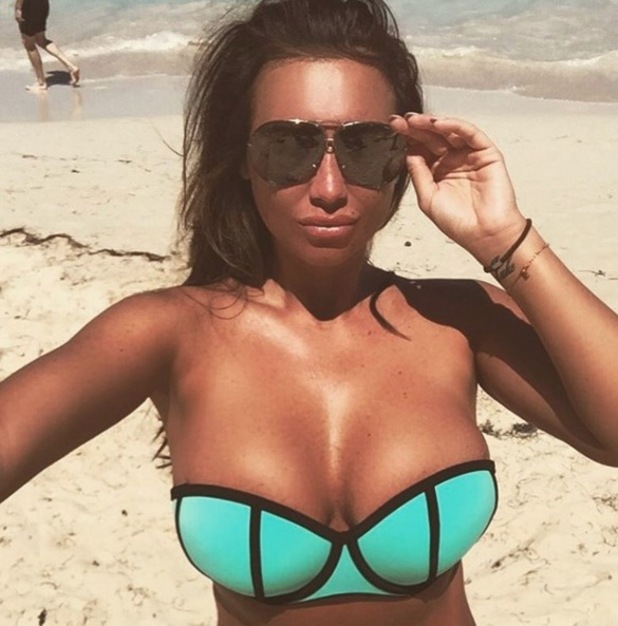 Lauren had originally written in her column: "I got no sleep on the flight home and it was horrendous. I tried getting us upgraded to business class, but I'd left it too late and the flight was packed so we had to sit in economy. Oh well, you can't always win..."
She had said economy was "fine", but after sitting in business at the start of her trip, Lauren pointed out you forget how much less space you have. She explained that she isn't the best flyer and panicked on the flight.
Now in a series of tweets, Lauren has hit back at reports, suggesting they have misconstrued her comments.
She tweeted: "Disgusting bullies some of you press and it's wrong ! You don't know me personally to make me out to be a type of way! I'm now taking this further as its disgusting! Your wrong and liars! I fly economy all the time and my flight was horrendous because I was shattered nothing to with economy!
"How DARE DARE you! I suffer with anxiety with flying i like being next window or with space because of it! You no what I'm not even going explain myself once again!! Yes and Had a horrendous flight home I was jet lagged, sick and headache so I had a bad flight home nothing to do with anyone or anything! (sic)"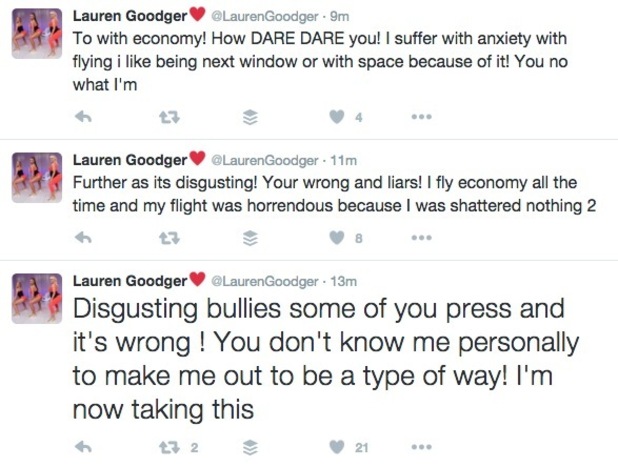 Lauren's tweets come after she and Jake had been flaunting their recent trip on social media. While away,
Lauren shared a slew of envy-inducing holiday snaps with her fans on Instagram.
Not only did she boast her impressive tan in the photos, Lauren also flaunted her relationship with her beau. She and Jake have been dating ever since they rekindled their relationship last summer. They had originally split in 2013.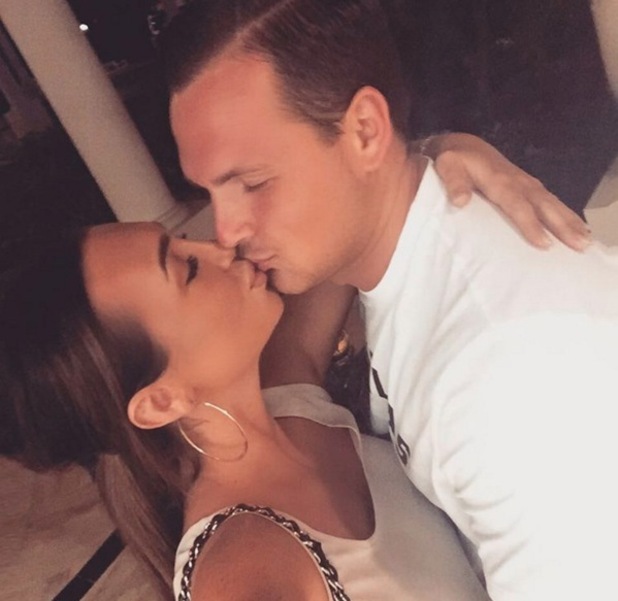 Lauren has since said she and Jake had needed the time away from each other and now, after growing up a little, are in a much better place.
So much so,
that the couple sparked engagement rumours on their romantic break
. Lauren had referred to Jake as her "one" in one photo of the pair kissing, leading fans to question when he was going to put a ring on it.
Eek!
For exclusive competitions and amazing prizes visit Reveal's Facebook page NOW!