Jacqueline Jossa has admitted she's "upset" after today's interview on Loose Women, suggesting she didn't know she'd be quizzed about fiancé Dan Osborne's past behaviour.
The
EastEnders
actress, 23, appeared on the ITV show on Tuesday (8 March) to chat about her return to the soap after maternity leave, but, as you'd expect, the panel also quizzed her on Dan.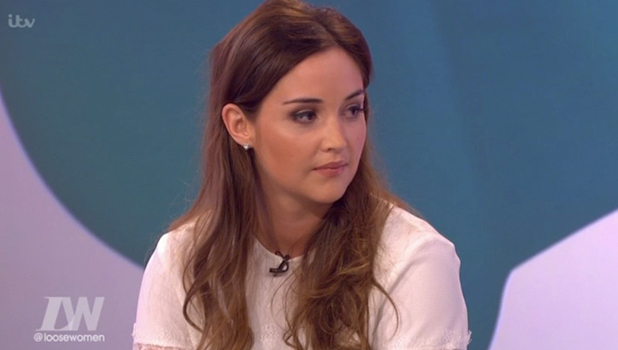 Jacqueline has since tweeted: "Can't express how upset I am. Was told the interview on Loose Women today was to be about being a young mum and going back to work. Don't know who's fault it was, but I made it clear I didn't want to dwell on the past and answer certain questions.
"Going on live TV is hard enough for me, but be told they would just touch on certain things, and them do the complete opposite is unfair. Wouldn't have done it otherwise, bored of talking about it all now! Was just unfair!
"I'm angry they let told me it would be about my daughter Ella and asked for her to be filmed and turned it into this. Shocking. Unfair."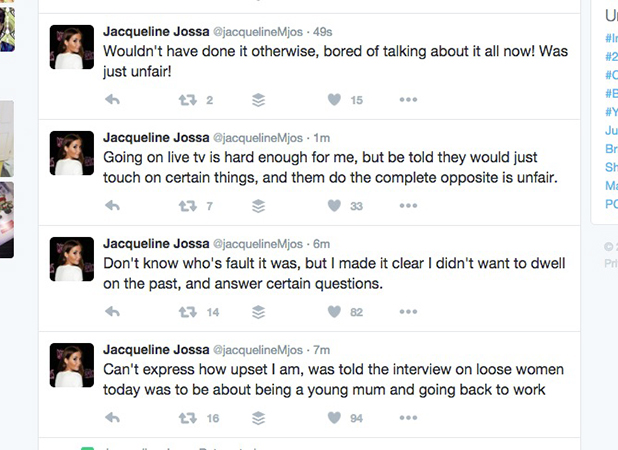 The young actress was asked about the
verbally abusive phone calls Dan made to his ex-girlfriend Megan Tomlin
, the father of his son Teddy, two years ago, as well as Dan calling the couple's daughter Ella a "mistake."
She was also quizzed about the bad press Dan has received and how it affected them, and whether she'd now ask Megan to their wedding next year, as well as her return to
EastEnders
and having more kids.
A rep for Loose Women has told
Reveal
: "Loose Women prides itself on ensuring our guests have an enjoyable experience on the show and never want anyone to leave upset. We do brief our guests on all of the topics of discussion in advance and will speak to Jacqueline directly about the points she has raised."
Former
TOWIE
star Dan hit the headlines last March when phone calls he'd made to ex-girlfriend Megan surfaced, in which he was accused of being verbally abusive and describing Ella as a "mistake."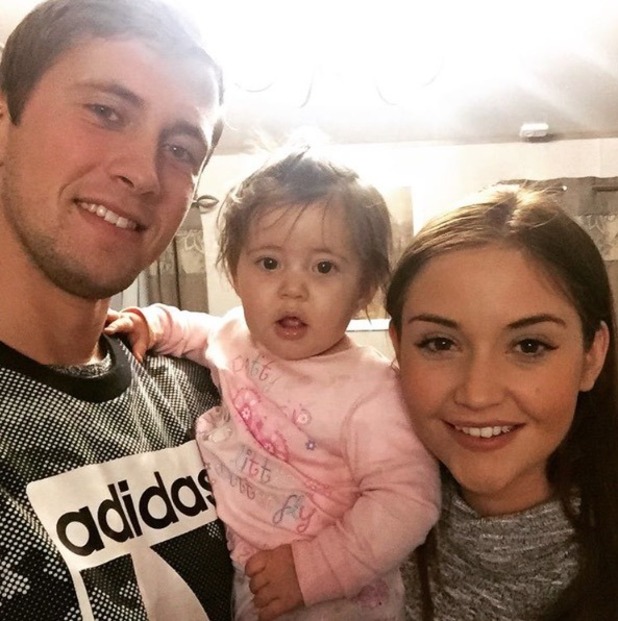 Speaking today, Jacqueline said: "When that recording was recorded she wasn't born and he had just told her I was pregnant… It came out when she was born, nearly nine months after the recording had made. Daniel and I were dealing with it privately and it somehow came out and it wasn't private anymore."
Dan had previously apologised, saying: "It has taken me a while to find the right words but I would like to say that I am truly sorry to anyone who was offended by what they heard. I am unable to talk about the difficulties with my current family situation but I am taking steps to resolve it to achieve the best outcome for my son. I am ashamed and embarrassed that I allowed myself to reach such a dark place that I behaved in a way that even I didn't recognise.
"While I acknowledge that there is absolutely no excuse for my deeply regrettable behaviour, I plead for some understanding that I had no intention of violence."
And Jacqueline tweeted at the time: "I am 100 percent not saying what Daniel has said was right or okay, but people make mistakes when on dark places, and it's something that we sorted out privately not in front of the whole world, it's something he has apologised for and is embarrassed about."
Dan and Jacqueline's romance: