There's no doubt there's bucket loads of drama that happens onscreen, but our Ex On The Beach favourites gave us plenty of shocks off camera this series too. Did you come across them?
We're talking Twitter spats, cheeky charity donations, love triangle rumours... it's all been going on and away from the swanky Portugal villa and prying eyes of the camera crew. Luckily for us, though, they couldn't escape social media and we've been hooked. Like, completely.
Here's hoping the gang keep it up - especially as
Ex On The Beach
wraps up its final episode later tonight. We're already getting withdrawal symptoms...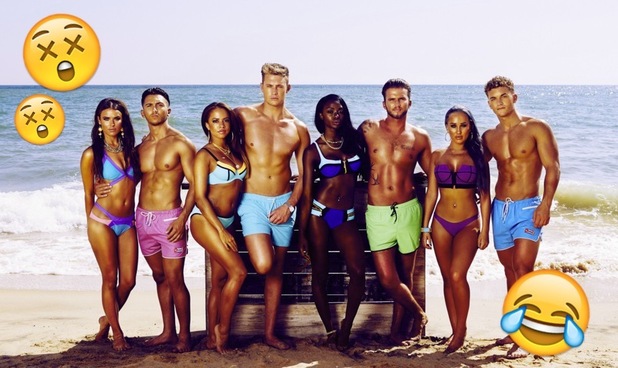 Here's 15 off camera moments that we couldn't get enough of:
1. Lacey's charity donation for Megan.
Things didn't get off to a good start with Lacey and Megan out in Portugal and everyone remembers that mammoth fallout between the girls where Megan branded Lacey '607' - a reference to Jordan's numerous bed posts. Despite getting a little teary-eyed, Lacey held her own and it soon became apparent things didn't get much better between the duo when they returned home. So much so, that Lacey decided to get her own back in a very public way...
She interrupted Megan's busking performance in Covent Garden to hand her a donation.
Lacey scribbled, 'I always give to charity,' onto a £50 note and dropped it at Megan's feet. She later tweeted: "Karma's a bitch."
While some thought Lacey's charity-giving was pretty genius, others thought she had been too generous.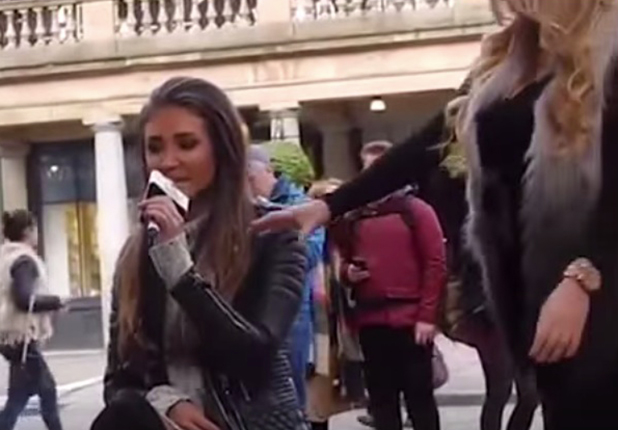 2. Lacey and Megan explaining *that* epic showdown.
After her explosive arrival aired on TV,
Megan took to Twitter to explain why she had let rip at Lacey within five minutes of meeting her.
She justified her actions (including calling Lacey a 'four out of ten') by saying: "It was because she had been drinking vodka off my table in a club a few weeks before knowing full well she had slept with my then bf. Also an hour before I entered the villa, I was told off camera that she had been slagging me off before I had arrived." Megan also suggested to one fan that
Ex On The Beach
was scripted reality.
However, Lacey gave as good as she got and responded to Megan's claims. She insisted Megs had shown her "true colours" and tweeted: "The moment you realise you f***** up... so you have to try and pretend the shows scripted."
She also hit back at Megan's explanation for their showdown
and told her fans on Twitter: "Actually what Megan said in that is complete lies." Lacey instead claimed: "The club we was at was my dad's, Gallery, and one of Jordan's friends contacted me cause they wanted to come down but we already had a PA. I was on a night out anyway and there was no tables left, I said to just put them on mine and they can share the table and our bottles as there was only 3 of us girls, she completely made up a lie to try and justify her behaviour."
Eek.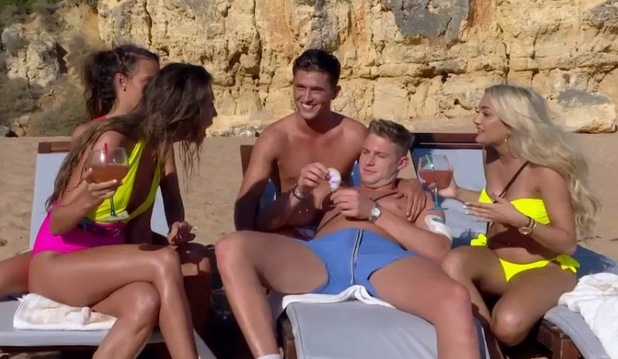 3. Nancy-May Turner dating ex-TOWIE star Ricky Rayment.
She may have only had eyes for Scotty T in the villa, but as the show played out onscreen Nancy had been locking lips with Ricky. The pair were spotted kissing at DSTRKT London back in January and later ventured out on a go-karting date together - sparking romance rumours. While we all thought we may have had a new reality couple on our hands,
Nancy was quick to reveal that ship had sailed and she and Ricky are "no longer."
Rumour has it he had kissed Nancy's co-star Ashleigh and
Emmerdale
star Gemma Oaten the night after smooching Nancy. Oh, the scandal! Ricky, however, has never confirmed this...
Me and ricky are no longer https://t.co/p6et2W4k0C

— Nαncy mαy Turnعr♬ (@nancymayturner) February 23, 2016
4. Gina's message to hit back at her co-star's.
Gina hasn't exactly had an easy ride in the villa and most of the group had a lot to say about her when she slept with Kieran and then got annoyed when he started to cosy up to Olivia instead. However, channelling all the sass
she hit back at her co-stars
and pointed out that even though they may not like her, they still can't get enough of her on social media. You tell 'em Gina. Taking to Snapchat, she told her followers: "These people off the show who don't like me seem to follow me on every f**king social media going. Don't say one thing to me and then say another thing to people. That's called being a s**t bag, babe. A s**t bag."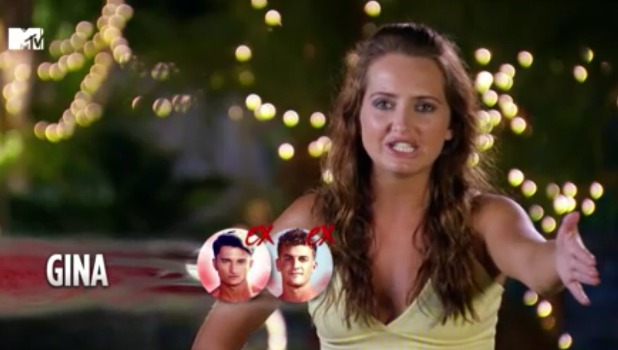 5. Gina and Kieran's Twitter spat.
Of course,
the row between Gina and Kieran onscreen soon continued off camera too
and for the entire Twitter'verse to follow. Kieran had been told to enjoy a night in with Gina and while he said he'd rather be out on the town with the others, he decided to pass the time by sleeping with Gina. Lovely. Following their bedroom antics, Kieran set his sights on Olivia and when Gina kicked off he told her he would 'never' get into a relationship with her and slammed Gina for being a 'bunny boiler.'
Gina had taken to Twitter following the show to set the record straight on why she was so upset. She claimed she and Kieran had a thing from day one, had been spooning every night for two weeks and he told her he wasn't getting with anyone else. She then tweeted: "Funny thing is Kieran wouldn't even be in the show if it wasn't for me being a crank." Ooh, burn. As expected, Kieran was quick to hit back and told Gina there was 'nothing about her worth watching' on TV and that she was the 'definition of an attention seeker.'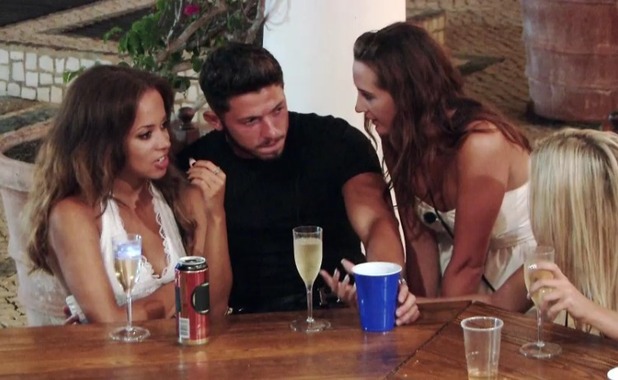 6. Naomi's apology to Jordan over *that* 'unattractive' rant.
Naomi's fight with Megan had to be one of *the* most explosive scenes of the series. They had been playing that classic party game where you stick a name to your head and try and guess the person. Naomi had asked if the person she was guessing was attractive, before asking if it was Jordan. Megan then told Naomi she didn't know she found her man attractive, all hell broke loose and security stepped in. Naomi claimed she didn't find Jordan attractive and just to prove it, she launched into a rant about how 'unattractive' he was instead. She said: "I actually don't find him attractive... who said I like your f**king man? He looks like a f**king kid. He has no f**king body and skinny little f**king bitch legs."
Looking back on her outburst,
Naomi admitted on Twitter she felt 'sooo bad' about saying what she did about Jordan
: "Tbf his a nice guy Good lookin bt not my cuppa." Jordan, meanwhile, wasn't holding a grudge. He told her: "It's cool we all say things we don't mean in [that] mad house ha."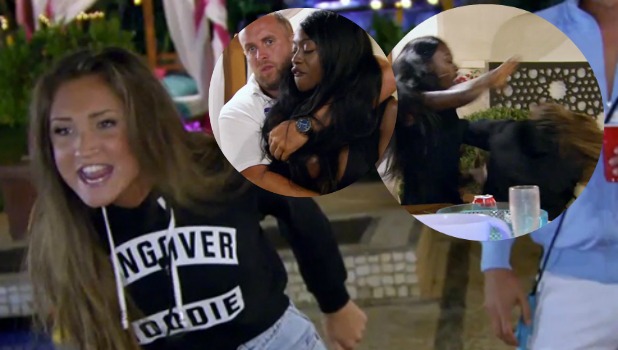 7. Ashleigh uncovering the truth between James and Kristina.
Remember James' ex Kristina? Was she actually even an ex? Kristina's time in Portugal was fleeting, but she still managed to cause one pretty big stir (or total confusion) when she arrived. Awkwardly, she interrupted her former flame James while he was on a romantic date with Ashleigh - and he'd just asked Ashleigh to be his girlfriend. Kristina revealed she and James had been on a string of dates in the past and had slept together while he was in a relationship with his ex-girlfriend Olivia. James, however, claimed he and Kristina met on social media, went out for one date and, although they did go home together, nothing happened. Hard to know who to believe, right?
Poor Ashleigh was torn between believing Kristina and sticking by her man, but she chose to trust in James and it seems like she was right to. Fans were so intrigued to know what really happened between James and Kristina and when
one asked Ashleigh if she ever found out the truth, she revealed: "YES he didn't sleep with her."
But how do we know?! James, meanwhile, was sticking to his story and, ever the gentleman, tweeted: "Well my c*ck hasn't rotted off so this must mean I haven't sh*gged Kristina."
Gross.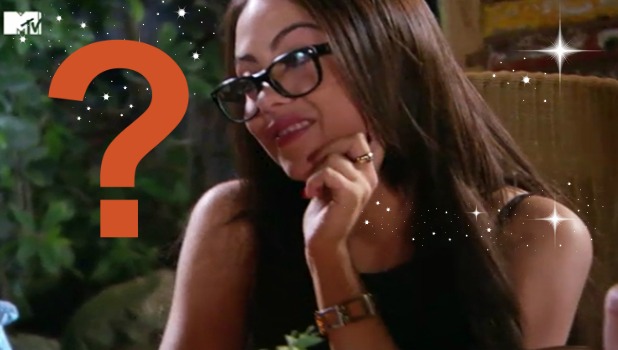 8. Lacey and her bodyguard moment.
Because sometimes even our
Ex On The Beach
stars need their own security.
Lacey had us all pretty amused at Reveal HQ when pictures surfaced of her shopping for lingerie with her burly bodyguards in tow.
We bet they didn't know where to look! She headed out for a spree at Victoria's Secret and was dwarfed by her very broad and very tall safe-keepers. Turns out, though, Lacey doesn't actually have her own set of bodyguards. After causing a bit of a frenzy online, Lacey tweeted: "I don't actually have bodyguards people. Chill out."
I don't actually have bodyguards people chill out

— Lacey Fuller (@laceyfuller_) February 21, 2016
9. Chet and Helen discussing baby names.
They are the only couple who have actually survived since heading home from Portugal. 'Chelen' are still going strong and we're still loving their smitten Snapchats and loved-up selfies -
especially when the pair are discussing baby plans
. Oh yes, it seems like these two may have a long future ahead of them as Helen has been researching names for their future brood. Ok, she may have only been joking, but still - we can dream, right? Move over 'Jegan' you have well and truly lost your crown...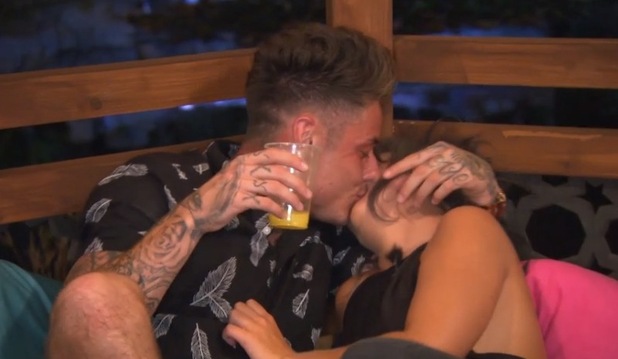 10. Olivia's tweets on Gina.
Ever since Kieran made a beeline for Olivia and she was happy to let him try and charm her, she made an enemy in Gina. Gina branded her a 'sl*g' claiming she goes from 'willy to willy' - something Olivia totally disagreed with. As their scenes played out onscreen,
Olivia couldn't resist taking a swipe at Gina on Twitter
when a fan asked her what was more painful, stubbing her toe or having to live with Gina. Olivia didn't hesitate in her reply: "10000% living with Gina. I'd rather break all my toes than live with her again if I'm brutally honest". She added: "Towards the end I just had to leave the room when she opened her mouth."
Ouch.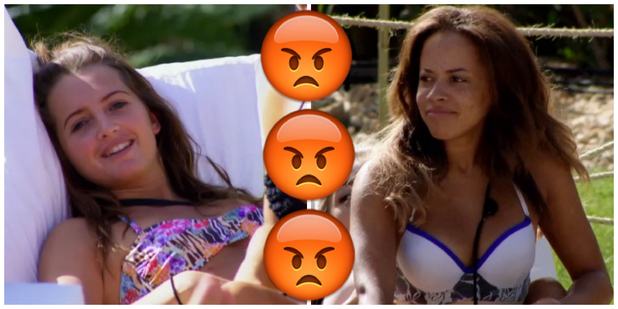 11. Alex and Gina's tweets on that awkward reunion.
It looked like, at first, Gina was so happy to see her former flame Alex, but BOY did that change. After she decided to send Joe home and keep Alex in the villa with her, Gina found herself left a little embarrassed when Alex turned on her in front of everyone. Yup, he said: "She thinks I have her back but f**k me, she doesn't have a clue what is about to go down... It was nothing. The thing is Gina, I have no feelings whatsoever." Ouch.
Not surprisingly, then, when Alex claimed Gina was in love with him ahead of his
EOTB
debut, she had a lot to say.
Gina hit out at her ex and branded him a 'rebound.'
She tweeted: "Boyfriend ? I loved you ? He was a rebound from my ex I was with for two years let me just put that out there."
Alex, meanwhile, blamed the edit for making him look so mean
. Defending himself he said: "There was a lot said off camera that massively changed what got said on the date.. It did look like i was a k*ob but I'm actually a nice lad..."
Vicky Pattison, however, wasn't having any of it. She hit back at Alex: "This isn't my first rodeo petal... I've done a bit of reality TV in my time- but you looked a k*ob... Come on?!"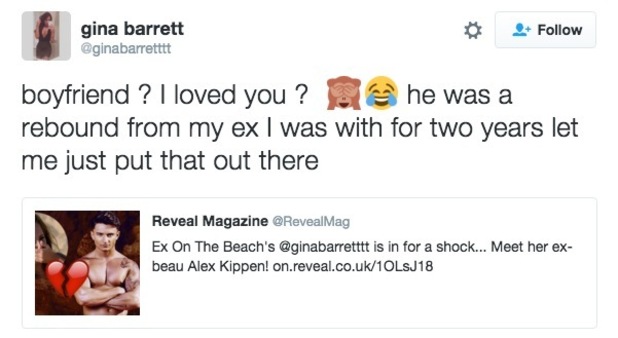 12. Nancy's tweets on her ex (or lack of).
Most people are not so keen on being reunited with their ex, in fact, everyone pretty much dreads that awkward face-to-face reunion and does everything they can to prevent it from happening. Not, Nancy. Nope. After multiple trips to the beach and no sign of a former flame,
Nancy vented her frustration and told her Twitter followers she had actually WANTED her ex-beau to rock up onto the beach
. Is she completely crazy? She tweeted: "I was so gutted my ex didn't walk out the sea. Secretly wanted one to not gunna lie #ExOnTheBeach."
Rather you than us, Nancy!
I was so gutted my ex didn't walk out the sea. Secretly wanted one to not gunna lie #ExOnTheBeach

— Nαncy-mαy Turnعr♬ (@nancymayturner) February 16, 2016
13. Naomi kissing Alex.
We did not see this coming. Especially as Naomi was livid at Alex's arrival to the villa because it had meant Joe had to leave. Alex had greeted his ex Gina on the beach and the Tablet Of Terror then forced her to choose whether to send him home again or tell Joe to pack his bags instead. She told Joe to go and Naomi was fuming. Still, it seems she soon had a change of heart when it came to Alex and
the pair were papped putting on a steamy display in London.
Crazy, right? We thought so too. That doesn't mean Naomi and Alex are now a thing, though, as she made sure to clear up her relationship status after the kissing pics surfaced. Naomi tweeted: "Just to clear stuff up! I'm single! The world is my oyster!"
Just to clear stuff up! Im single! worlds my oyster!

— Naomi Hedman (@NaomiHedman) March 2, 2016
14. Ashleigh reveals she and James are no more.
Spoiler alert: Ashleigh and James are no longer together. Fans of
EOTB
were super excited to see our first couple actually make things official when James plucked up the courage to ask Ashleigh to be his girlfriend. She stuck by him through pretty much everything during her time in the villa (despite having a little wobble about ex-beau Scotty T), but sadly it seems they haven't exactly worked out since. Giving the game away with a pretty huge hint,
Ashleigh posed for a selfie on Instagram in a jumper that read: "No boyfriend = No drama."
She told her fans alongside her picture: "When u wake up thinking u want a boyfriend then read your top and remember why you don't have one .. LOL."
We wonder where it all went wrong for her and James? Details please!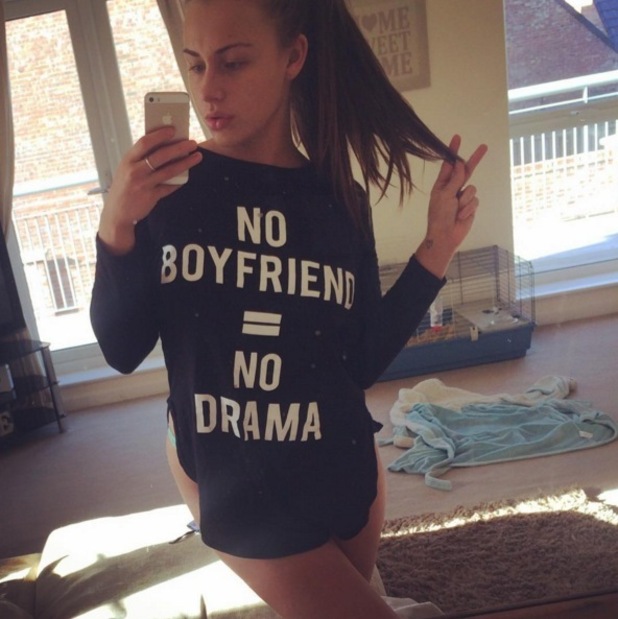 15. Those Nancy-May and Lewis Bloor love triangle rumours.
Forget Scotty and Lacey, rumours have been doing the rounds that
Nancy had got herself caught up in a whole new love triangle back home with TOWIE's Lewis Bloor and Ex On The Beach 3 star Jemma Lucy
. We're not kidding. Sources revealed both girls had been seeing Lewis and on finding out they both had been sleeping with him, the girls came to blows. This, however, was not true and Nancy made sure to tell us exactly what she thought of the claims. In short, she found them pretty amusing. She tweeted: "Sorry what?!" Before adding: "FIRST I HAVE HEARD?????!!! When I find this little "source" ill be dashing xtra hot peri peri sauce in their little beady eyes."
When Lewis joked he'd love to see Nancy and Jemma fighting over him, she cheekily replied: "Only in you're wildest dreams Lew."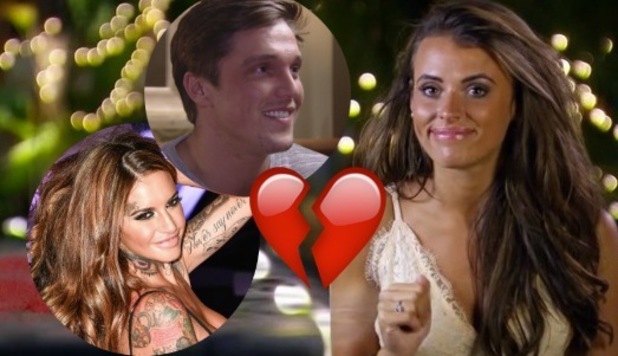 For exclusive competitions and amazing prizes visit Reveal's Facebook page NOW!