Ibiza Weekender: Imogen Townley finally confessed she needed closure from her failed relationship with ex-boyfriend Deano Baily.
Fans of the ITV2 reality show saw things get emotional for Imogen on yesterday's episode, as she admitted she needed to have a final chat with Deano to mark the end of their relationship.
She confessed she hadn't been completely honest with her former flame and told him she doesn't feel like she's completely moved on from their split.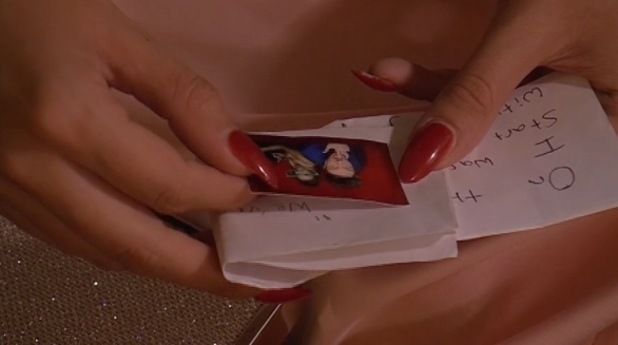 Imogen's confession came as she struggled to fit in with the rest of the group because of her relationship with Deano. If they don't get on, it causes a rift between everyone, but if they do, it upsets
Deano's new love interest Ellie Young.
In the end, Imogen decided to finally have it out with Deano and have the conversation they never had following their break up.
Gearing herself up to confront her ex, Imogen admitted she wanted to know if Deano had really loved her or if he thought she was just another a girl. The brunette beauty read a letter Deano had written her while they were dating and explained it reminded her of what she loved about him.
Imogen said: "This was the letter that was the part of Deano that I loved, the reminder of what I loved about him. It's also the memory of when we first met."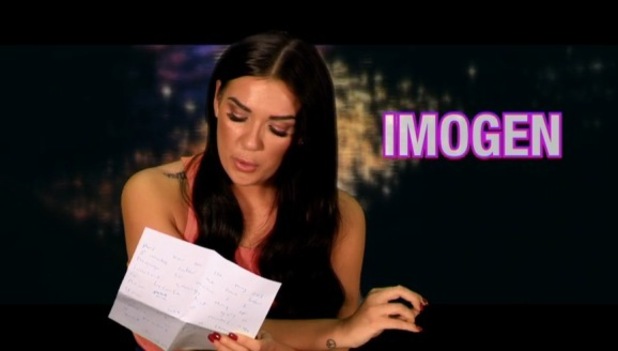 Reading it aloud, Imogen continued: "On 1 September 2014, I was away from home about to start a crazy experience when the most gorgeous girl I'd ever laid eyes on walked into reception. Feeling a weird feeling I'd never felt before inside, little did I know that that girl would become a part of my life and change it forever. She was the best thing to ever walk into my life."
Imogen began to tear up, but continued to read on: "Eight months later, we've been through so much and I wouldn't change any of it because that girl is now mine. Eight months ago you were a stranger and now, you're my world and my best friend. I love you."
"I just want to know whether this was actually real," she explained. "Those words and those feelings that he has wrote down. Was it actually real or was I just another girl?"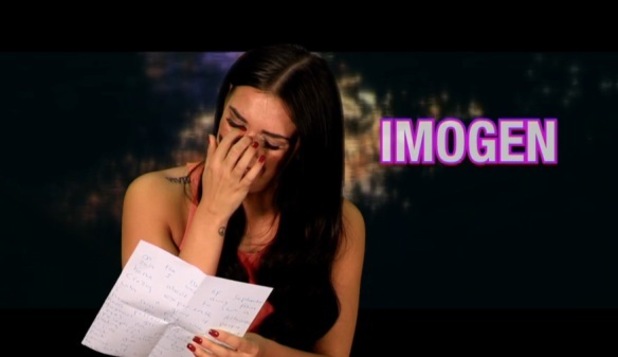 Imogen later joined Deano on the group's night out and sat him down, so she could get everything off her chest.
She started: "We've come into this season, we're all getting on well and stuff, but I just don't feel like we've ever faced things. I know it sounds stupid, but I need to have that closure chat."
Deano, meanwhile, was a little confused and asked: "What? Me say that's it?"
Breaking down in tears, Imogen admitted she couldn't get her words across and explain to Deano why it is important for her to face their break up.
He told her: "If you wanted to get back together, we wouldn't be doing that. We know we are moving on, so what do you want me to say?"
Things then turned heated between the pair and Imogen claimed Deano owed her that final conversation. He, however, had other ideas and stormed off.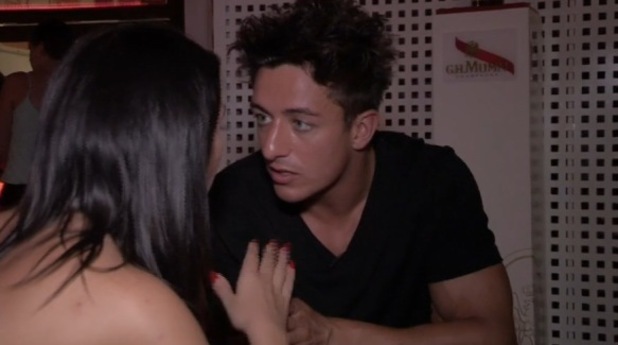 The following morning, Imogen sought out Deano (and his new flame Ellie) to finally 'fess up to how she has been feeling since reuniting with Deano and seeing him moving on.
She told Deano: "I don't think I've been completely honest about stuff. I know I want to move on and be happy and stuff, but my heart is just trying to catch up and get to that place where I can go I'm done. You are right, I should have probably said I am struggling. I don't want to have these conversations anymore, it's done, it's over, it's buried."
Imogen then told Ellie: "A couple of months ago I always thought [me and Deano] would find our way back, but when I came here and I've seen how different we are and how much I've changed in the last couple of months that was the final clarity for me.
"It's always going to be hard, to watch the person you loved fall into somebody else's arms. I don't think that's got anything to do with loving them and wanting to get back with them, it's just a hard thing to deal with and face."
She did, however, tell Ellie: "If he's going to move on with someone I'm actually happy that it's you."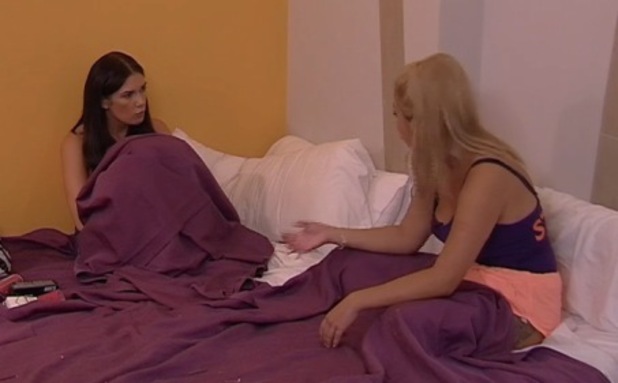 Imogen and Deano split in July last year
, and at the time, she had hinted the pair had ended on bad terms by telling fans she'd had a 'lucky escape.'
The pair have never really divulged any details behind their break up, but
Imogen did tell Reveal that things "spiralled out of control."
She told us their relationship became more and more difficult as they got to know each other better after their season together in Ibiza.
Every girl knows a heart break & everyone in TV knows an edit #IbizaWeekender /p>— Imogen Townley (@ImogenWeekender) March 6, 2016
Following last night's episode, Imogen shared a cryptic quote to Twitter, it read: "At some point you will realise that you have done too much for someone, that the only next possible step to do is stop. Leave them alone. Walk away... What is truly yours will eventually be yours, and what is not, no matter how hard you try, will never be."
She also tweeted: "Every girl knows a heart break & everyone in TV knows an edit #IbizaWeekender."
Ibiza Weekender continues Sunday 13 March at 9pm on ITV2.For exclusive competitions and amazing prizes visit Reveal's Facebook page NOW!