"Anyone who says the 'P' word again will get blocked," said Jodie Marsh, who warned fans to stop asking her whether she was pregnant.
Jodie slammed those questioning whether she's pregnant as "insensitive bastards", arguing that just because she's tied the knot to husband James Placido, it doesn't mean she's in any rush to start a family.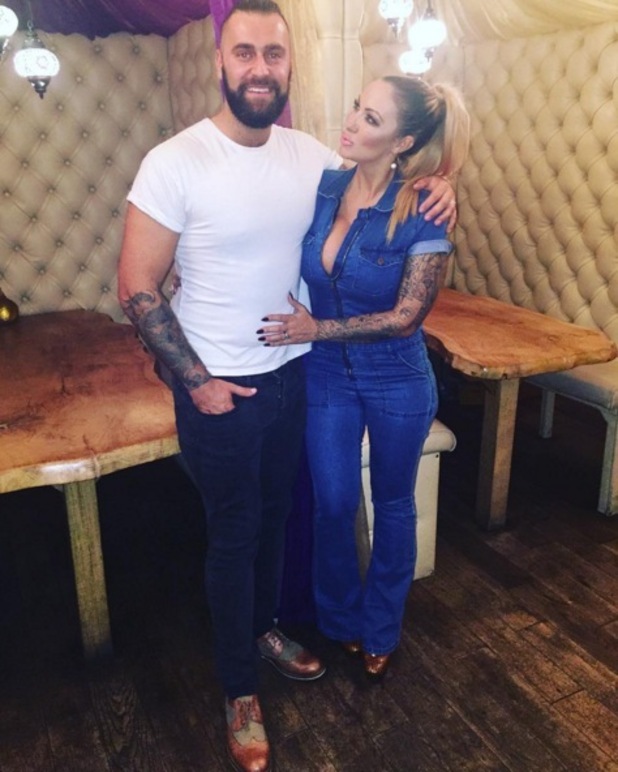 She said: "Just because I got married doesn't mean I'm immediately trying for a baby. I have a LOT of living to do first with my wonderful husband. We have plans to make, Harleys to ride, holidays to take and adventures to have."
The former glamour model also hit back at those who implied she should be getting pregnant, pointing out she finds fulfilment in other areas of her life.
"No one is going to make me feel like I 'should' have a baby and no woman should feel like that is her only purpose in life. While children are a wonderful thing, there are also other things in life that can make a person happy (believe it or not????!!!!!!) and we are in no rush."
Finally, Jodie revealed that she might have some difficultly falling pregnant, so for her it's an extremely personal topic, and not one for general discussion.
"I have been told that I have a low egg count and might struggle to conceive," she added.
After outlining exactly why she was totally fed up with the constant questioning, Jodie made it clear she won't be standing for it anymore, telling fans: "Anyone who says the 'P' word again will get blocked, James and I will be looking to rescue even more animals than the 7 we already have and if you can't find us, we'll be out somewhere on the Harleys enjoying the freedom of our crazy, exciting, romantic lives. Got it? Good. Love to all the real fans."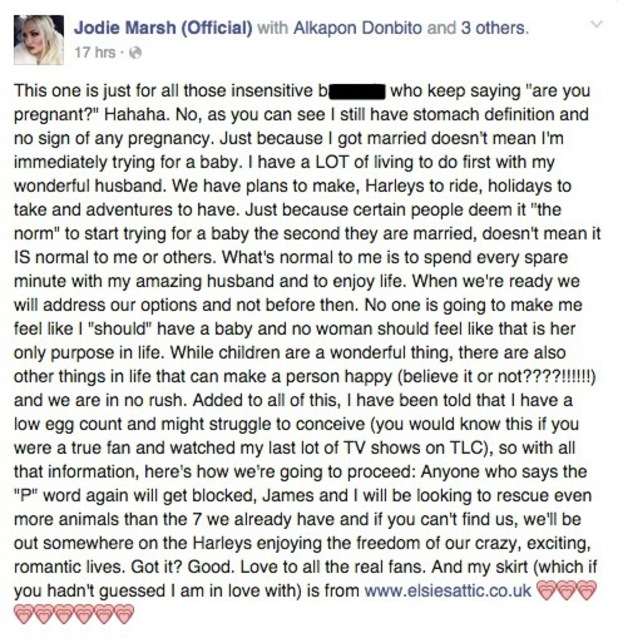 Receiving support for her honest post, Jodie's fans were quick to back her up and share their own experiences. One even said sorry for pressuring the documentary star, claiming they interpreted Jodie's 'relaxed' clothing as a sign of pregnancy.
The Twitter user said: "I apologise then my lovely. I was one of them who asked. I didn't mean to be insensitive, it was an exciting prospect and your more relaxed attire did hint at it."
Jodie's comments comes shortly after she and James celebrated their six-month wedding anniversary. Proving she is still just as smitten as the moment she said 'I do', Jodie marked the milestone with a sweet snapshot.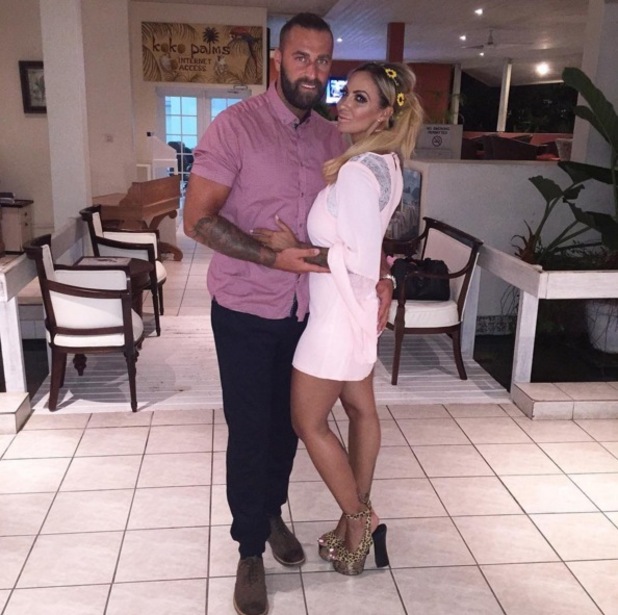 Alongside her photo, she gushed: "James and I have been married 6 months today and I love him more now than ever before. He is so perfect and makes me so happy. I never knew a human could be so amazing. I am the proudest wife in the whole world."
She and James tied the knot in August 2015 in a secret ceremony in Barbados.
Jodie (who had openly spoken about being celibate) shocked fans by announcing she had married. Nobody had known she was dating,
let alone
engaged.
Following her wedding,
Jodie explained she had wanted her special day to be private
- just between her and James.
She also revealed that she managed to keep her celibacy up until the moment James proposed
.
For exclusive competitions and amazing prizes visit Reveal's Facebook page NOW!