Union J star Jaymi Hensely has hit back at claims he and his bandmates are "jealous" over George Shelley leaving the band, insisting he will always support him.
Earlier today,
it was announced that George had left Union J after four years
and fans were left confused over conflicting statements surrounding his exit.
According to The Sun, Jaymi, Josh Cuthbert and JJ Hamblett had given George an 'ultimatum' about his commitment to Union J, while George's rep insisted his exit was a mutual decision and claimed the remaining bandmates were 'jealous' of his success since
I'm A Celebrity.
However, Jaymi has had his say on George leaving and insisted there has been "no bad feeling or jealousy" between them.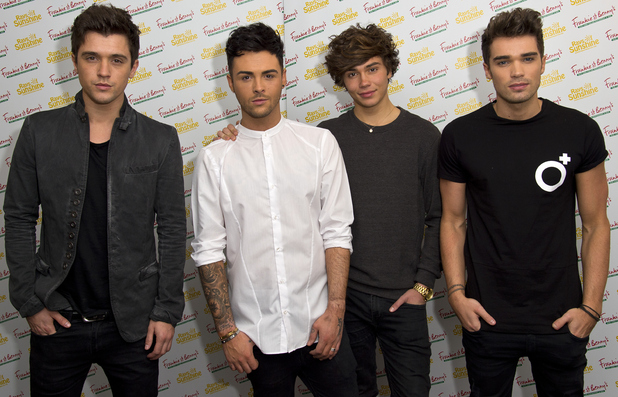 Taking to Twitter earlier today, Jaymi shared a lengthy message with his followers, explaining the reason behind George leaving the band. He states that it was George's decision to leave so he could focus on his own projects and the four-piece mutually agreed that the remaining three bandmembers would carry on with Union J. Jaymi added that the situation has been "blown out of proportion."
Jaymi wrote: "George has decided he no longer could continue in Union J because he is [pursuing] individual projects. I want it to come from my hand that I am very proud of George, the person he is and everything he has so far and will continue to achieve! He will always remain my brother!
"Of course I am utterly heartbroken we are no longer a four and I am going to miss him beyond belief, but mutually we agreed that we would like to continue in Union J which George totally supported and that it wouldn't be fair for all the band members not to have the same goal at the minute!
"I can certainly say that this decision has not come from any bad feeling, jealousy or anything else of that nature! I will always support George... and so happy he is being amazing and slaying what he's doing! Just a very sad day that has been blown out of proportion."
Jaymi added in another tweet: "My decision to announce the bands future was the one made at 08:25 this morning not before."
Jaymi Hensley (@JaymiUJWorld) March 4, 2016
The
X Factor
star's tweets come after it was claimed he, Josh and JJ had given George an ultimatum when it came to his future in Union J.
Josh was quoted saying: "It said, 'You're either in the band or you're not.' George was in a position where he did the jungle, he came off it and his headspace was different to ours. To use a sporting analogy, he wanted to turn up to the big matches but not turn up to training."
George's rep then hit back: "The fact of the matter is that the other members of Union J are simply jealous he has achieved the start of an exciting new career and they have not. George had agreed to be totally magnanimous towards them, but unfortunately this has not been reciprocated."
Since then,
Union J have issued an official statement on their website explaining recent events
and denying George was 'kicked out' of the band.
It read: "So, as we prepare to go back into the studio to work on new material, George will not be continuing on this journey with us. George will now be following his own path and career no longer as part of Union J. This is a mutual decision between the four of us, and we will always remain close."
Union J were formed in 2011, with George being added as a fourth member the following year. They finished fourth in the ninth series of X Factor and have released two albums:
Union J
and
You Got It All – The Album.For exclusive competitions and amazing prizes visit Reveal's Facebook page NOW!