Stephanie Davis has suggested Jeremy McConnell tried to cover up cheating on her, by asking the girl in question, Caroline Pope, to keep it a 'secret.'
Last night,
Stephanie fuelled speculation she and Jeremy had split
, after claims he had cheated on her during a night out in Newcastle resurfaced. Jeremy has previously denied the accusations and so has Caroline.
Celebrity Big Brother
runner up Steph told fans on Twitter she will "never love again" following the scandal and she has now shared new reports that suggest Jeremy was unfaithful and had tried to keep it under wraps.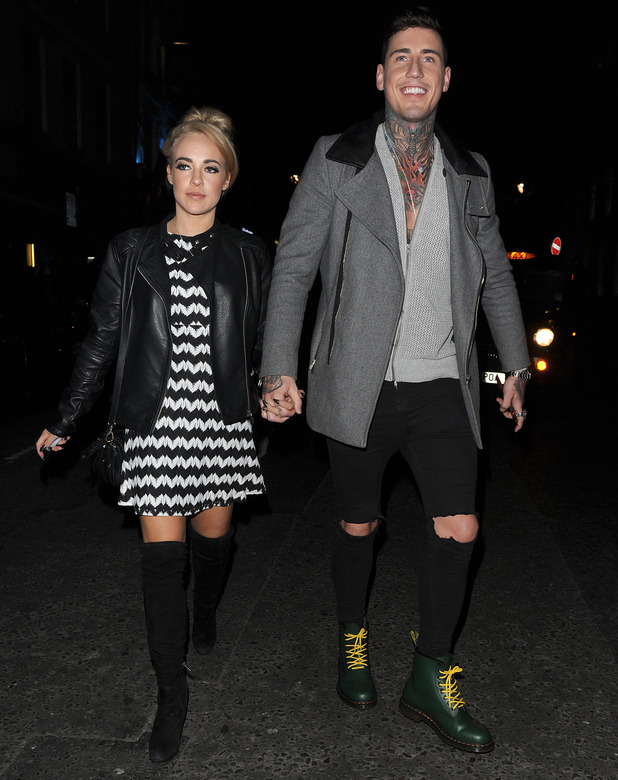 Stephanie took screenshots of an article published by
The Irish Sun
that contained messages claimed to be sent by Jeremy to club dancer Caroline.
They read: "Great night... fun. Newcastle is mad. Are you saying to people we slept together?"
Caroline reportedly replied: "No you told me to keep it a secret, but everyone at the party saw us leave together."
Jeremy is then said to have accused her of lying, writing back to Caroline: "Wow ok you'r one of them... that's all lies. Why would you say that?"
Stephanie posted the screenshots to her Twitter page without adding anything. They come after she tweeted (and deleted) screenshots of a conversation she claimed to have with Caroline herself.
In the posts, a woman who appears to be Stephanie asks: "Is it true u slept with Jeremy… I don't want to be lied to anymore. And don't lie to not hurt me. Be a girl to a girl and tell me. Please xx."
The answer from the other user is: "Girl to girl, yes I did. I didn't want to cause any trouble as he made it clear he was single. I hope you both get things sorted."
Stephanie tweeted the conversation with her own caption reading: "Yeah true. Girl to girl lol. Both vile. And liars. Sorry for hoping on true love. I'll never love anyone again."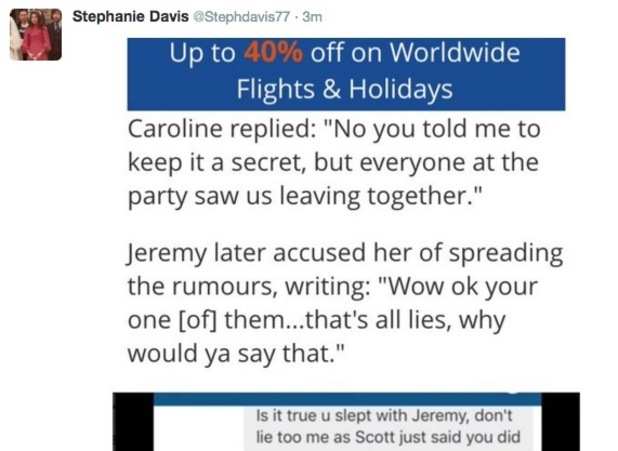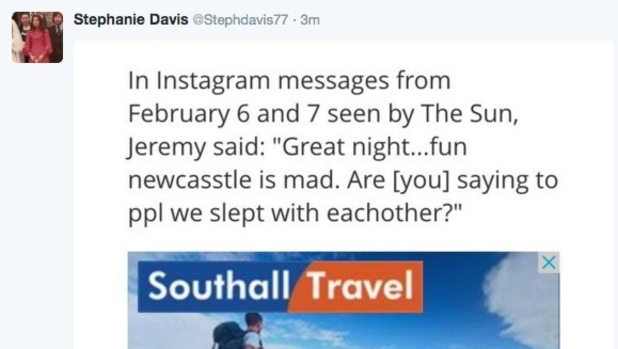 Stephanie then suggested she and Jeremy have now split for a second time,
after tweeting: "No one has ANY idea what this has done to me."
Again, in now deleted tweets, the former
Hollyoaks
star said: "Everyone has been against me and Jeremy. Done everything they can to split us up. Yet I still stood by his side and tried to overcome the odds. Stupid girls rumours and cheering lies."
Reveal
has contacted reps for both Stephanie and Jeremy and both declined to comment.
Jeremy was forced to address rumours he had cheated on Stephanie again
, after a new interview by Scotty T claimed he had been unfaithful on a night out in Newcastle while Stephanie was still in the
CBB
house.
Slamming the claims, Jeremy tweeted yesterday: "So sick to death of hungry begs selling stories for a few quid to try ruin ppl relationships. I love steph and would never hurt her end of (sic)."
Scott, meanwhile, insisted he hadn't said Jeremy had been unfaithful and claimed his comments had been "fabricated."
Speculation Jeremy and Stephanie have split again comes after
they recently broke up for 24 hours.
Jeremy had given a statement to say he and Stephanie had ended their relationship, but later backtracked insisting he and Stephanie "love and trust each other" and were still together.
The pair had been booked to appear on
Loose Women
for their first joint interview together on the day their split unfolded, but they chose to cancel.
They later rescheduled and
revealed their 'split' had been a complete 'misunderstanding.'
For exclusive competitions and amazing prizes visit Reveal's Facebook page NOW!