TOWIE's Danielle Armstrong has admitted she would probably have preferred Gemma Collins to phone her about Lockie's alleged new woman rather than send a text.
Viewers saw Danni break down on Sunday night when she
received a text from GC claiming Danielle's ex-boyfriend James Lock
had been seeing a new girl, someone Danni knew.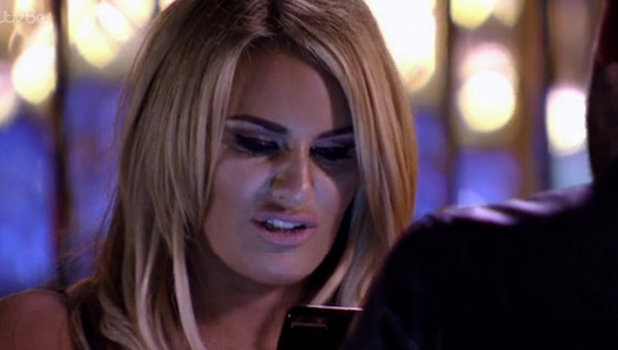 Speaking to the show's official website, Danielle said: "Gemma said something, okay she might have heard it. It probably wasn't the best way to go around it. I personally would have expected a phone call from Gemma or something if she did get wind of James seeing someone, but it's done now.
"The bomb has been dropped. I'm not going to go around investigating anymore and trying to find the bottom of it and where did Gemma hear this and all that because there is no need. I'm not with James, he's entitled to do what he wants to do."
Gemma's text read: "Babes, sorry been avoiding you since my party. I didn't know at the time but Lockie has been seeing that girl from my party, the one you hate… I wanted to let you know cause everyone in Essex is talking about it. Can you pop in the shop soon? X"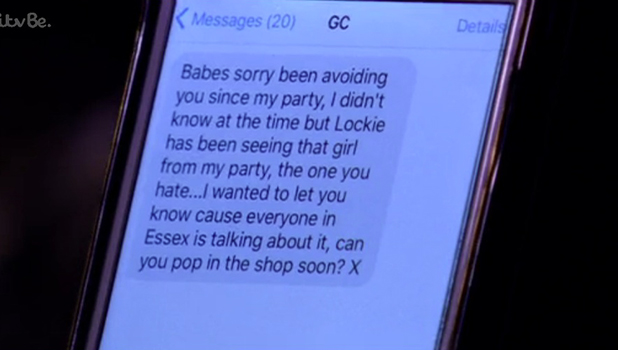 Lockie, meanwhile, has denied it, saying in last night's episode: "I don't really know where Gemma's coming from with throwing up these accusations when she hasn't really got any evidence. I don't know why she's involving herself. Especially sending her a text message, it wasn't exactly a nice message.
It was quite malicious, as if she was half laughing, making a little dig
."
He did, however, say the entire incident had made him
wonder whether he and Danielle could really be friends
. "I don't want to see Danielle hurt but we are both single so it shouldn't be a problem but there obviously is if she's coming to me about potentially seeing some other girl which is totally untrue.
"We are in limbo at the minute. Do you know something, this has addressed loads more issues like, 'Are we ever going to move on?' If at the first sign of me moving on she breaks down, that isn't moving on, so maybe we can't continue as friends. I don't know."
Danielle, however, has said they can
: "I think I need to have a conversation with him and say for us to continue to be friends and continue to have a civil break up, he needs to maybe be honest with me and stop protecting me. I'm a big girl. I know I cry a lot and I'm an emotional person but I'm alright. I'm coping. Just let me carry on being how I am."
TOWIE continues Sunday at 10pm on ITVBeTen reasons why we want to be on TOWIE!