Ex On The Beach: Scotty T explodes after Nancy-May calls him out for still having feelings for his ex Ashleigh - in front of her new boyfriend. Awkward, much?
In next week's episode of the show, Nancy is convinced Ashleigh and Scott have unfinished business, after Ashleigh gets upset to the girls over her ex-beau. She and Scott dated in the past for two years, before, she claims, he broke her heart.
Despite surprising Scott on the beach, Ashleigh made it clear she didn't want to go back there and found herself a new romance with James. The pair have even made their relationship official, but that doesn't stop Nancy from sharing her theory with the ex-couple and Ashleigh's new boyfriend...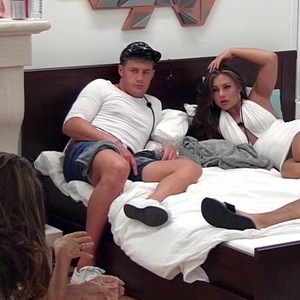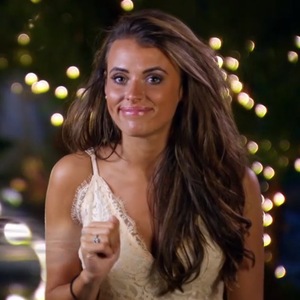 In a sneak peek exclusive shared by MTV, Nancy (
who recently ended things with Scott
after getting caught up in
a love triangle with him and Lacey Fuller
) decides to get everything off her chest.
She confronts Scott while he is chatting to Ashleigh and James and tells him she doesn't think he is over his ex-girlfriend. Nancy tells the camera: "Scotty and Ashleigh still love each other, I can read it all."
Nancy then reveals that Ashleigh had been getting teary about the
Geordie Shore
star earlier on in the evening, she gestures at her and James and says to Ashleigh: "You thought that could have been you and Scott."
"And I feel you and Scott getting upset tonight, it's not done," Nancy claims. "It is not f**king done."
Nancy's outburst comes after
Scott and Ashleigh were sent out on a date together.
The pair were sent on a treasure hunt and their prize was a photograph of themselves back when they were dating - bringing all Ashleigh and Scott's memories of each other back.
Not surprisingly, the duo came over all emotional and Ashleigh began to question, 'What if?'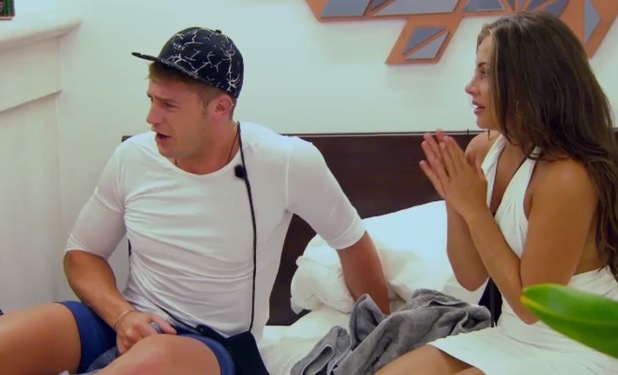 However, hitting back at Nancy, Scotty insisted he and Ashleigh are done. He tells her: "Do you think that if it wasn't done I would let her go out with somebody else?"
Getting wound up by the situation, he shouts: "Do you think for one minute I would let her walk in this house and get with somebody else, if I wasn't done? Do you think I would let her sh*g someone else while I'm lying in the bed over there? That is a load of f**king b*llocks. Don't f**king test me... it's a load of sh*t."
Walking out of the room, he is followed by James who tries to calm Scotty down - because that's not odd at all, the new boyf helping the ex.
Scott tells him: "She is trying to mug me off in front of Ashleigh. What the f**k is she doing? The past is the past, why does she feel the need to f**king involve herself."
Nothing like a last night free of drama to wrap up their time together, eh?
Ex On The Beach continues Tuesday 8 March at 10pm on MTV.For exclusive competitions and amazing prizes visit Reveal's Facebook page NOW!