Ex On The Beach: Nancy-May Turner has branded Olivia Walsh a "sly sl*g" after she admitted she would jump into bed with Scotty T - despite his history with Nancy.
Fans of the show will know Nancy has been struggling with her feelings for Scott -
especially as she has been caught up in a love triangle between him and Lacey Fuller
. Things finally came to a head in last night's episode and Nancy and Lacey confronted Scott, forcing him to finally choose one or the other.
He picked Nancy and had his chance to prove to her he cares, by staying away from Olivia on their yoga date. He managed to go without kissing Olivia,
but that didn't stop Nancy from clashing with her co-star when she realised Olivia would have tried it on...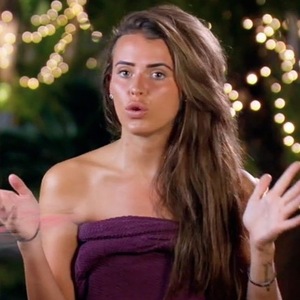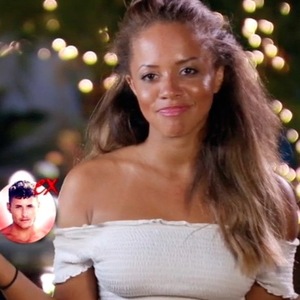 Nancy revealed ahead of Olivia and Scott's date that she didn't trust either of them, and it seems she had reason to as Olivia made it pretty clear she wanted things to heat up between her and Scotty.
She and Scott had got close on the first night in the villa, but Olivia took a step back from the Geordie Shore star when he ex James arrived in the villa - something she regrets.
Olivia said: "I really regret stepping away from Scotty T when James came in. James didn't give a f*** about my feelings. I'd love to just go back to that villa and pounce on Scotty. F*** Nancy and Lacey."
Ouch.
Making her move on him, Olivia encouraged Scott to step away from Nancy. She told him: "It's the same sh*t with you two, she's not sat down and told you how she feels. You could be having fun."
"Olivia is all over me like a f****** koala bear hugging a palm tree..." Scott told the camera. He then explained to Olivia: "The thing is with me and Nancy, I don't actually know what is going on. Before I do anything with anyone, my main priority is having a chat with Nancy. If she says, 'Yeah I like you and I get p*ssed off when you get with other people.' I'll respect that."
While he and Olivia hugged it out, Scotty made sure to avoid locking lips with her.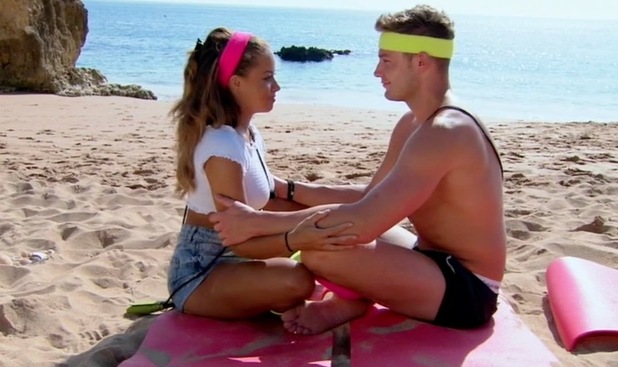 Back at the villa, Nancy was pleased to hear the pair hadn't kissed, but she wanted to get to the bottom of what really went on during their date.
Olivia told her: "[Scott] does like you, but you just need to tell him, 'I like you, do not get with anyone else in this house,'"
The other girls, meanwhile, were not so convinced Nancy should rekindle things with him.
Helen told her: "If you get back with Scott you are going to mug yourself off, the boy has slept with you and then slept with another girl the day after."
Seeming to make up her mind, Nancy said she has finally realised Scotty won't change.
"I'll say this to him tonigh," she told Olivia. "And he'll jump in bed with either you or Lacey. You'd jump in bed with him if I do that, wouldn't you?"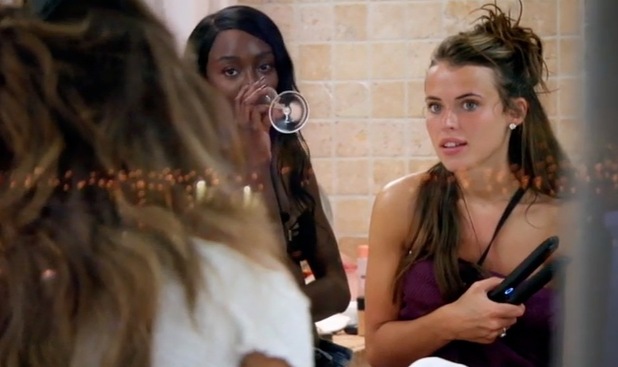 Olivia hesitated to answer her co-star, leading Nancy to see red: "Hesitation, are you f**king joking me. Obviously, I'm finding this hard, I'm about to finish with Scott and you're sitting there hesitating about going back with him."
Olivia then admitted: "Well if you said you're not bothered, then yeah. I get on with him and I've got on with him from day one. But if it hurt you that much, as a friend, of course I wouldn't."
That didn't sit well with Nancy and she hit back: "If he had hadn't have done half the stuff he done, I would love to be with him right now. And you're just saying you'd jump into bed with him... mate, what the f*** is wrong with you? Liv is a sly sl*g and she's always going to be... at least I know where we stand."
While Olivia tried to convince Nancy she wouldn't go there, she did add: "But if he comes on to me, what am I meant to do?"
Nancy told her she no longer considers her 'a good friend' anymore, but Olivia was convinced she hadn't done anything wrong.
"From day one I've been at the bottom of a lot of sh*t. Every single day is pick on Olivia day... leave me alone."
Ex On The Beach continues Tuesday 8 March at 10pm on MTV.For exclusive competitions and amazing prizes visit Reveal's Facebook page NOW!