Katie Price has admitted she's "really upset" that her comments about son Harvey on Loose Women have been taken out of context.
The panel had been discussing disabilities on Tuesday's show (1 March), which led Katie to say as a young woman, if she'd known Harvey would be blind, she may have aborted him. She then
followed up immediately by saying as a grown woman her opinion is completely different
and she would never change Harvey for the world.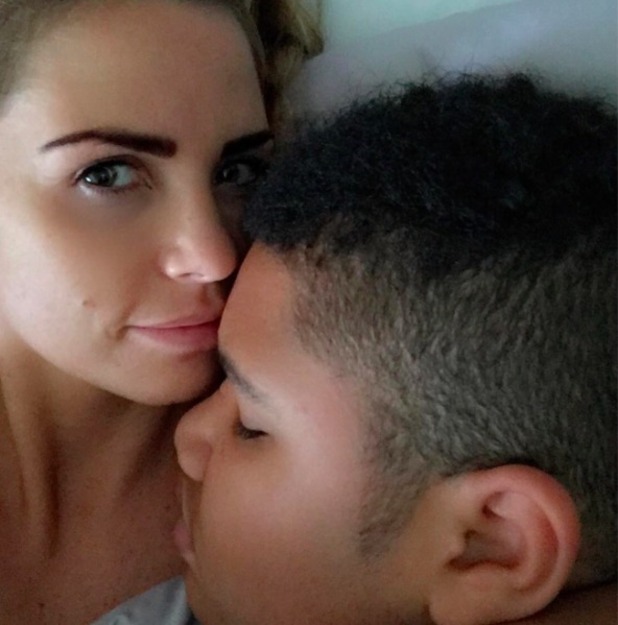 Many people, however, just focused on the first part of her remark, with headlines declaring Katie would have aborted Harvey if she knew about his blindness, which she claims was taking the whole discussion out of context.
Tweeting overnight, she said: "I'm really upset people have taken out of context what I said on @loosewomen today. Harvey is my life and I am so proud of him!"
On the show, Katie, 37, had said: "I was young when I had Harvey and I admitted if I knew he was blind before I had him, as harsh as it sounds, I probably would have aborted him because to me, it was oh my god, he's blind, how would I cope? I know it sounds harsh but now it's like, oh my god, no way."
She continued: "If I got pregnant again, and they said your child will have disabilities, I would definitely keep it and I would adopt a child with disabilities. Until you're in that situation, you don't know. I absolutely love Harvey so much and I would never change anything about him. Yes, it's challenging but also rewarding. He's a great character and I love him and I don't think anyone should be ashamed at all having a child with disabilities."
Fans were quick to assure Katie they understood the true meaning of her comments:
@MissKatiePrice @loosewomen Aw, I think what you said on the show was perfectly clear. I completely understood what you were saying.

— Gillian Craigie (@GillCraigie) 1 March 2016
@MissKatiePrice @loosewomen ignore them Katie, people really need to worry about there own lives, you've done a great job with Harvey.

— Gavin Smith (@Caerdydd78) 1 March 2016
@MissKatiePrice @loosewomen Ignore the nasty coments Katie & don't get upset.We all know Harvey means the world to you xxxxx

— Julie Rushton (@5julierushton) 1 March 2016
@MissKatiePrice @loosewomen When I saw the headline I knew people would take it out of context. People want to be offended these days

— Jack Strange (@JackSamStrange) 1 March 2016
@MissKatiePrice @CarrieRosePR @loosewomen ridiculous you made it clear you'd do it all again and there was no regrets! Ignore it x

— clairets (@clairets22) 1 March 2016