Ibiza Weekender stars Deano Bailey and Ellie Young have rekindled their romance. Yay!
Things had got pretty awkward for the pair after
Deano surprised Ellie with his outburst of jealously in the last episode of the show
. She had been talking to a male guest (who was also a stripper) and Deano saw red. He said his new flame Ellie was "taking the p*ss" and then took out all his anger on the toilet seat.
Smashing up the toilet meant he and Ellie were no longer speaking and
the entire group were placed on a drinking ban
- not ideal when you're in Ibiza. But, Deano did manage to turn things around and worm his way back into Ellie's good books...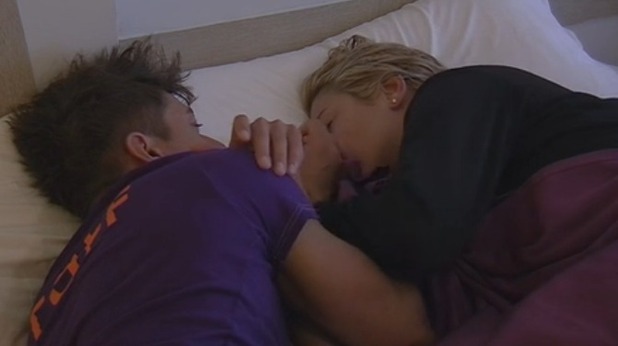 Poor Ellie had come down with a sickness bug and found herself bed bound. While everyone was enjoying themselves at a pool party, she was stuck indoors. Taking his opportunity to woo her all over again, Deano decided to stay behind and look after Ellie.
He said: "I thought I would be a nice friend, which I am to her, and look after her."
To do so, he surprised Ellie with a delivery of goodies to make her feel better. They included crisps, soup, sweets for pudding, grapes because that's what you're supposed to get sick people, mouthwash because Ellie had been sick and a bunch of fake flowers.
Deano told Ellie: "I thought I'd never have to buy you flowers again, you can just keep these."
Oh, the romantic!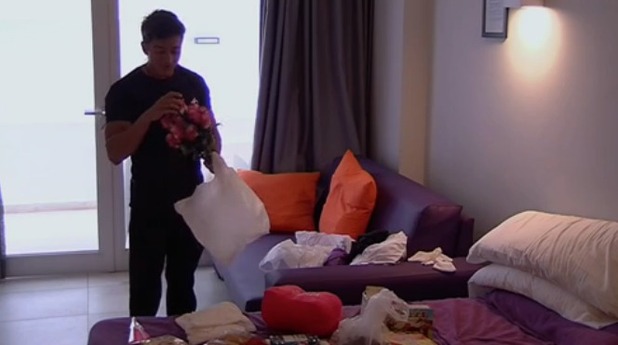 His efforts seemed to work a charm and it wasn't long before he and Ellie were cuddling up in bed and locking lips again.
She admitted: "I do fancy [Deano] and we're getting on really well. At the same time... I'm trying to put my guard up.
"Me and Deano hadn't really been talking, but then me getting poorly, it kind of brought us closer together. It showed that he cared."
Ellie told Deano she was "glad" it was him looking after her, adding: "It was nice just to have me and Deano time. Even though I was being sick, he would still kiss me and stuff - it was nice."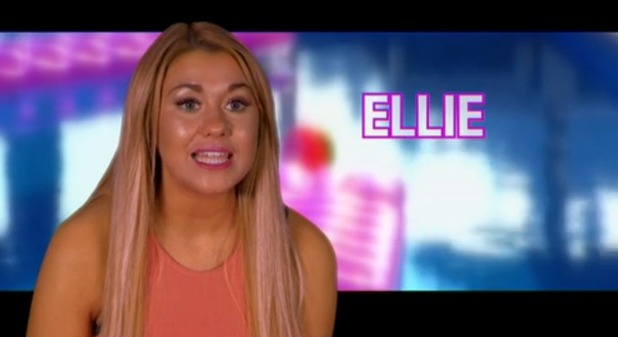 Their day in together came after Ellie confided in Deano's ex-girlfriend Imogen Townley and said she was reconsidering her relationship with Deano.
Surprised by the way her reacted to her talking to a guest, Ellie confessed: "I still don't understand how he can kick off from me sitting and talking to a guest. That's why I'm now thinking, if he's like that, maybe I should take a step back and say, 'Forget everything like that, you're just my mate.'"
We're glad to see she's had a change of heart!
Ibiza Weekender continues Sunday 6 March at 9pm on ITV2.For exclusive competitions and amazing prizes visit Reveal's Facebook page NOW!