Adele broke down sobbing tonight as Sir Tim Peake presented her with the BRIT award for Global Success...from space!
The astronaut spoke via video link form the International Space Station and congratulated London-born
Adele
on her hugely successful career.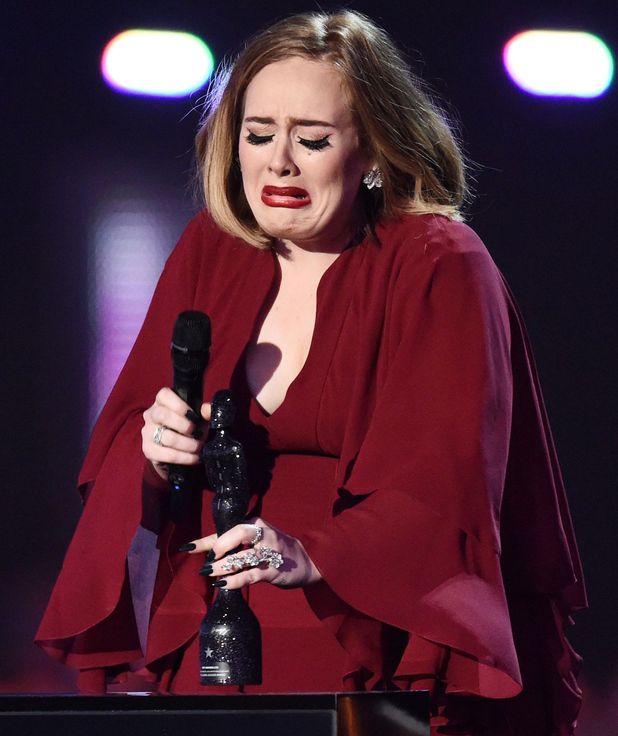 By the time Adele had made it to the stage at the O2 Arena, she was beginning to cry and, while trying to accept her gong, the tears seriously flowed!
Attempting to compose herself, Adele said: "I can't work out if I'm crying because of that video or because Tim Peake did it - my kid is going to love it, it's so cool!
Struggling to hold back the tears, she continued: "To come back...I got lost for a while, I didn't know if I was going to come back, and you all being so kind to me...."
Wiping her eyes, she added: "I want to thank my boyfriend for supporting me, this is not bad for a girl from Tottenham! Tim Peake - I love you! I hope you're ok and not too hungry!"
Adele's speech did include several F-words, which ITV1 attempted to bleep out. However, one slipped through the net.
Hosts Ant and Dec later told the audience at home: "Apologies for Adele's language earlier, apparently the bleeping didn't get in quickly enough." Oops!
This was Adele's third win of the night, as she also scooped the gong for
British Female Solo Artist
and Best Single.
And then she went on to win the award for Best Album. Collecting that one, she added: "I'm sorry for swearing earlier..and sorry for the ugly cry face!"
She finished by
poking fun at the moment James Corden cut off her 2012 acceptance speech
by saying: "I didn't get cut off this time and I didn't swear!"
It's definitely a night to remember for the star!
BRIT Awards 2016:
Copyright: WENN