Another amazingly explosive episode of Ex On The Beach has come and gone, which means another slew of pretty incredible quotes from our favourite ladies and gents of the villa.
From sex (obvs) to exes (obvs) to, um, safari dangers in the middle of Portugal, here's our pick of the most memorable quotes of episode six:
(Warning: explicit content.)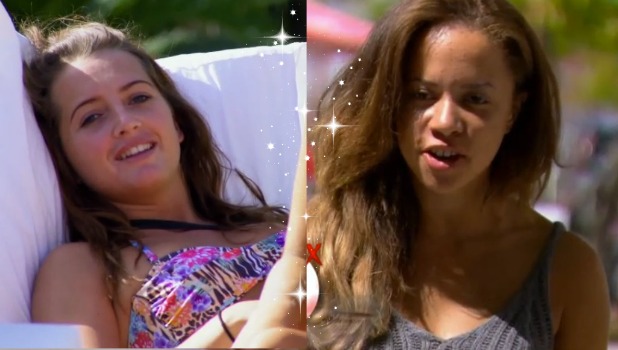 1. Gina to Olivia, who said she might pass out:
"Do you mind passing out somewhere else, 'cos I'm just speaking here."
2. Jordan on why he and Megan want Scotty and Nancy together:
"We are King and Queen of this villa and we need a Prince and Princess to back our corners."
3. Kieran on getting a date with Olivia:
"Finally I have a girl I can actually have a conversation with, out of the way Gina the bunny boiler."
4. Gina on Olivia getting a date with Kieran:
"I knew that would happen anyway. Olivia likes Italian c**k. She is literally going from willy to willy to willy. Just to warn you, it isn't that big either."
5. Olivia on Gina:
"Gina is an irritating little bitch, like shut the f*k up. I would happily never look at you again because your face offends me."
6. Megan on Naomi's singing:
"Naomi obviously thinks she's Queen Bee of the villa. She's up there practicing. She's trying to be Alicia Keys and it really ain't f**king working. She sounded like a f**king strangled cat, mate. I didn't even have to warm up. It's called natural talent."
7. Nancy on Scotty and Lacey:
"You're like Peter Pan and she's your shadow."
8. Olivia on Gina:
"She's just annoying. Her voice just grates on me. You're so immature, it's like speaking to a four-year-old. I can't stand the girl, actually. Her voice is too high, the decibels."
9. Megan on Kristina's arrival:
"Who is this f**king Harry Potter bitch?"
10. Megan on Gina:
"I feel sorry for Gina, Kieran has f**ked her and ducked her."
11. James, when asked if he'd slept with Kristina:
"No, I haven't even fin*erblasted her or anything. I necked her."
12. Chet on Gina:
"She sounds like a wild cat."
13. Naomi on Megan:
"Megan doesn't like me because I'm not up her ass. Sorry, bitch get used to it."
14. Chet on the 'safari' in Portugal:
"I'm buzzing to see the animals like tigers, lions. What animals are on safari, even?"
15. Gina on the 'safari' with Kieran and Olivia:
"This is the worst situation to be in right now because I can't even leave or I could be ate by a lion."
16. Scotty T on Nancy:
"I don't want to see Nancy getting upset any more over this f**king situation so I'm going to take her advice and choose the right path and hopefully that path leads directly to her f**king box."
17. Naomi on Jordan, after Megan accused her of finding him hot:
"I actually don't find him attractive… who said I like your f**king man? He looks like a f**king kid. He has no f**king body and skinny little f**king bitch legs."
18. Megan on Naomi during their row:
She thinks she's the big girl in here, mate, she ain't the big girl, mate. I'm the big girl! Let's get things straight, I'm a better singer than her, I'm better looking than her, and I've been here half the time she has been in here and I probably have more friends than her."
19. Olivia on Megan and Naomi's fight:
"Megan is a psychopath and Naomi's a crazy bitch…"
20. Scotty T's plan for Lacey's night:
"Right, I'm going to go and see Jordan and Megan, come back, I'm going to lick your a**, and then we're gonna go to go sleep."
Ex On The Beach continues 10pm on Tuesday on MTV