Olivia Walsh has branded her co-star Gina Barrett "a nightmare" after even more drama between them on Ex On The Beach.
Although the starlets have left their villa in the sun, the dramas that occurred there haven't been forgotten. Mainly because their antics are being broadcast on national TV - and it seems like everyone on Twitter is having their say when it comes to the friction between Olivia and Gina.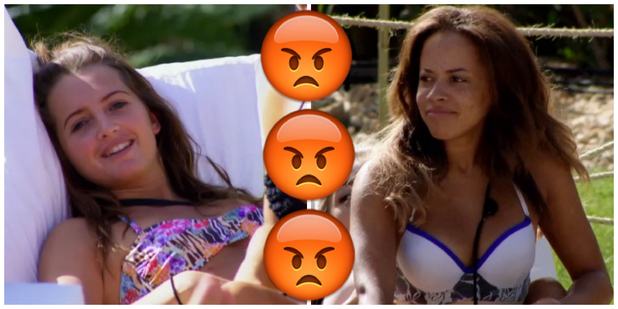 On Tuesday's episode (23 February) of
Ex On The Beach
viewers saw the tablet of terror delivering a nightmare message for Gina, as Kieran and Olivia got sent off on a date which promised "the opportunity to learn the art of French kissing."
In the previous weeks episode
Gina had slept with Kieran
, then got angry when she saw Kieran and Olivia cosying up together the next day, so it's safe to say she wasn't pleased at all with this development.
After hearing the news, Gina commented: "I knew that would happen anyway. Olivia likes Italian c*ck"
"I've been watching you for the past two days and you seem to be all over everyone," she told Olivia, who totally disagreed with her statement.
Gina claimed Olivia had been "going from willy to willy" then went on to call her co-star a "sl*g".
Whilst the show was being broadcast Olivia took the opportunity to tell followers on social media exactly how she felt about Gina.
When one fan asked "what was more painful stubbing your toe or spending the Vila with Gina?" She told them there was no chance of the two ever becoming roommates, saying: "I'd rather break all my toes than live with her again if I'm brutally honest".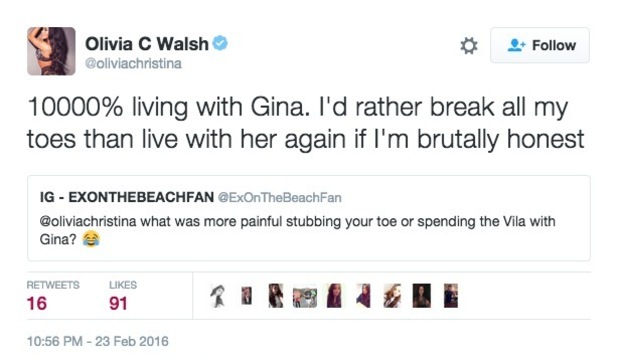 Olivia also said that after a while of living in close proximity with Gina it all became too much, "Towards the end I just had to leave the room when she opened her mouth" and branded her a "nightmare".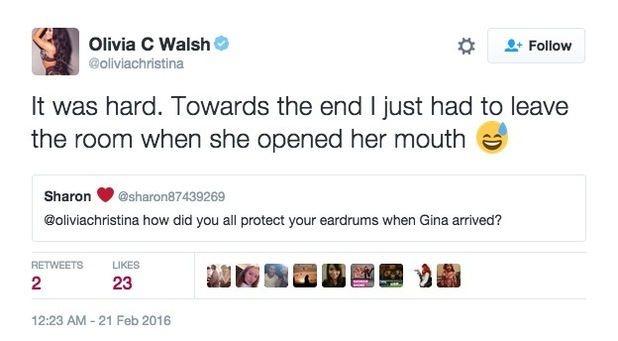 Gina wasn't feeling much love for Olivia either, retweeting followers who called her co-star a 'hypocrite'.
Meanwhile, co-star Megan McKenna appears to be backing Gina, as she reminded everyone in a deleted scene that Gina was feeling "hurt" and nothing was personal.
@oliviachristina is such a hypocrite going on about James and Ashleigh for so long to go for @ginabarretttt ex minute she gets attention

— Briony Thompson (@brionyxo) February 23, 2016
For exclusive competitions and amazing prizes visit Reveal's Facebook page NOW!