Tickets for Virgin Media's V Festival 2016 go on sale this week (early bird pre-sale now and main sale on Friday.) It's a big commitment buying tickets for a music festival – money, travel, rounding up friends, booking time off work…
If you're humming and ahhing about whether to go or not,
Reveal
's Lara Martin has ten reasons why V is something you should consider doing*.
*Full disclosure: I love this festival!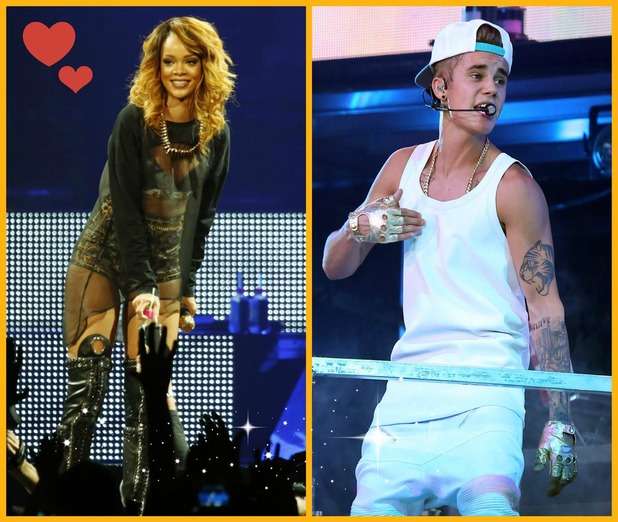 1. Justin Bieber and Rihanna
Hello most amazing line up of the year, right?! Well, for plenty of us anyway who love our catchy tunes and glossy pop! Rihanna's got a massive discography of tracks to choose from and we're expecting a good mix of uptempo with end of night slow down. We'll (hopefully) be dancing like maniacs to 'We Found Love' and 'Disturbia' and chilling out to 'FourFiveSeconds' and 'California King Bed'. Meanwhile, Biebs is totally acceptable to fancy right now and has a killer back catalogue of tunes as well. 'Sorry', 'What Do You Mean?' and 'Love Yourself' will sound AMAZING in a festival setting and we're not ashamed to admit we're hoping for a few nostalgia dance-a-long sessions with 'Never Say Never' and 'Baby'...
2. The stages
Not a fan of Bieber and Rihanna? Really? HOW? Okay, we're joking! Obvs not everyone will be loving the pop-tastic headliners this year but that's okay. There is a HUGE array of genres and acts confirmed so far from dance wonders like David Guetta and Sia, to rockers Kaiser Chiefs, to Years & Years, Rita Ora, Example and James Morrison. There is pretty much something for everyone spread across the mammoth festivals. (
You can see the full lineup here but more acts are still to be confirmed
.)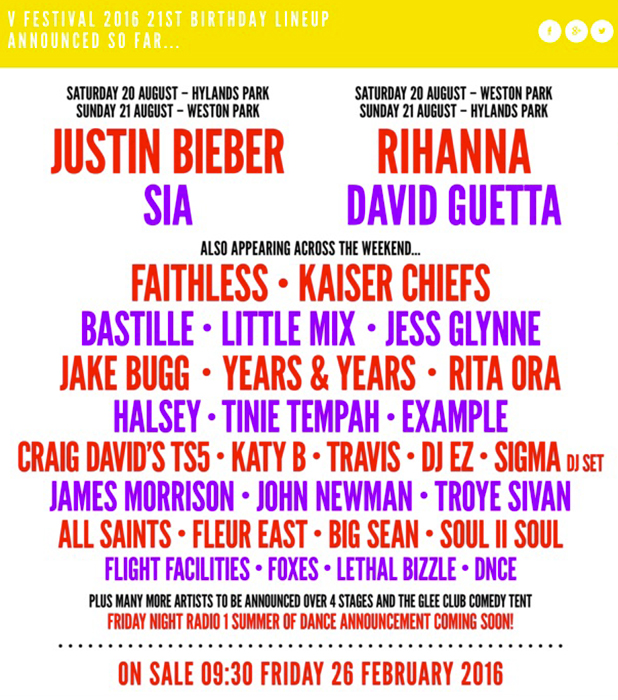 3. Comedy Club
The Glee Comedy Club Tent is back again so if you need a break from dancing / singing / gazing at popstars, you can venture in to listen to some of the UK's top comedians. Previous years have seen the likes of Frankie Boyle and Russell Kane headline.
4. The weather
It's held across the 21st and 22nd August weekend so TOUCH WOOD it should be nice, summer, mild, balmy or scorching weather. When the sun is splitting and you're in the middle of V singing along to some epic track sipping a cold drink it really is heavenly. But actually, when it rains, it's not too bad... Fingers crossed, fingers crossed, fingers crossed.
5. Fairground and rides
It's not all about the music. Obvs the music is a pretty big part but once you're on site you'll also find a plethora of fair ground rides, bars, food and drink stalls, shopping stalls and other fun areas to explore. Last year there was a Coca-Cola sponsored selfie area. You posed for a photo and got a mini can of Coke in your favourite flavour in return! We also spied booths from the likes of Pringles and Red Bull. Other entertainment includes discos on the Friday night before the acts get underway and a disco on Saturday when the main stage has finished.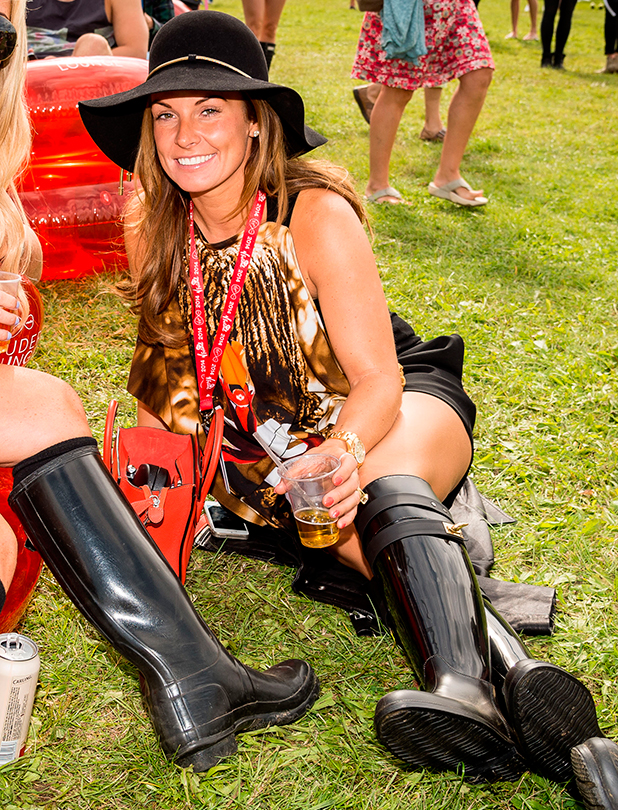 6. Celebrity spotting
The celebs LOVE this festival! We can't even count the number we've spied over the years. Plenty of them will remain ensconced inside the VIP area, we imagine, but keep your eyes peeled for when they head out to watch the bands! Stars who have attended in previous years include Coleen Rooney, Pixie Lott, Mark Wright, One Direction, Kelly Brook, Billie Piper, JLS, The Saturdays, Katie Piper and, of course, the
TOWIE
lot who are local to Essex.
7. Day tickets
Don't fancy camping? That's okay. You can snap up a day ticket for either Saturday or Sunday. Or a weekend ticket with no camping. You can VIP it up or not.
There are plenty of options if you have a look over here
. And because V is spread across two sites – Hylands Park in Chelmsford, Essex and Weston Park in Staffordshire, there's more choice about how far you have to travel.
8. Short and sweet
The festival takes place over two days: Saturday, 21 August and Sunday, 22 August. You can arrive on the Friday night to set up, but the main bands and fun don't start until the Saturday, with the main stage wrapping for another year on the Sunday night. Perfectly short and sweet. Two days is a good time, right? No need to take days and days off work or go for ages without a shower. Pretty perfect really!
9. Glam it up
If you have a bit of extra cash or it's a special occasion you can always glam up your camping experience. This year Pink Moon Camping are offering you the option of arriving at the festival knowing you have a pre-pitched tent. Their camp ground also includes nice loos, hot showers and an intriguing sounding 'pamper parlour', as well as mobile changing points. (
Get more info here
.) And if you REALLY want to push the boat out, y ou could try V Style. It's a super glam luxury camping ground with bell tents, yurts and cabins, not to mention posh wash facilities, a salon, and access to VIP hospitality areas among more. (
Check out all those options here.)
10. Birthday
It's V Festival's 21st birthday this year and if someone invites you to their birthday, well it would be rude not to go, right?!