Charlotte Crosby and Gary Beadle finally got to reunite in Australia over the weekend and the tweets they sent each other prior to meeting were just the cutest.
Yup, the
Geordie Shore
stars officially have us hooked on their romance now they are back on again and this time Charlotte and Gaz couldn't be more smitten.
You just have to read their latest tweets to work that out!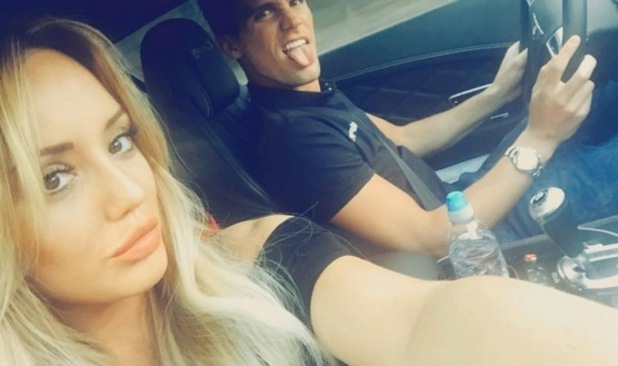 On Saturday (20 February), Gaz headed to the airport to catch his flight Down Under and as he settled into his first class booth on the plane (did you see his Snapchat? Seriously, it was insane!), he made sure to tell Charlotte he was on his way.
Gary shared an emoji of a couple, tweeting: "See you soon @Charlottegshore."
She then soon replied: "Can't wait! HURRYYYYY UP! tell the pilot your in a rush."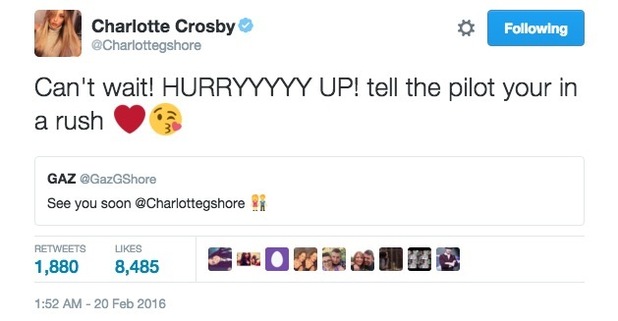 Oh, you guys!
Gaz then joined Charlotte on a night out and it seems like the excitement all got a little too much for our Geordie fave. Gary cheekily snapped Charlotte asleep on his lap in the nightclub, adding those tell-tale green heart emojis onto his photo.
The morning after, Charlotte suggested she'd definitely enjoyed her evening, tweeting: "Lost my voice."
Cue Gary and his not-so-cute (crude) tweets to follow. He replied: "Oops sore throat have we."
When Charlotte asked her beau what he was "trying to insinuate", Gary then said: "Do you even have a clue what insinuate means. You + [parsnip] = loss of voice."
Too much information?!?!
He then told fans he was flying onto New Zealand, meaning his and Char's reunion was short but sweet.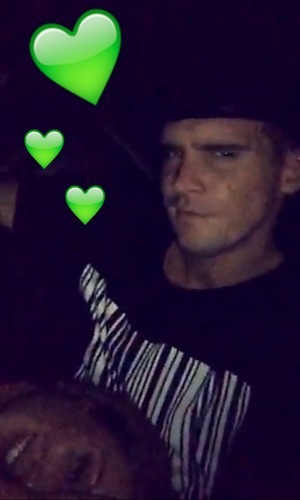 The duo first fuelled rumours they were dating again after wrapping up filming for
Geordie Shore's
five year special.
Charlotte had gushed her bond with Gary was "unbreakable",
before then showing off
a romantic Valentine's Day delivery he had sent all the way to Oz for her.
She then admitted to Australian press that she and Gary are back on,
but are keeping things "under wraps."
Gaz, meanwhile, gushed: "Everything feels different this time."
Since then, Charlotte has shared an update on herself and Gary to her YouTube channel. While she insisted she was still single (confusing, much?),
she did hint that we could see the return of 'Chaz'.
Charlotte explained: "We've just currently been filming and we got a little bit close and we actually had a really big heart-to-heart. One where we both found out things about each other that we had never really spoken about."
She continued: "I told him the reasons why I felt a little bit stand-offish, he told me the reasons why he felt like he couldn't get close to us and then we both realised, why don't we just stop doing that then? It's stupid. We both had a guard up. So we're taking it one day at a time."
"Right now me and Gary just need that time where we are secretive and tell you, 'You are all being just a bit too nosey.'" She added. "I don't want to mess things up... this could be the return of Chaz... possibly. Maybe not. Just give us some time. I'm very happy."
For exclusive competitions and amazing prizes visit Reveal's Facebook page NOW!