Another episode of Ex On The Beach has come and gone, which means another load of explosive quotes from the ladies and gents of MTV... from having sex, to um, well, mostly having sex, it was another heated and dramatic instalment...
Read on for the most wow quotes of the episode and, obvs, be warned, they're really rather sexual... You have been warned!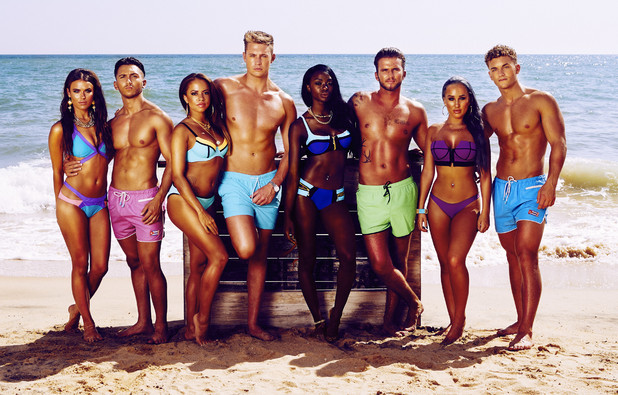 1. Scotty T on his love triangle:
"I am pure confused. It's Nancy, Lacey, Nancy, Lacey. I might as well have a f**king threesome and get it over with."
2. Jordan on Megan:
"It's sometimes really hard to have a deep conversation with Megan because in the back of my mind all I'm thinking is, I want to get you naked and f**k you."
3. Nancy on Scotty T:
"He will definitely fit in with the tree climbing as he's like a big fat gorilla anyway."
4. Kieran on Gina:
"F**king Tablet of Terror stitched me right f**king up. I have to stay a full night with whiny ass there."
5. James on Gina:
"I spend five minutes with the girl and I get bored."
6. Scotty T on Lacey and Nancy:
"I don't know which bird to bang. I'm pretty sure half my brain is in my d**k."
7. James to Olivia:
"Oi. Have you got a bra on because your nipples are pointing out."
8. Olivia to James:
"You may be good looking but you haven't made me c** in the whole three years I've been with you."
9. Scotty on Lacey:
"I need to keep things on a smooth level with Lacey because at the end of the day I still want to stuff her."
10. Kieran on Gina:
"While everyone was out having a good time and I have to stay with Gina, I might as well make the most of it and f**k her."
11. Scotty T on Lacey:
"Lacey is like a blonde bombshell, playing games with me asshole."
12. Kieran on Gina:
"The only good thing about the date last night was I got to shoot my load. I banged her. I'm done. Now I'm moving on to the next."
13: Chet on Helen:
"I love your t*ts, I love your ass. I literally love everything about you, I'm not gonna lie."
14. Jordan on Scotty and Lacey's sex exploits (see 11.):
"She's a right little goer. I wouldn't ask a girl to do it, put it that way, but if she wants to go down there she can crack on."
15: Scotty T on Lacey:
"Lacey licked my a*se mate, I don't know if I can detach myself from that."
16. Kieran on Gina:
"She's only known me three days and she won't leave me alone. The girl is a f**king bunny boiler."
17. Kieran on Gina:
"Never, ever in a million years in my life would I get in a relationship with you."
EOTB
continues Tuesday at 10pm on MTV.