Ex On The Beach star Gina Barrett has had her say after last night's rather explosive new episode, which saw her chuck a drink over Kieran Lee.
Gina's made no secret of the fact she likes Kieran and she thought he liked her back, particularly when they had sex in the villa during their date while the rest of the house were out clubbing.
But the next day, he started cosying up to Olivia Walsh.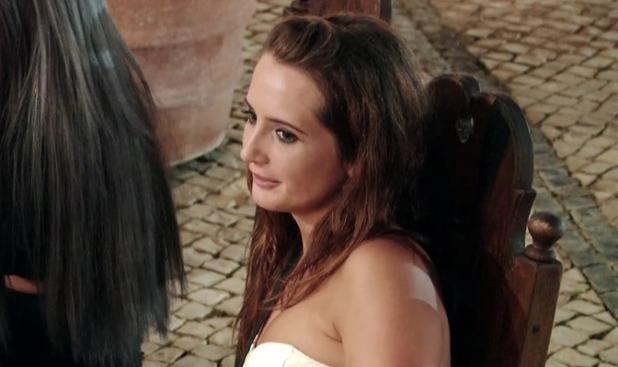 So Gina went over to interrupt and try to figure out what was happening, prompting Kieran to tell her: "You're making out we're a couple and you're trying to claim me. Never, ever in a million years in my life would I get in a relationship with you."
She
chucked her drink over him
.
Now, after watching the episode, Gina has taken to Twitter to tell fans: "Right. Let me get my point across. I had a thing with Kieran since day one. We spooned every night in bed for at least two weeks! He also said to me the night in the penthouse that he's not getting on anyone in the villa! So any girl would be the same. Also half the time I'm joking around! Called being sarcastic! Now I've let that out I can go back to sleep. Mwah."
When one follower pointed out the show is edited to maximise drama, she replied: "Hahaha I know. Thanks babe I'm not arsed what people think. I just can't help but tell the truth!"
My point across pic.twitter.com/CkWCtvOMDR

— gina barrett (@ginabarretttt) February 17, 2016
Meanwhile, she also tweeted: "Funny thing is Kieran wouldn't even be in the show if it wasn't for me being a crank."
He replied to her: "Nothing about you is worth watching on tv.. You should model for the radio... Do yourself a favour."
Kieran also retweeted a follower who joked: "Yeah, without you he'd have never been cast... #DoingHisBitForCharity."
It then got a bit more heated, with Kieran calling Gina's comebacks "standard" and her replying: "Standard ! Have you seen the sh*t you haven't stopped tweeting about me all last night! Attention seeking. You're a very insecure person to have to pick on girls that's all I'm saying."
He said: "Inesecure? Yup that's me. Done talking now? You're boring me now pet... Attention seeking? You're the definition of an attention seeker... Even asked me to go get pics with u."
Gina replied: "What happened to apologising to me on New Year saying you was sorry for everything you said... Go and say everything you have said to me to a man ! But you won't! You pick on woman!"
"Becoz u cried and blamed the lads saying we pick on you when you cant help but throw yourself into convos," said Kieran. "Pick on a woman? You brought me up so I replied you wet wipe..."
"Because all you do is talk about me. I'll take it as a compliment you obviously have a crap life," she added.
"Yeah I do pet. Done talking? Thanks," said Kieran.
"Being a nasty person is not the way forward guys!" concluded Gina. "Stay humble."
EOTB
continues Tuesday at 10pm on MTV.