Nancy-May Turner has warned Scotty T he's lost his chance with her after he slept with Lacey Fuller on the latest episode of Ex On The Beach.
Viewers know the trio have been involved in a love triangle with both Nancy and Lacey vying for a confused Scotty's attentions, as he ventures between the two of them. But on last night's episode, he seemed to make his choice: Lacey.
It actually happened after Nancy and Scotty had been sent on a date together with the Tablet of Terror and Nancy decided to confront the
Geordie Shore
star about his flirtations with Lacey.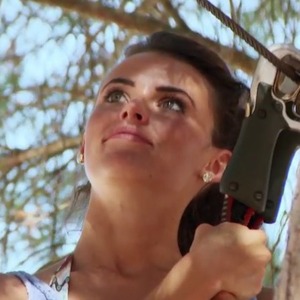 "You think I'm stupid but I can see everything you're doing," she said.
"I'm not trying to hide it," replied Scotty. "Even when nothing is happening, you still think something is happening." He added to the camera: The be all at the end of the day is I've done nothing wrong. Of course I'm going to crack on with her girls. I'm Scotty f**king it."
Nancy said the fact Scotty kissed Lacey didn't sit well with her: "If you like someone, you don't do that."
So Scotty decided to turn the charm on.
"Sometimes you'll be sweet with us and then you'll distance yourself all of a sudden and then that makes me think, 'If she's gonna do that, I'll drift back towards Lacey'."
Nancy said: "I do understand what he says when one minute I'm with him, the next I'm not, but that's because I don't want to get hurt."
Scotty then clarified that he wanted Nancy.
So, he's made his choice, right?
Um. No.
After a night of clubbing, Scotty started flirting with Lacey again and ended up in bed with her. (Nancy went searching for them and found the penthouse locked. Suspicious.) So she vowed: "I genuinely thought from my date he wouldn't do that. He would make the right decision. But he f**ked it. He runs to bed with Lacey and I am done."
"Last night was a test for Scott but he f**ked it. I'm not going there again."
EOTB
continues 10pm on Tuesday at MTV.