The Jump star Louisa Lytton has defended the Channel 4 winter sports show and revealed she is itching to get back onto the slopes.
In recent weeks,
The Jump
has faced considerable backlash from viewers, after five celebrities have been forced to pull out of the show due to injury.
People were particularly concerned when
the extent of Beth Tweddle's injuries were revealed (she has had to have vertebrae fused together in her neck after an accident during training)
, but Louisa has insisted she felt like she was in "safe hands" throughout her time in the competition.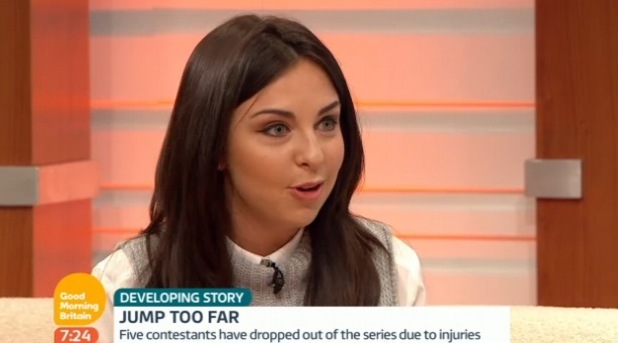 Speaking on
Good Morning Britian
, former
EastEnders
actress Louisa said: "For anyone at home watching the show, you're not there, so you're not seeing the training we are having.
"We're training with the Warren Smith Academy, they're amazing. Of course, people like my mum at home, they're only seeing the dramatic falls that's what is entertaining."
Louisa, who was actually first to be eliminated on the show,
was no stranger to injury and had to be taken to hospital after tearing a ligament by her lower thumb. Despite having to wear a cast for four weeks, she still managed to compete in
The Jump's
opening episode, but finished with the shortest distance in the jump off.
Explaining how she managed to sustain her injury, Louisa said: "I was skiing and I fell and I went into the chair lift thing and fell on my back. I'd had two previous accidents where I had fallen on my back, so they literally air lifted me off the mountain into the hospital... it was very dramatic.
"They did an X-ray on my back which was fine, but then they checked my arm and I had fractured my hand. It was my own fault, I was skiing and I fell."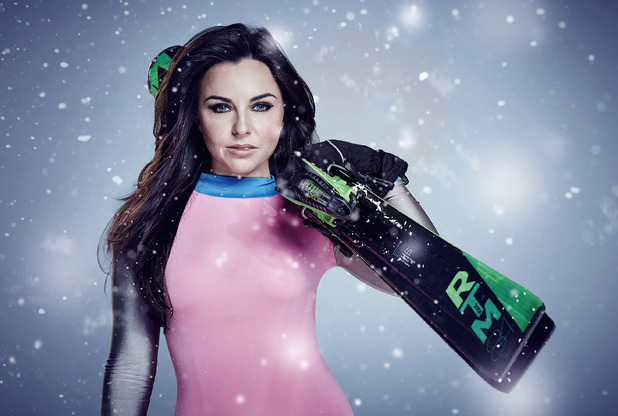 When she was asked if the celebrities left in the competition are now all guessing who will be next to leave early after, Louisa dismissed such claims. She said: "Everyone is more like, 'Who's coming in?' You know with every injury that someone else has to come in, so people are more excited about who's coming in rather than who's going home."
The 27-year-old even admitted that she is itching to get back out on the slopes herself.
"Even when I was kicked out of the competition, technically then I'm a reserve for the next week," she added. "I couldn't go back in because of my injury, but I was literally begging the producers, 'Please let me go back in.'
"I would go back... this year. I feel like I'm missing out all the time. I feel like I got to do the skeleton, but then I was knocked out and there's so much more I could have experienced that I haven't been able to."
"We're having such a good time," she insisted. "The majority of people left are all really confident skiers, so they all want to win the show."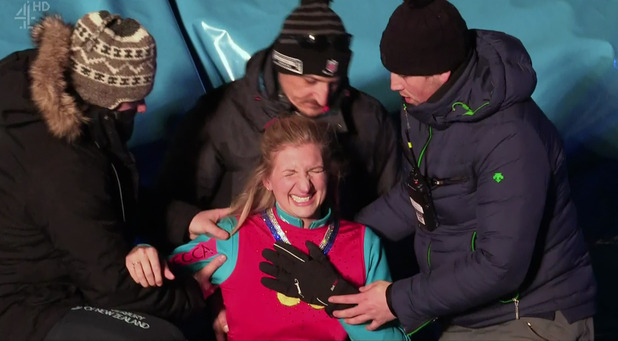 Louisa's comments come after Channel 4 have been forced to readdress safety protocols due to the high number of serious injuries that have occurred this series.
A spokesperson for Channel 4 told
Reveal
: "Though it is a new course the events have been designed to be no more difficult than in previous years and all contributors have undertaken a rigorous training programme to prepare them for the show.
"All winter sports carry some element of risk, but in light of the number of injuries this year, Channel 4 has asked the producers to review safety procedures again to further reduce the prospect of accident."
Rebecca Adlington had dislocated her shoulder
, Tina Hobley dislocated her elbow, Mark-Francis Vandelli fractured his ankle, Linford Christie suffered an injury to his hamstring and Beth Tweddle was forced to have surgery on her neck following her fall.
Sharing an update on her friend's recovery, Louisa revealed: "We're really good friends now from the show, so I've spoken to Beth every day. She's in good spirits, she's doing really well, she's up, she's walking, she's good.
Joe Swash
, Heather Mills and Ben Cohen have been drafted in as replacements on the show.
TOWIE
star James Arg Argent was reinstated into the competition, after being the second celebrity to be eliminated. However,
Arg was eliminated out of the competition for a second time on his return.
For exclusive competitions and amazing prizes visit Reveal's Facebook page NOW!